Opskrifter
Fatfree Vegan Recipes
This warm potato salad is a step aside from the traditional version: it's cooked in a hot skillet and doesn't call for mayonnaise or other fattening dressings. ~Alina This tofu scramble is incredibly tasty with fantastic texture, and it's super healthy for you to boot. A delicious dish with an Italian flare, these eggplant rollups will warm your heart and soul! – Alina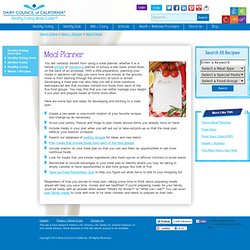 Meals Matter
You will certainly benefit from using a meal planner, whether it is a formal printed or interactive planner or simply a few notes jotted down on the back of an envelope. With a little preparation, planning your meals in advance can help you save time and money at the grocery store or from dashing through the drive-thru at lunch or dinner. Developing a meal plan can also help you eat a more nutritious, well-balanced diet that includes nutrient-rich foods from each of the five food groups. You may find that you can better manage your weight if you plan and prepare meals at home more often. Here are some tips and ideas for developing and sticking to a meal plan:
Opskrifter
Weber Klubben
Fremgangsmåde:-Dressing: Bland sennep og citronsaft i en skål. Tilsæt gradvist olivenolien og pisk undervejs. Hak ansjoser, basilikum og forårsløg og put dem alle i skålen. Smag dressingen til med salt og peber. -Udben lammekøllen (eller endnu bedre: køb en udbenet fra slagteren eller supermarkedet). Åbn lammekøllen i et stort fad og hæld ca. 1/4 af dressingen over.
Grillet lammekølle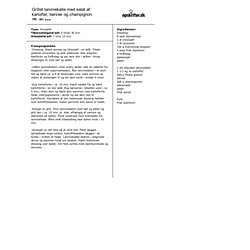 Rugbrød med Surdej
Rugbrød med surdej. (2 brød) Rugbrød er typisk dansk. Rugbrød bages med surdej. En "ægte" surdej er helt uden gær, det er en lille klump af dejen, som tages fra og gemmes fra den ene bagning til den næste.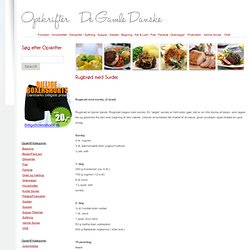 All recipes Australia New Zealand
Arla
OPSKRIFTER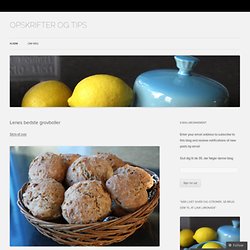 Denne opskrift på herlige og sunde grovboller har jeg tigget fra min veninde Lene. Den er nem, og så er den hurtig sat over om aftenen. Og så er opskriften taknemmelig for variation i forhold til hvad der er i køle- og køkkenskabet eller hvad man har lyst til. Har man ikke noget surmælksprodukt, kan det erstattes af noget olie. Jeg plejer for det meste at lave dobbelt portion. Det er så dejlig nemt at have en god portion i fryseren at tage af.
Food Network
Meals Matter - Healthy eating and meal planning made easier
Whether it's a hectic weeknight, a casual brunch or an important holiday, mealtime brings the family together. Meals planned, prepared and shared together at home tend to be healthier and more balanced than meals eaten at restaurants or on the go. To make sure your family is getting the most from your meals, we offer the following recipes, articles and tools to help make family meal planning easier. Meals matter because eating together provides many benefits. Remember, healthy food is only beneficial when you actually eat it, so be sure to choose those recipes and meal ideas that appeal to your whole family.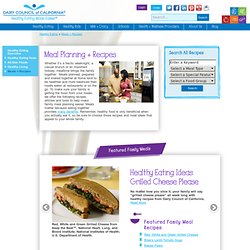 Epicurious.com: Recipes, Menus, Cooking Articles & Food Guides
Smoked Salmon With Pink Peppercorns Caramelized Onions Sauteed Chili Bok Choy Pressed Ham, Apple And Brie Sandwich Pomegranate Cheesecake Carrot Dip What should you do if you eat a pepper that sets your tongue on fire? With delicious recipes and smart cooking tips, Cookthink is a complete resource for cooking everyday meals. With Cookthink's one-of-a-kind search tool, you can search for recipes by any combination of ingredients, cuisines, dish types and moods to help answer the question: "What am I craving?"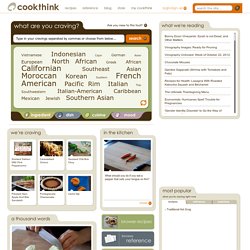 Cookthink | Feel smarter in the kitchen.
All recipes – complete resource for recipes and cooking tips
Recipes - Beef recipes, pork recipes, vegetarian recipes, summer recipes, cooking tips and food
Opskrifter - madopskrifter
Jan's Chicken Chili Recipe : Recipezaar
Opskrifter.dk
Alletiders Kogebog
Madopskrifter.nu
Powersmoothies - dr.dk/DR1/Ha det godt/Kost/2009