Random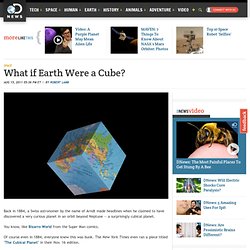 Back in 1884, a Swiss astronomer by the name of Arndt made headlines when he claimed to have discovered a very curious planet in an orbit beyond Neptune — a surprisingly cubical planet. You know, like Bizarro World from the Super Man comics. Of course even in 1884, everyone knew this was bunk.
What if Earth Were a Cube?
Small World: Gallery of Microscopic Beauty | 2011 Nikon Small World Competition | Photomicrography & Microscopic Art
'Bulletproof Human Skin' Lives Up to Name, Sort Of | Transgenic Goats | LiveScience
Lifeboat Foundation Safeguarding Humanity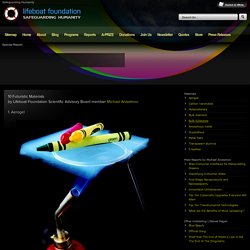 Slow-scan television (SSTV) is a picture transmission method used mainly by amateur radio operators, to transmit and receive static pictures via radio in monochrome or color.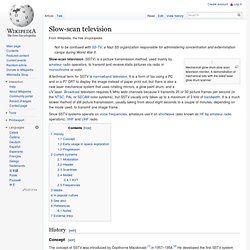 Slow-scan television
Odds are pretty good that some of you are reading this on an LCD screen while the rest of us are trying to make it out on the 13-inch monochrome monitor that came with our garage sale Commodore 64. But even with the LCD, some laptops still weigh over 10-pounds.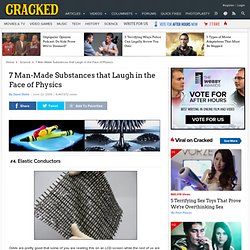 When people think of ancient temples, they often think of Stonehenge , which most archaeologists agree was built about 5,000 years ago. But Stonehenge is actually trumped handily by a little-known site in modern-day Turkey called Göbekli Tepe , which is 11,500 years old.
Göbekli Tepe: Older Than Stonehenge, Pyramids, Anything | TalkingSkull.com
The 6 Craziest Animal Experiments | Countdown: Mad Scientists' Animal Creations | Life's Little Mysteries
Intro
this is evidenced over the years... in mental health, modern perception and understanding is that people experience episodes of poor mental health, such as psyshosis. today these are regarded as such in the more advanced mental health circles. in the past, and unforunately in many traditional mental health services, a diagnosis of schitzophrenia was/is slapped upon these people... effectively telling them they have a life long serious mental illness, and the conditioned trust of doctors they hold, effectively makes these people suffer from lifelong mental illness!!!