Photography
Writer and photography / Rosemary Horn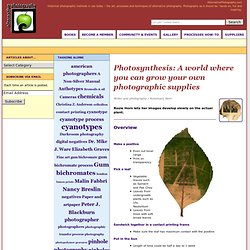 Photosynthesis: A world where you can grow your own photographic supplies « Photosynthesis
Vietnamese-born artist Binh Danh prints photographs onto living leaves. Seen here, The Leaf Effect: Study for Metamorphosis #2 , 2006, 11.5 x 9.5 x 2 inches, chlorophyll print, butterfly specimen and resin. From Danh's artist page at the Haines Gallery: Danh has invented a technique for printing found photographs (digitally rendered into negatives) onto the surface of leaves by exploiting the natural process of photosynthesis.
Binh Danh's chlorophyll prints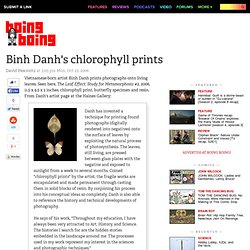 Artwork of Binh Danh
Infinity Imagined
Rare photographs of atomic bomb testing at Bikini Atoll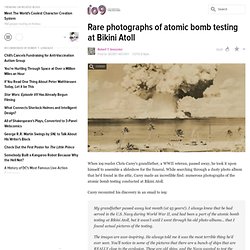 The majority of the photos depict the Baker shot of Operation Crossroads. Baker, the second test, was an underwater detonation and significantly more destructive (and radioactive) than the airburst Able shot, which is shown in the 5th photo (the print without a border). The Able shot utilized the so-called 'Demon Core,' which killed Harry Daghlian and Louis Slotkin in two separate criticality accidents. The Baker shot produced no visible flash and was therefore safe to view; the Able shot was marred by being more than 700 yards off-target.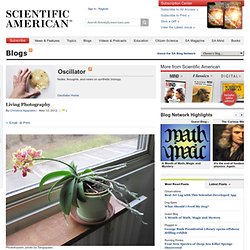 Living Photography | Oscillator
Phototropism, photo by Tangopaso Wie orientieren sich Cyanobakterien im Licht
Melissa Maples » Extremely large and incredibly close
A Harrowing Photo Of The 1978 Jonestown Massacre
Untitled Document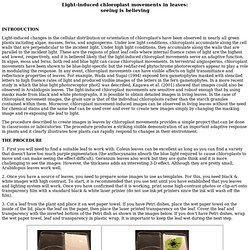 Light-induced chloroplast movements in leaves: seeing is believing Light-induced changes in the cellular distribution or orientation of chloroplast's have been observed in nearly all green plants including algae, mosses, ferns, and angiosperms. Under low light conditions, chloroplasts accumulate along the cell walls that are perpendicular to the incident light.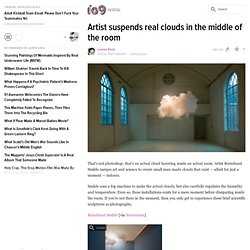 Now, I don't mean to belittle this. The single act of getting it to coalesce and hover in the middle of the room like a blob is ridiculously cool in it of itself.
Legendary Soviet Cosmonaut Vladimir Komarov's Funeral
The Most Iconic Photographs Of The 1950s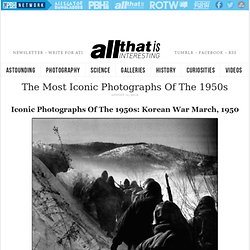 Korean War March, 1950 This LIFE magazine picture is one of the earliest images of the Korean War. In it, American Marines march down a canyon road they dubbed "Nightmare Alley" during a retreat from the Chosin Reservoir. Segregated Water Fountains, 1950 This image of segregated water fountains in North Carolina was taken by Elliott Erwitt. With just one click, the photograph captured the deep-seated racism prevalent in American society in the 50s.
An incredibly surreal photo of the real-life goths from American Gothic
vintage vixen obsessed: Archive
The Carnabetian Army: Archive
The Most Iconic Images Of The 1970s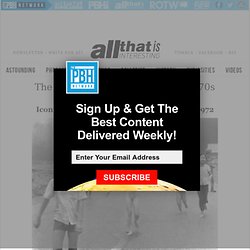 Napalm Girl, 1972 Taken by Huynh Cong Ut, this photograph of the devastating impact of a napalm attack is the most iconic image of the Vietnam War. The girl in the center of the photograph is 9-year old Kim Phúc, who is running away from the attack with severe burns. Kent State protest, 1970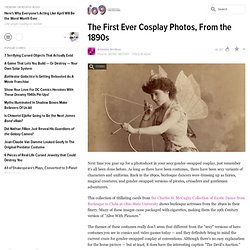 Okay, first of all, this is NOT cosplay. Cosplay is a type of performance art in which participants don costumes and accessories and imitate characteristics to represent a fictional character they are a fan of. Basically, bringing the character to life. TThere is a level of acting that comes into the "play."
The First Ever Cosplay Photos, From the 1890s
Here's a cute tidbit about Las Vegas in the 50's (from Iconic Photos): "The next phase came with the U.S. Army and its nuclear testing on a dried lakebed just outside the city; people came to Las Vegas to stand on the edge of the desert, and feel the ground shake, smoke billow and glass shatter around them. They stayed at the Atomic View Hotel, ordered Atomic Hamburgers, Atomic Hairdos, and Atomic Cocktails (equal parts vodka, brandy, champagne with a splash of sherry).
Photos imagine atomic bomb tests as a modern tourist attraction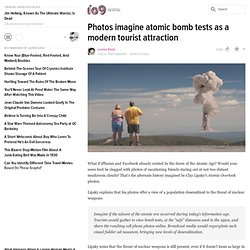 Incredible close-up photos of animals' eyes
GAMMA_STILL_38 | Flickr: Intercambio de fotos
Dazzling Droplets: Photos Reveal Mini Worlds
Photos - Google+
Golden Age Comic Book Stories
AuroraMAX / Canadian Space Agency The northern lights take on a weird, rippling shape in a super-wide-angle view captured Sunday night by the Canadian Space Agency's AuroraMAX webcam in Yellowknife, capital of the Northwest Territories. There's more from AuroraMAX at the project's website and on Twitpic .
Auroras spark awe across the north
Chris Forman: un álbum de Flickr
SamanthAshli Pants - Google+ - <span class="proflinkWrapper"><span class="proflinkPref...
Panorámica de 60 Gigas de Barcelona
Aumentando la colección de impresionantes imágenes compuestas por miles de fotografías, os dejamos hoy con la panorámica de Barcelona de 60 Gigas, desde la que podemos hacer zoom para ver pequeños detalles de esta gran ciudad. Disponible en lainformacion.com nos permite cambiar de punto de vista, disfrutando de los detalles tanto de día como de noche.
9 miles from Nome: Icebreaker closes in on cut-off Alaska town
Tabique Malévolo - Google+ - An Armenian physics teacher Suren Manvelyan used his…
Danny Lyon
Espera...
Photo Album
Dr Julius Neubronner's Miniature Pigeon Camera
first image 'forest 70b', 2007 (c-print)
landscapes by kim keever
PROCESO 35 AÑOS DE FOTOPERIODISMO
Photos like this could pass for a Cold War-era Russian propaganda program, or perhaps shots straight from the set of the movie Moonraker — if not for a stray pair of late-20th century sneakers.
Cosmonaut Couture: Russian Photo Shoot Makes Space Sexy | Wired Science
Solar-Storm-Fueled Auroras Make for Awesome Backyard Photography | Wired Science
Johnny Cash's 80th Birthday: Rare and Unpublished Photos of the Country Music Icon