Photography
This time of year, when the sun goes down early, neon comes into focus. While neon lighting may be losing out to LED and lighted plastic in the commercial world, the classic neon signs of New York City seem to be glowing particularly bright at this point in time. Two neon connoisseurs have taken it upon themselves to make sure these signs get the admiration they deserve. "Finding all these vibrant, living neon signs helped me fall in love with the city again."
Neon Lost and Found: Where New York City Still Burns Bright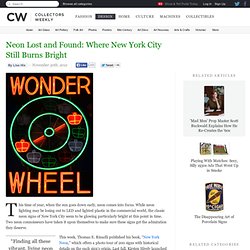 Writer and photography / Rosemary Horn Rosie Horn lets her images develop slowly on the actual plant. Overview Make a positive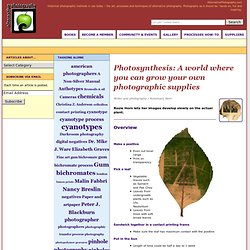 Photosynthesis: A world where you can grow your own photographic supplies « Photosynthesis
Vietnamese-born artist Binh Danh prints photographs onto living leaves. Seen here, The Leaf Effect: Study for Metamorphosis #2, 2006, 11.5 x 9.5 x 2 inches, chlorophyll print, butterfly specimen and resin. From Danh's artist page at the Haines Gallery: Danh has invented a technique for printing found photographs (digitally rendered into negatives) onto the surface of leaves by exploiting the natural process of photosynthesis.
Binh Danh's chlorophyll prints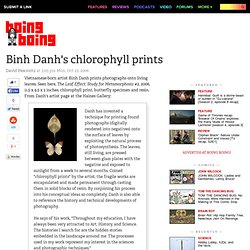 Artwork of Binh Danh
Infinity Imagined
Rare photographs of atomic bomb testing at Bikini Atoll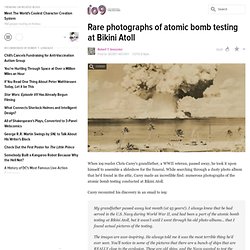 The majority of the photos depict the Baker shot of Operation Crossroads. Baker, the second test, was an underwater detonation and significantly more destructive (and radioactive) than the airburst Able shot, which is shown in the 5th photo (the print without a border). The Able shot utilized the so-called 'Demon Core,' which killed Harry Daghlian and Louis Slotkin in two separate criticality accidents. The Baker shot produced no visible flash and was therefore safe to view; the Able shot was marred by being more than 700 yards off-target.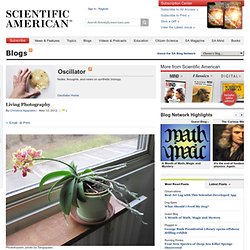 Living Photography | Oscillator
Phototropism, photo by Tangopaso Wie orientieren sich Cyanobakterien im Licht Plants don't always seem particularly charismatic, but hidden from us in their slow-motion and chemical activities are incredible mechanisms that sense and respond to the world around them. Plants move in response to light, bending and stretching to get maximum sunlight. This phototropism extends all the way down to much smaller photosynthetic organisms. Like other bacteria, many species of photosynthetic cyanobacteria can swim and swarm to move towards areas where more food–sunlight–is available.
Melissa Maples » Extremely large and incredibly close
A Harrowing Photo Of The 1978 Jonestown Massacre
Untitled Document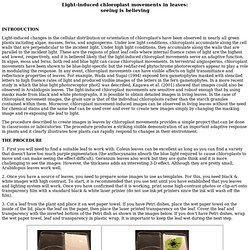 Light-induced chloroplast movements in leaves: seeing is believing Light-induced changes in the cellular distribution or orientation of chloroplast's have been observed in nearly all green plants including algae, mosses, ferns, and angiosperms. Under low light conditions, chloroplasts accumulate along the cell walls that are perpendicular to the incident light.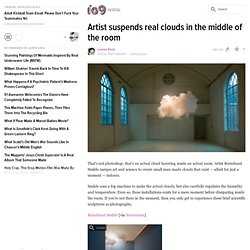 Now, I don't mean to belittle this. The single act of getting it to coalesce and hover in the middle of the room like a blob is ridiculously cool in it of itself. And the lighting and staging are beautiful. But, this really isn't a "cloud", right? I mean, unless I'm mistaken and there are other types of fog machines, which he used. Because the fog machines I've seen all use that solution which while water-based, is also loaded with glycerine and and other stuff to stabilize it and create the mist when it's aerosolized by the heating element.
Legendary Soviet Cosmonaut Vladimir Komarov's Funeral
The Most Iconic Photographs Of The 1950s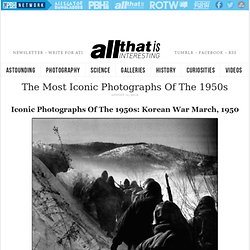 Iconic Photographs Of The 1950s: Korean War March, 1950 This LIFE magazine picture is one of the earliest images of the Korean War. In it, American Marines march down a canyon road they dubbed "Nightmare Alley" during a retreat from the Chosin Reservoir. Segregated Water Fountains, 1950 This image of segregated water fountains in North Carolina was taken by Elliott Erwitt. With just one click, the photograph captured the deep-seated racism prevalent in American society in the 50s and became one of the most iconic photographs of the 1950s.
An incredibly surreal photo of the real-life goths from American Gothic
Our book "Retronaut - The Photographic Time Machine" (National Geographic): Available to pre-order now Chris Book Add to favourites Latest capsules June 9th 1959: Previously unseen pictures of Carole King Chris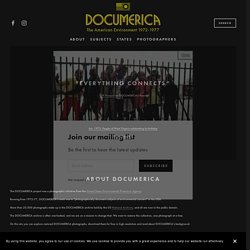 vintage vixen obsessed: Archive
A Historical past Of piercings Couture of cartilage jewelry The US manufacturer Disney Couture, is possibly laid again and glamorous and motivated by means of some of the optimum legendary flicks inside historical past – Snow White, Magnificence and the Beast, Pocahontas, Cinderella and Peter Pan. While somewhat more youthful as a designer brand name, it includes previously a massive just after in just the US and movie star followers like Nicole Richie.
The Carnabetian Army: Archive
The Most Iconic Images Of The 1970s
Iconic Images Of The 1970s: Napalm Girl, 1972 Taken by Huynh Cong Ut, this photograph of the devastating impact of a napalm attack is the most iconic image of the Vietnam War. The girl in the center of the photograph is 9-year old Kim Phúc, who is running away from the attack with severe burns. Kent State protest, 1970
The First Ever Cosplay Photos, From the 1890s
SExpand Here's a cute tidbit about Las Vegas in the 50's (from Iconic Photos): "The next phase came with the U.S. Army and its nuclear testing on a dried lakebed just outside the city; people came to Las Vegas to stand on the edge of the desert, and feel the ground shake, smoke billow and glass shatter around them.
Photos imagine atomic bomb tests as a modern tourist attraction
That would have been so much cooler if you fired up your favorite photo editing program (I didnt say photoshop because screw Adobe and they don't deserve Xerox level brand awareness). p.s. Yes, I am that old that I remember Xerox freaking out about people using the term Xeroxing to meaning copying (yeah, they won!) and for 95% of the Internet population, they don't need Adobe to be awesome because open source rocks.
Incredible close-up photos of animals' eyes
GAMMA_STILL_38 | Flickr: Intercambio de fotos
Dazzling Droplets: Photos Reveal Mini Worlds
Auroras spark awe across the north
Chris Forman: un álbum de Flickr
SamanthAshli Pants - Google+ - <span class="proflinkWrapper"><span class="proflinkPref...
Panorámica de 60 Gigas de Barcelona
9 miles from Nome: Icebreaker closes in on cut-off Alaska town
Tabique Malévolo - Google+ - An Armenian physics teacher Suren Manvelyan used his…
Danny Lyon
Espera...
Photo Album
Dr Julius Neubronner's Miniature Pigeon Camera
PROCESO 35 AÑOS DE FOTOPERIODISMO
Cosmonaut Couture: Russian Photo Shoot Makes Space Sexy | Wired Science
Solar-Storm-Fueled Auroras Make for Awesome Backyard Photography | Wired Science
Johnny Cash's 80th Birthday: Rare and Unpublished Photos of the Country Music Icon