Positive Psychology
Positive Psychology UK
Ron Gutman: The hidden power of smiling
Positive Psychology News Daily
Positive Psychology & Psychotherapy Martin Seligman
From watching this video, you will: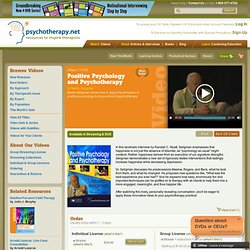 Positive psychology is one of the newest branches of psychology to emerge. This particular area of psychology focuses on how to help human beings prosper and lead healthy, happy lives.
Positive Psychology - What Is Positive Psychology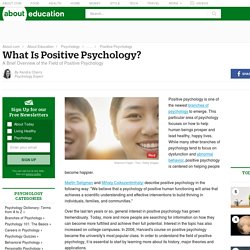 We want to take our science, knowledge and arts about positive psychology, states, feelings and experiences to the next level-- to scientifically explore, elucidate, codify, and create a unified, interwoven, integrated paradigm which collects together existing models so as to evolve a useful, practical Positive Science which spawns a collection of tools, technologies and techniques for optimizing human and social functioning, performance, health and happiness. In a world where there are hundreds of thousands of studies and meetings on what is negative, on what to move away from and eliminate, experts on what's wrong-- we need a positive vision-- somewhere and something to move towards.
Positivity Central
Positive Psychology
Positive Psychology Center
Martin Seligman — Pursuit of Happiness