DNL
1) Sites officiels Ministère de l'éducation nationale Le site ÉduSCOL propose une présentation générale des sections européennes et des liens vers les textes de référence parus au BO concernant ces sections. http://eduscol.education.fr/D0121/a... Émilangues Le site Émilangues est le site officiel d'accompagnement pour les sections européennes ou de langues orientales. http://www.emilangues.education.fr
Enseigner les mathématiques en anglais en section européenne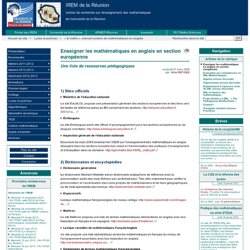 A Maths Dictionary for Kids 2011 by Jenny Eather
On-line Mathematics Dictionary
Table of Contents
This section is about the different types of data we can collect. There are two main types of data: qualitative and quantitative. Additionally, quantitative data can be divided into discrete and continuous data.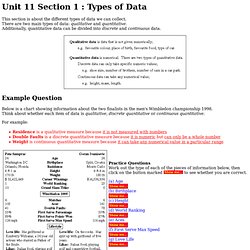 Unit 11 Section 1 : Types of Data
30 Year Averages - Met Éireann - The Irish Meteorological Service Online
Dublin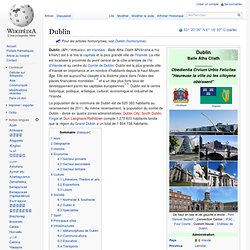 Un article de Wikipédia, l'encyclopédie libre. Dublin (API /ˈdʊbəlɪn/, en irlandais : Baile Átha Cliath API/bˠalʲə aːha klʲiəh/) est à la fois la capitale et la plus grande ville de l'Irlande. La ville est localisée à proximité du point central de la côte orientale de l'île d'Irlande et au centre du Comté de Dublin. Dublin est la plus grande ville d'Irlande en importance et en nombre d'habitants depuis le haut Moyen Âge. Elle est aujourd'hui classée à la dixième place dans l'index des places financières mondiales[1],[2] et a un des plus forts taux de développement parmi les capitales européennes[3],[4].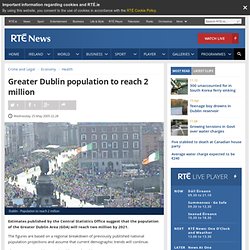 Estimates published by the Central Statistics Office suggest that the population of the Greater Dublin Area (GDA) will reach two million by 2021.
Greater Dublin population to reach 2 million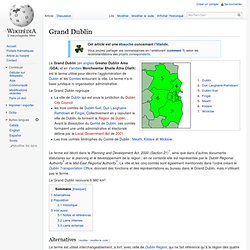 Un article de Wikipédia, l'encyclopédie libre. Le Grand Dublin (en anglais Greater Dublin Area (GDA) et en irlandais Mórcheantar Bhaile Átha Cliath) est le terme utilisé pour décrire l'agglomération de Dublin et les Comtés entourant la ville. Le terme n'a ni base juridique ni organisation administrative.
Grand Dublin
Dublin (Ireland) :: Evolution of the modern city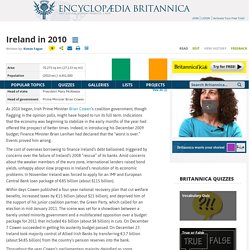 Ireland: Year In Review 2010
As 2010 began, Irish Prime Minister Brian Cowen's coalition government, though flagging in the opinion polls, might have hoped to run its full term. Indications that the economy was beginning to stabilize in the early months of the year had offered the prospect of better times. Indeed, in introducing his December 2009 budget, Finance Minister Brian Lenihan had declared that the "worst is over."
John Graunt Biography - ( 1620 – 1674 ) - Mortality, Bills, Natural, and London
GRAUNT, John. (1620-1674). Natural and political observations mentioned in a following index and made upon the bills of mortality...with reference to the government, religion, trade, growth, ayre, diseases, and the several changes of the said city. London
DICO-MATHS anglais-français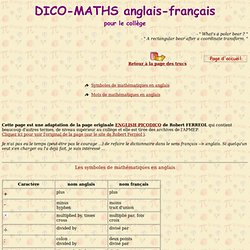 DICO-MATHS anglais-françaispour le collège - " What's a polar bear ? "- " A rectangular bear after a coordinate transform. "