Food and Drink
Grilled Cheese Academy. 50 Pancakes and Waffles (1 - 10) : Recipes and Cooking. Affogato Mocha Recipe at Epicurious. Portuguese Apple Fritters -DK. Wine & Food Pairing Guide Chart | Home Wine Bars by Barina Craft. Barina Craft'shome bar site.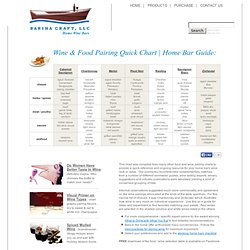 This chart was compiled from many other food and wine pairing charts to provide a quick reference and ongoing resource for your home bar's wine rack or cellar. The commonly recommended complementary matches from a number of different sommelier guides, wine tasting experts, winery suggestions and industry publications were tabulated yielding a kind of consensus grouping of lists. Informal observations suggested much more commonality and agreement on the wine pairings advocated at the ends of the taste spectrum. How to Pair Mixers with Alcohol : Recipes and Cooking. The Webtender: Drinking Games. Have fun with The Webtender's collection of drinking games, but be extremely careful if you play any these games, especially the ones with high buzz factors.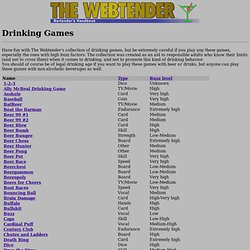 The collection was created as an aid to responsible adults who know their limits (and not to cross them) when it comes to drinking, and not to promote this kind of drinking behavior. You should of course be of legal drinking age if you want to play these games with beer or drinks, but anyone can play these games with non-alcoholic beverages as well. For more fun, visit the Web Site Index and go to one of the sites listed there. Orange Blossom Frescas - A beverage for the Morning After. I know this is a strange day to post about a refreshing, cold beverage, being we're in a midst of a Snow Advisory but I've been drinking Orange Blossoms with Cranberry and Mint all day long and it's just too good not to share.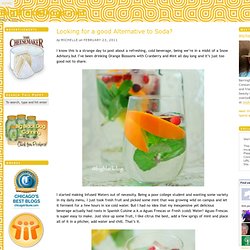 I started making Infused Waters out of necessity. Being a poor college student and wanting some variety in my daily menu, I just took fresh fruit and picked some mint that was growing wild on campus and let it ferment for a few hours in ice cold water. But I had no idea that my inexpensive yet delicious beverage actually had roots in Spanish Cuisine a.k.a Aguas Frescas or Fresh (cold) Water! Aguas Frescas is super easy to make.
---