Cool Videos
It's not just a boulder!
Bearded Dragon Attacks Grape
Steven Spielberg's Advice
George Lucas' Advice
College Scam Conspiracy Theory
George Lucas in Love
Fire Tornado Created With Twelve Fans - Video
Some of these are timeless classics of YouTube. Some of them you might never have seen before. But they all share two things in common: they are hilarious, and they are under 20 seconds long.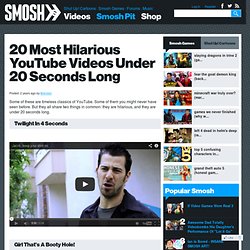 Cyberoptics - Megatron Vomit 2 (Dubstep Mix)
Handlebars - Spongebob Style
Fishing under ice (ORIGINAL)