Economics
Futurist Gerd Leonhard - Futurist, Author and Keynote Speaker Gerd Leonhard
Editors' Note: This fictionalized case study will appear in a forthcoming issue of Harvard Business Review, along with commentary from experts and readers. If you'd like your comment to be considered for publication, please be sure to include your full name, company or university affiliation, and email address. Adam Baker had been bothered all day by the blunt message his boss and mentor, Merwyn Straus, had delivered to him on the phone that morning: Adam was not the right guy to lead their company's latest venture.
Case Study: Can Nice Guys Finish First? - Jeffrey Pfeffer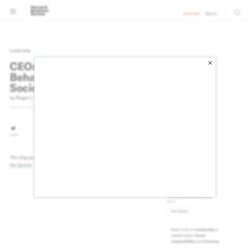 by Roger Martin | 2:22 PM September 26, 2011
CEOs Must Model the Behavior for Creating Societal Value - Roger Martin
by Roger Martin | 12:12 PM October 3, 2011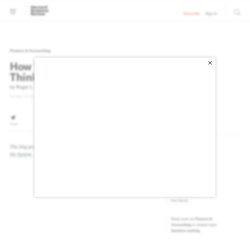 How To Make Companies Think Long-Term - Roger Martin
Videozone
overzicht
C | BASE
Working paper series/Vakgroep - Activiteiten - Onderzoek - Faculteit Economie en Bedrijfskunde
Centre for Russian International Socio-political and Economic studies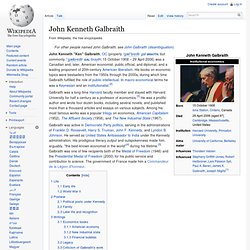 John Kenneth "Ken" Galbraith , OC (properly pron.: / ɡ æ l ˈ b r eɪ θ / gal- BRAYTH , but commonly / ˈ ɡ æ l b r eɪ θ / GAL -brayth ; 15 October 1908 – 29 April 2006), was a Canadian economist, public official, and a leading proponent of 20th-century American liberalism . He was a Keynesian , an institutionalist , His books on economic topics were bestsellers from the 1950s through the 2000s and he filled the role of public intellectual from the 1950s to the 1970s on matters of economics.
John Kenneth Galbraith
Franco Modigliani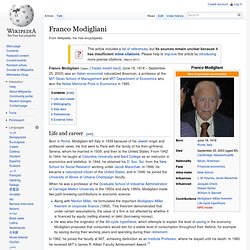 Franco Modigliani ( Italian: [ˈfraŋko modiʎˈʎani] ; June 18, 1918 – September 25, 2003) was a Jewish - Italian economist , a professor at the MIT Sloan School of Management and MIT Department of Economics who won the Nobel Memorial Prize in Economics in 1985.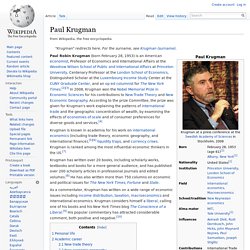 Paul Krugman
Paul Robin Krugman (born February 28, 1953) is an American economist , Professor of Economics and International Affairs at the Woodrow Wilson School of Public and International Affairs at Princeton University , Centenary Professor at the London School of Economics , and an op-ed columnist for The New York Times . [ 7 ] [ 8 ] In 2008, Krugman won the Nobel Memorial Prize in Economic Sciences for his contributions to New Trade Theory and New Economic Geography .
Milton Friedman (July 31, 1912 – November 16, 2006) was an American economist , statistician , and author who taught at the University of Chicago for more than three decades.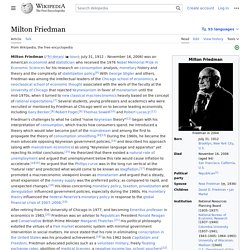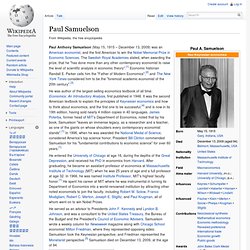 Paul Samuelson
Paul Anthony Samuelson (May 15, 1915 – December 13, 2009) was an American economist , and the first American to win the Nobel Memorial Prize in Economic Sciences . The Swedish Royal Academies stated, when awarding the prize, that he "has done more than any other contemporary economist to raise the level of scientific analysis in economic theory". [ 1 ] Economic historian Randall E.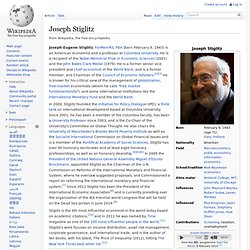 Joseph Eugene Stiglitz , ForMemRS , FBA (born February 9, 1943) is an American economist and a professor at Columbia University .
Welcome To Microeconomics 101!
UPDATE: See here for an updated version of this page, complete with new search features and such. This intro video tells you everything that you need to know: Below you will find an outline of the videos and other content that pertain to a typical introductory microeconomics course.
Welcome to YouTube!
Kanaal van jodiecongirl
ceps.com
Home - Jacon