Magazines-Resources
SEED MAGAZINE. COSMOS magazine | The science of everything. Powering the future. An computer-generated image Masdar City, a futuristic city in the United Arab Emirates, where the 3rd World Future Energy Summit is being hosted.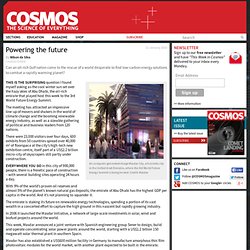 Credit: Masdar This is the surprising question I found myself asking as the cool winter sun set over the hazy skies of Abu Dhabi, the oil-rich emirate that played host this week to the 3rd World Future Energy Summit. The meeting has attracted an impressive line-up of movers and shakers in the world of climate change and the booming renewable energy industry, as well as a sizeable gathering of political and business leaders from 120 nations. There were 23,000 visitors over four days, 600 exhibits from 50 countries spread over 40,000 m2 of floorspace at the city's high-tech new exhibition centre, itself part of a US$2.2 billion micro-city of skyscrapers still partly under construction. Everywhere you go in this city of 900,000 people, there is a frenetic pace of construction – with several building sites operating 24 hours a day.
Science Daily: News & Articles in Science, Health, Environment &. New Scientist.
---