PERIÓDICAS
SHSviews Magazine. The publication of the quarterly newsletter SHSviews has been suspended.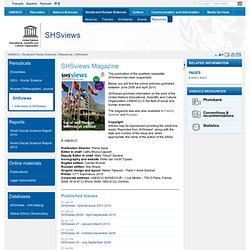 Below, you will find the online archives published between June 2006 and April 2010. SHSviews provided information on the work of the United Nations Educational, Scientific and Cultural Organization (UNESCO) in the field of social and human sciences. The magazine was also also available in French, Spanish and Russian. CopyrightArticles may be reproduced providing the credit line reads "Reprinted from SHSviews", along with the date and number of the issue and, when appropriate, the name of the author of the article.© UNESCO. ClubCultura.com - Cultura iberoamericana, literatura, cine, musica y fotografia. Letras Libres - Cultura, literatura, poesía, ensayo, política, crítica. Humboldt - Tema actual - Ensayos para el diálogo cultural con el mundo iberoamericano - Goethe-Institut.
La revista cultural Humboldt ya no promoverá ni diseñará el intercambio cultural entre Alemania y Sudamérica en forma de publicación impresa, sino dentro de la red online compuesta por las redacciones de Brasil, Chile, Alemania y Colombia.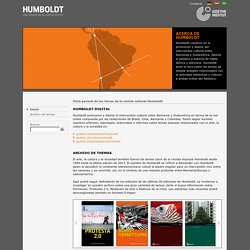 Podrá seguir leyendo nuestros artículos, reportajes, entrevistas e informes sobre temas actuales relacionados con el arte, la cultura y la sociedad en: goethe.de/brasilien/humboldt goethe.de/chile/humboldt goethe.de/kolumbien/humboldt El arte, la cultura y la sociedad también fueron los temas clave de la revista impresa Humboldt desde 1959 hasta la última edición de 2013.
CoCorico ! French Culture & Voyage en France. Revista cultural Vulture - Magazine de creación masiva. Frontline. Wired Magazine  The UNESCO Courier. Humanism: a new idea Climate change, ethical issues raised by the boom in biomedical and digital technologies, and the ongoing economic and political crises are all threats hanging over the future of mankind.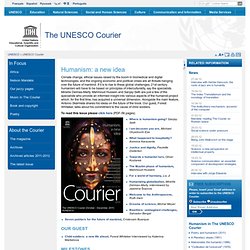 If it is to rise to these global challenges, 21st century humanism will have to be based on principles of interculturality, say the specialists. Mireille Delmas-Marty, Mahmoud Hussein and Sanjay Seth are just a few of the specialists who provide an informed insight into various aspects of the humanist project which, for the first time, has acquired a universal dimension. Alongside the main feature, Antonio Skármeta shares his ideas on the future of the book.
Our guest, Forest Whitaker, talks about his commitment to the cause of child soldiers. African Affairs. BioPharm International - Articles on bioprocessing methods, regulatory compliance, and biotech strategies. Lifescied. Biodiesel Magazine. Engineering Magazines. GroupTourMagazine.com.
---