IDIOMAS
TERMCAT – Benvingut al web del TERMCAT. TERMCAT.
INGLÉS. FRANCES. ALEMÁN. Lingu@net World Wide. El centro multilingüe para la enseñanza y el aprendizaje de idiomas con 4.606 recursos de calidad contrastada.
Información y enlaces a recursos en línea de calidad de todo el mundo, relacionados con la enseñanza y el aprendizaje de cualquier idioma. Ayuda para estudiantes adultos sobre el aprendizaje de lenguas. Pronunciator - Learn to Speak 60 Languages - 100% Free. Ranking of Foreign Language OpenCourseWare Education Sources. There are many free foreign language courses online, but not all of them are equal in content and quality.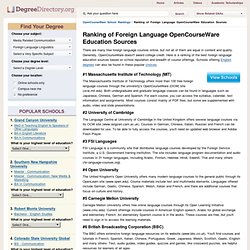 Generally, OpenCourseWare doesn't award college credit. Here is a ranking of the best foreign language education sources based on school reputation and breadth of course offerings. Schools offering English degrees can also be found in these popular choices. #1 Massachusetts Institute of Technology (MIT) Welcome to Language Box - Language Box. 100 Free Foreign Language Classes Online.
March 1st, 2010 If you have always wanted to learn a language but were too put off by the high cost associated with most classes, then take a look at all these great opportunities to learn a foreign language online, at no cost to you.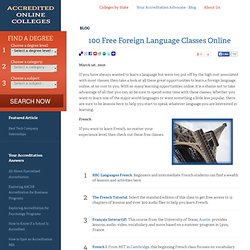 With so many learning opportunities online, it is a shame not to take advantage of all that you can, so be sure to spend some time with these classes. Whether you want to learn one of the major world languages or want something a little less popular, there are sure to be lessons here to help you start to speak whatever language you are interested in learning. French. Free Online Language Courses. Learn Japanese Language Online for Free! | japanese-lesson.com.
Aprendizado de idioma com Livemocha | Aprenda um idioma online - Grátis! Gramática holandesa • Gramática holandesa. Resources for World Languages - Five College Center for the Study of World Languages. LangMedia was made possible by grants from the National Security Education Program (NSEP) and the Fund for Post-Secondary Education (FIPSE) of the U.S.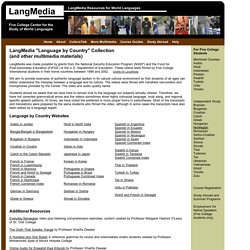 Department of Education. These videos were filmed by Five College international students in their home countries between 1999 and 2002. We aim to provide examples of authentic language spoken in its natural cultural environment so that students of all ages can better understand the interplay between a language and its culture. The videos were filmed with handheld camcorders and microphones provided by the Center.
---