IDIOMAS APRENDER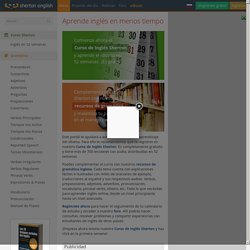 Hemos creado este portal para que puedas acelerar al máximo tu aprendizaje del idioma. Para ello te recomendamos que sigas nuestro Curso de inglés Sherton. Es completamente gratuito y tiene más de 700 lecciones con audio distribuidas en 52 semanas. Lo podrás complementar con el estudio de los recursos de gramática del sitio, donde hallarás miles de ejemplos traducidos al español. [Leer más]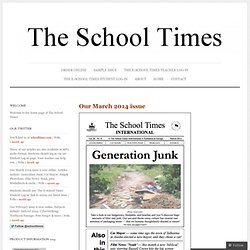 The School Times Online
This year, 2014, is the 20th anniversary of The School Times. To mark our two successful decades we have now created a special website for your students to login to. At present, only teachers are allowed to access our full site and archives to print our materials and use our audio texts. However, at our new 'student site' e-schooltimes.com your students will be able to access the latest issue and Worksheets (without the Teacher's Page) each month. Of course, this requires a special login and during 2014 we are offering this new student access 'free of charge' to our current subscribers. Teachers, log-in to our full site for details!
is this a word?
【エンジェルライブ】 登録数 安全性 満足度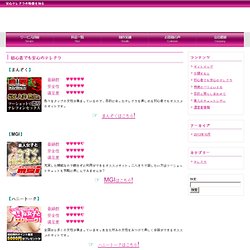 There are many free foreign language courses online, but not all of them are equal in content and quality. Generally, OpenCourseWare doesn't award college credit. Here is a ranking of the best foreign language education sources based on school reputation and breadth of course offerings. Schools offering English degrees can also be found in these popular choices. #1 Massachusetts Institute of Technology (MIT) The Massachusetts Institute of Technology offers more than 100 free foreign language courses through the university's OpenCourseWare (OCW) site (ocw.mit.edu).
Ranking of Foreign Language OpenCourseWare Education Sources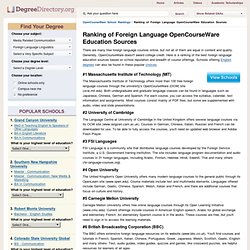 Welcome to Language Box - Language Box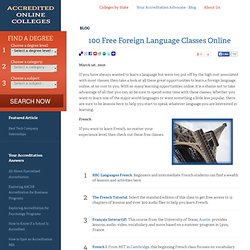 March 1st, 2010 If you have always wanted to learn a language but were too put off by the high cost associated with most classes, then take a look at all these great opportunities to learn a foreign language online, at no cost to you. With so many learning opportunities online, it is a shame not to take advantage of all that you can, so be sure to spend some time with these classes. Whether you want to learn one of the major world languages or want something a little less popular, there are sure to be lessons here to help you start to speak whatever language you are interested in learning. French If you want to learn French, no matter your experience level, then check out these free classes.
www.busuu.com/aprende-frances-online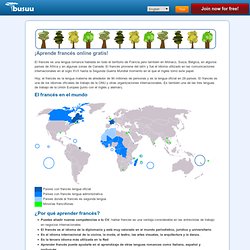 El francés es una lengua romance hablada en todo el territorio de Francia pero también en Mónaco, Suiza, Bélgica, en algunos países de África y en algunas zonas de Canadá. El francés proviene del latín y fue el idioma utilizado en las comunicaciones internacionales en el siglo XVII hasta la Segunda Guerra Mundial momento en el que el inglés tomó este papel. Hoy, el francés es la lengua materna de alrededor de 90 millones de personas y es la lengua oficial en 29 países. El francés es una de los idiomas oficiales de trabajo de la ONU y otras organizaciones internacionales. Es también una de las tres lenguas de trabajo de la Unión Europea (junto con el inglés y alemán).
woruldhord = world-hoard 'How easily can treasure buried in the ground, gold hidden however skilfully, escape from any man!' Seamus Heaney (transl.) Beowulf (1999), p. 87 About the project The Woruldhord project is based at the University of Oxford and presents to you a collection of freely reusable educational resources to help you study or teach the period of English history centred on the Anglo-Saxons, or Old English (literature and language).
Woruldhord Project: Welcome to the Woruldhord project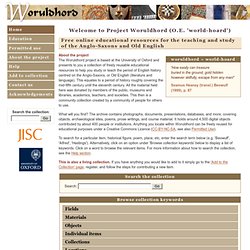 Learn Dutch
Confucius.org
| Home | MAIN MENU | Viewing Languages | About This Translation | Contact Us | This site contains the Lun Yu (499 sayings of Confucius) in 21 languages and a varying amount of other Confucius related contents for each language. You may access them through the Language Sub-menus column on the left below, or by clicking the English descriptions in the Contents column on the right directly: | Arabic | Chinese (Traditional) | Chinese (Simplified) | Dutch | English | French | German | Greek | Hebrew | Indonesian | Italian | Japanese | Korean | Latin | Malay | Persian | Polish | Portuguese | Russian | Spanish | Tagalog | Tamil | Thai |
The Red Brush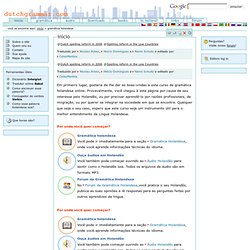 Em primeiro lugar, gostaria de lhe dar as boas-vindas a este curso de gramática holandesa online. Provavelmente, você chegou à esta página por causa de seu interesse pelo Holandês, ou por precisar aprendê-lo por razões profissionais, de imigração, ou por querer se integrar na sociedade em que se encontra. Qualquer que seja o seu caso, espero que este curso seja um instrumento útil para o melhor entendimento da Língua Holandesa.
Gramática holandesa • Gramática holandesa
LangMedia: Resources for World Languages - Five College Center for the Study of World Languages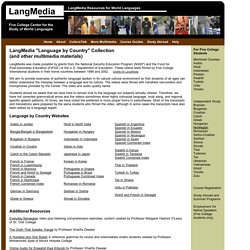 LangMedia was made possible by grants from the National Security Education Program (NSEP) and the Fund for Post-Secondary Education (FIPSE) of the U.S. Department of Education. These videos were filmed by Five College international students in their home countries between 1999 and 2002. We aim to provide examples of authentic language spoken in its natural cultural environment so that students of all ages can better understand the interplay between a language and its culture. The videos were filmed with handheld camcorders and microphones provided by the Center. The video and audio quality varies.