Elearning
Enterprise Features. With Schoology's simple tools, websites and webpages can be created, saved, shared, and adapted.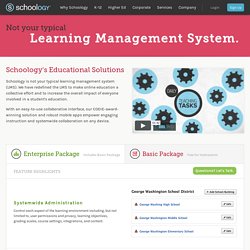 A variety of tools make the creation process simple, from defining an online homework assignment with a homework submission area to creating a set of rich-text or HTML pages that can be sequenced and played in a desired navigational order. For almost every content type, an easy-to-use WYSIWYG allows the user to spend less time learning HTML and CSS, and more time building high-quality, interactive content. For more advanced users that may be looking for full customizability, the Pages feature within Schoology allows for the easy creation of content using either an advanced rich-text editor or custom HTML and CSS.
Home. Free Educational Videos for K-12 Students. Xerte - Open Source E-Learning Developer Tools. Xerte Online Toolkits 2.0 is a suite of tools for content authors.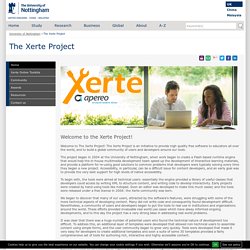 Elearning materials can be authored quickly and easily using browser-based tools, with no programming required, and content can be delivered to all devices. Xerte Online Toolkits is aimed at content authors, who will assemble content using simple forms. Content authors can easily collaborate on projects. Xerte Online Toolkits is in use in hundreds of institutions all over the world, with an active community of users and developers. Xerte 2.x is a fully-featured e-learning development environment for creating rich interactivity. OpenCourseWare | Free Online Course Materials. eLearning news. Kogniwistyka | e-learning. Wreszcie mogę podzielić się z Wami moją opinią dotyczącą książki "Efficiency in Learning: Evidence-Based Guidelines to Manage Cognitive Load" oraz samej kogniwistyki.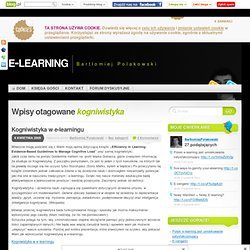 Jakiś czas temu na portalu Goldenline trafiłem na profil Marka Goliasza, gdzie znalazłem informację, że studiuje on Kogniwistykę. Z początku pomyślałem, że jest to jeden z tych kierunków, na których tak na prawdę niczego się nie uczysz tylko filozofujesz (Sorry Marku, byłem w błędzie:) Po przeczytaniu tej książki zmieniłem jednak całkowicie zdanie o tej dziedzinie nauki i dostrzegłem niesamowity potencjał, jaki ma ona w nauczaniu tradycyjnym i e-learningu. Dzięki niej nasze materiały edukacyjne będą efektywniejsze a jednocześnie prostsze i bardziej przejrzyste. Zacznijmy jednak od definicji: Kognitywistyka – dziedzina nauki zajmującą się zjawiskami dotyczącymi działania umysłu, w szczególności ich modelowaniem.
Screenr | Instant screencasts: Just click record. CourseLab - free e-Learning authoring tool. • notatek.pl | portal wiedzy akademickiej: notatki, wykłady, studia.
---