Philosophy
I can never know everything, but damn sure can TRY!
Logical Paradoxes - StumbleUpon. 35 Inspiring Quotes from Albert Einstein & Always Well Within - StumbleUpon. Albert Einstein (March 14, 1879 – April 18, 1955), the famous theoretical physicist, developed the theory of relativity and is considered the father of modern physics.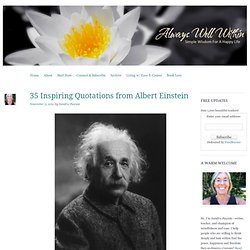 The nuclear physicist Robert Oppenheimer shared his impressions of Einstein by saying, "He was almost wholly without sophistication and wholly without worldliness . . . There was always with him a wonderful purity at once childlike and profoundly stubborn." Due to his brilliance Einstein was often called upon to offer opinions on topics beyond the realm of physics; thus the wide range of inspired quotations. 21 Scathingly Witty Insults By Famous People: Pics, Videos, Links, News - StumbleUpon.
Philosophy. Dan Gilbert asks, Why are we happy?
---