Tips & tricks
Travel is becoming more and more accessible to all (at least in the Western world). However, the bulk of the costs are still spent on flights and accommodation. Flights can be exchanged for other transport options, such as taking a roadtrip. Unless you never sleep however, you will always need a place to rest at night.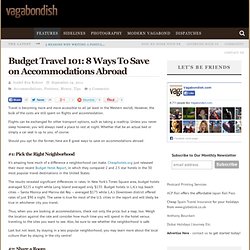 Budget Travel 101: 8 Ways To Save on Accommodations Abroad
Living abroad can be an exciting, mind-opening experience and is the best way to learn about new cultures. But it's made even better if your money goes further than at does at home. Find out which countries offer the most bang for your buck.
The World's Cheapest Countries to Live In » Travel Guides » i-to-i Campfire | Gap Year & Volunteer Travel Community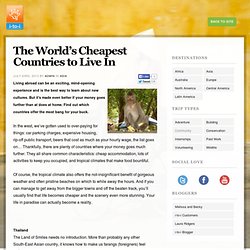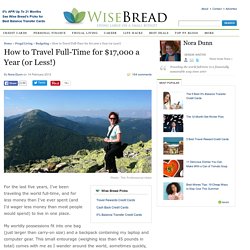 Wise Bread Picks For the last five years, I've been traveling the world full-time, and for less money than I've ever spent (and I'd wager less money than most people would spend) to live in one place. My worldly possessions fit into one bag (just larger than carry-on size) and a backpack containing my laptop and computer gear.
I asked readers to share what's on their mind and one reader mentioned their American AAdvantage account was being audited, another commenter speculated that this first reader had sold frequent flyer miles. I've given advice on how to handle this subject before, but it's a great idea to be aware of what loyalty programs look for, determine your own risk tolerance, and know how to stay on the right side of their auditing departments. Here's what airlines look for to crack down on the sale of miles, which while not illegal is against program rules — the account holder can have their account closed and all of their miles forfeit, the travel can have their tickets cancelled and can find themselves stranded. Why Loyalty Programs Restrict You from Selling Awards Most airline and hotel programs will let you use your points to let someone else travel.
View from the Wing - Putting a little thought into a lot of travel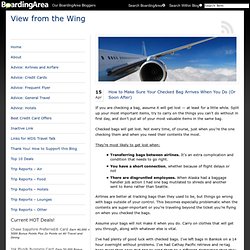 How to become a travel writer (seriously)
Include as much as you can on your round-the-world trip, like Victoria's Peak in Hong Kong. Buy a round-the-world ticket that uses one airline alliancePlan to be away for at least two months to make the most of the journeyResearch the weather conditions for the areas you want to visit the most (Lonely Planet) -- It's the ultimate trip: circumnavigating the planet, and stopping off wherever takes your fancy. Great for travelers who want to see it all, or who are just plain indecisive. But booking a round-the-world (RTW) trip can be a complex business.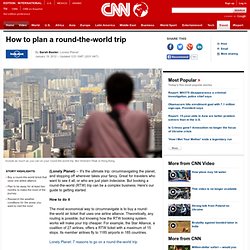 How to plan a round-the-world trip
How much does it cost to travel the world for a year?
Tips for flying cheaper in 2012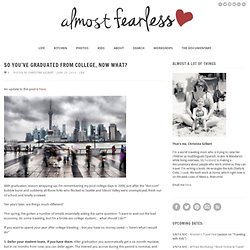 An update to this post is here. With graduation season wrapping up, I'm remembering my post-college days in 2000, just after the "dot com" bubble burst and suddenly all those folks who flocked to Seattle and Silicon Valley were unemployed, fresh out of school and totally screwed. Ten years later, are things much different? This spring, I've gotten a number of emails essentially asking the same question: "I want to wait out the bad economy, do some traveling, but I'm a broke-ass college student… what should I do?" If you want to spend your year after college traveling – but you have no money saved — here's what I would do" 1. Defer your student loans, if you have them.
Ways To Earn Money When You're Broke On The Road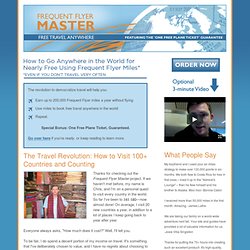 What People Say My boyfriend and I used your air miles strategy to make over 120,000 points in six months. We both flew to Costa Rica for free in first class – lived it up in the "Admiral's Lounge" – then he flew himself and his brother to Alaska. Woo hoo! -Bonnie Caton I received more than 55,000 miles in the first month.
How to Use Frequent Flyer Miles to Travel for Free (even if you don't fly very often)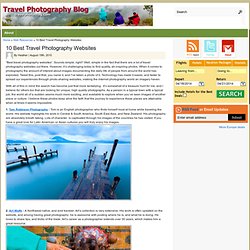 by Heather | August 19th, 2010 "Best travel photography websites". Sounds simple, right? Well, simple in the fact that there are a lot of travel photography websites out there.
10 Best Travel Photography Websites
Upcoming travel blogger conferences for 2012
10 ways travel can boost your resume
The problem with cheap places is that it's all relative to the lifestyle someone chooses. While I do list Xi'an, China as being inexpensive, it's also quite easy to spend as much as you would in Tokyo, Japan. It also depends on what you're into.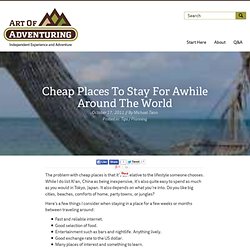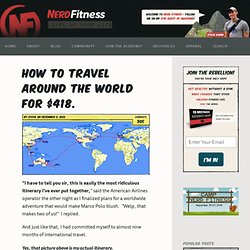 "I have to tell you sir, this is easily the most ridiculous itinerary I've ever put together," said the American Airlines operator the other night as I finalized plans for a worldwide adventure that would make Marco Polo blush. "Welp, that makes two of us!" I replied. And just like that, I had committed myself to almost nine months of international travel. Yes, that picture above is my actual itinerary. Beginning this January, I'll start an epic journey that will take me across four continents, through at least nine countries, and into more than fifteen cities.
EDIT: This blog post was written on my 8 year travel anniversary in 2011. THIS year (2013) I celebrated my TEN year travel anniversary with a much more visual representation of the top ten lessons learned in travelling the world, including the absolute best footage from my travels, and you can hear me speak out the lessons directly to the camera. Here it is: If you liked this video, please copy and paste this: http://www.youtube.com/watch?