Lvbailey
Lauren Bailey
Sixth grade teacher in San Bruno
PowerTeacher
SysAid Help Desk Software
Student Information - Science 6 Period SCI
sixthgraders
Pattern Puzzles | Games | Blue Balliett's Books
Play Pentominoes | Games | Blue Balliett's Books
Science Knowledge and Skills - 6th grade
Rock Cycle Activities - Stream Erosion
rockcycle
Rock Cycle Activities - Physical and Chemical Weathering Activity
Rock and the Rock Cycle
Rock Cycle Activities - Wind Erosion
Science Fair Project Ideas
Gerunds Anyone Lesson Plan, Gerund Phrases Worksheet, Verbals, Teaching Activity
About the Gerunds Anyone?
The templates below can be downloaded from our site, saved to your hard drive, edited as necessary, and then printed. Or they can be downloaded, printed, and used as is. Click here to get directions for downloading and editing templates.
Education World® : Teacher Tools & Templates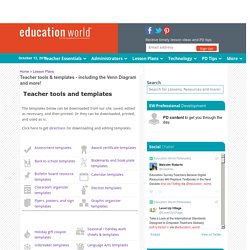 Student Materials: Story Map
story_map
Free Video Clips for Ancient Mesopotamia (Sumer, Babylon, Assyria)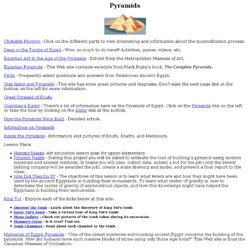 Pyramids Clickable Mummy - Click on the different parts to view interesting and information about the mummification process.
Pyramids
Social Studies - Ancient Civilizations
Here: Home > Classroom > Social Studies > Ancient Civilizations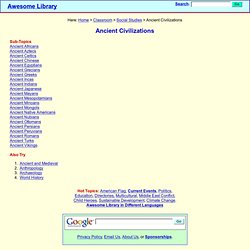 Harcourt School Publishers - The Learning Site
Mesopotamia: Lesson Plans
Mesopotamia
Introduction Purpose: To develop a better understanding of the Greek city-states. Children can easily become confused when studying the ancient Greek civilization.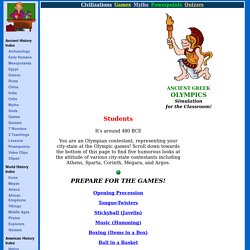 Ancient History Lesson Plans - Ancient Greek Olympics in the Classroom
Hammurabi and His Code
Hammurabis Code of Laws
NLVM Data Analysis & Probability Manipulatives
Equivalent Fractions
Factor Tree
Equivalent Fractions
Factor Game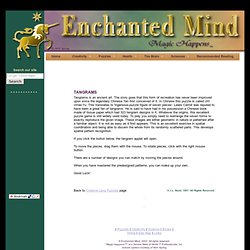 Enchanted Mind Java Puzzles - Tangrams
Tangrams is an ancient art. The story goes that this form of recreation has never been improved upon since the legendary Chinese Tan first conceived of it.
Math Live
Bad Wolf Press