Belle storie
27 Incredibly Creative Print Ads You'll Love. With how often each of us are online or using our mobile phones, you would think that print advertising is an antiquated artwork that no one pays real attention to.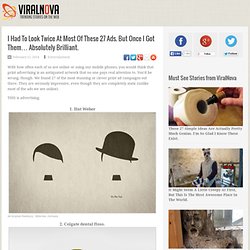 You'd be wrong, though. We found 27 of the most stunning or clever print ad campaigns out there. 30 Business Cards I Wish Were Mine. 10 Creative Advertising Ideas from Students « Gencay's Blog. 15 Absolutely Brilliant Billboard Ads ...Really. Some of the following are great examples of outdoor advertising, specifically billboards, at their best. 1.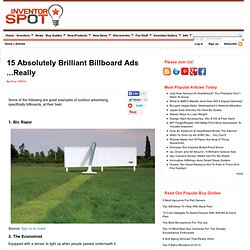 Bic Razor. 50 campagne minimaliste da cui trarre ispirazione. L'advertising ideale è quello che riesce a trasmettere un messaggio in modo semplice, diretto, essenziale, senza orpelli o abbellimenti, solo mettendo a nudo il concetto essenziale da comunicare.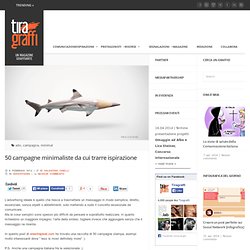 Ma le cose semplici sono spesso più difficili da pensare e soprattutto realizzare, in quanto richiedono un maggiore impegno: l'arte della sintesi, togliere invece che aggiungere senza che il messaggio ne risenta. In questo post di onextrapixel.com ho trovato una raccolta di 50 campagne stampa, esempi molto interessanti dove " less is most definitely more" :) P.S. Battaglia pubblicitaria tra BMW, Audi, Subaru e Bentley. Finalmente sono riuscito a ritrovare la famosa battaglia pubblicitaria tra alcune ditte d'automobili importanti.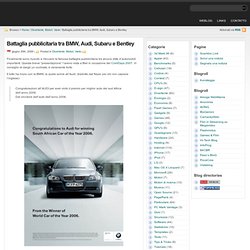 Questa breve "presentazione" l'avevo vista a Biel in occasione dei ComDays 2007. Vi consiglio di dargli un occhiata, è veramente forte. Il tutto ha inizio con la BMW, la quale scrive all'Audi: (tradotto dal flayer per chi non capisce l'inglese): Most creative and interesting advertisements for 2011. It is always said that first impression is the best impression so to grab public attention towards their products the agencies and the large conglomerates stick to the creative advertisements.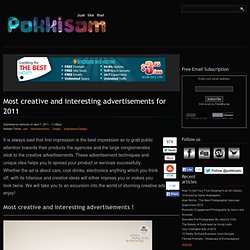 These advertisement techniques and unique idea helps you to spread your product or services successfully. Whether the ad is about cars, cool drinks, electronics anything which you think off; with its hilarious and creative ideas will either impress you or makes you look twice. We will take you to an excursion into the world of stunning creative ads enjoy! Ads of the World™ | Creative Advertising Archive & Community. Bit This!: Forget all the rules. Brands of the World. Head2Head Shop: Business Card. Adweek – Breaking News in Advertising, Media and Technology.
The 10 Best Commercials of 2011. Many people groaned last winter when it became clear that Super Bowl XLV would be packed bumper to bumper with automotive ads.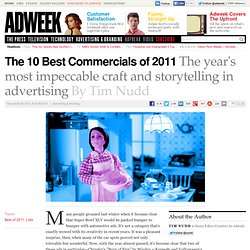 It's not a category that's exactly wowed with its creativity in recent years. It was a pleasant surprise, then, when many of the car spots proved not only tolerable but wonderful. Now, with the year almost passed, it's become clear that two of those ads in particular—Chrysler's "Born of Fire" by Wieden + Kennedy and Volkswagen's "The Force" by Deutsch—weren't just among that evening's best spots. They turned out to be among the year's best. Ad of the Day: The 'Guardian' Covers the Three Little Pigs as a Modern News Story.
Newspapers, we know, are under siege.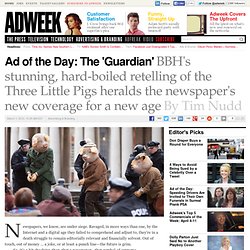 Ravaged, in more ways than one, by the Internet and a digital age they failed to comprehend and adjust to, they're in a death struggle to remain editorially relevant and financially solvent. Out of touch, out of money … a joke, or at least a punch line—the future is grim. So, it's a bit shocking, then, that a newspaper—that symbol of supreme irrelevance—has delivered one of the most bracingly, brilliantly relevant ads of 2012 so far.
On its own, it won't save the newspaper business. But the Guardian's new campaign, from BBH, squarely acknowledges that old newspaper journalism is dead, and posits that the paper will lead the way in harnessing every aspect of new media—and the communities that sustain and evolve it—to build an entirely modern news-gathering service, one that not only keeps up with its audience but once again guides them through the world they seek to understand.
---