Databases
miRGen is an integrated database of: positional relationships between animal miRNAs and genomic annotation sets animal miRNA targets according to combinations of widely used target prediction programs miRGen has three connected interfaces which query this data. The Genomics interface allows the user to explore where whole-genome collections of miRNAs are located with respect to UCSC genome browser annotation sets such as Known Genes, Refseq Genes, Genscan predicted genes, CpG islands, and pseudogenes. The Targets interface provides access to unions and intersections of four widely used target prediction programs, and experimentally supported targets from TarBase.
DIANA miRGen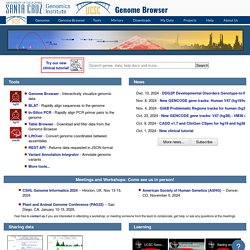 To receive announcements of new genome assembly releases, new software features, updates and training seminars by email, subscribe to the genome-announce mailing list. 06 March 2014 - The new GRCh38 Human Genome Browser is here! In the final days of 2013, the Genome Reference Consortium (GRC) released the eagerly awaited GRCh38 human genome assembly, the first major revision of the human genome in more than four years. During the past two months, the UCSC team has been hard at work building a browser that will let our users explore the new assembly using their favorite Genome Browser features and tools. Today we're announcing the release of a preliminary browser on the GRCh38 assembly.
BRENDA
ensembl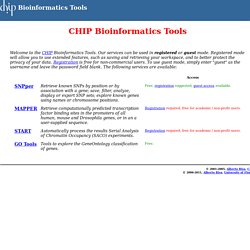 CHIP
Welcome to the CHIP Bioinformatics Tools. Our services can be used in registered or guest mode. Registered mode will allow you to use extended features, such as saving and retrieving your workspace, and to better protect the privacy of your data. Registration is free for non-commercial users. To use guest mode, simply enter "guest" as the username and leave the password field blank.