Informational Websites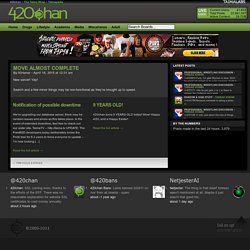 By Kirtaner - December 18, 2013 at 1:41 pm I'm happy to announce that we've deployed new tech to halt the chronic spam problem we've been experiencing over the last year. It's now successfully blocking 100% of automated spam! There may still be a few bugs remaining, so if you're experiencing issues posting, there's instructions in the potential error messages to get your problem sorted out. We've managed to do this without resorting to an experience-ruining Captcha, which is really why it took so long to come up with a solution.
420chan - Drug Discussion
Legal High Guides - Contains Vendors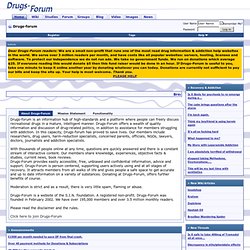 Drugs-forum is an information hub of high-standards and a platform where people can freely discuss recreational drugs in a mature, intelligent manner. Drugs-Forum offers a wealth of quality information and discussion of drug-related politics, in addition to assistance for members struggling with addiction. In this capacity, Drugs-forum has proved to save lives. Our members include researchers, drug users, harm-reduction specialists, concerned parents, officials, NGOs, lawyers, doctors, journalists and addiction specialists.
Drugs-forum - Valuable Info
SafeOrScam - Check Your Vendor!
Bluelight - User Reports & More
February 6, 2014 11:35 PM By Robert Zullo / Pittsburgh Post-Gazette The war on drugs, Jack Cole said, has been "far worse" than a failure. Speaking to about 75 students Thursday afternoon at Slippery Rock University, Mr. Cole, a retired New Jersey State Police narcotics detective and a co-founder of Law Enforcement Against Prohibition, called it "a self-perpetuating and constantly expanding policy disaster." Mr.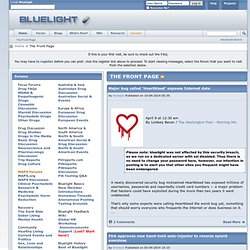 Hip Forums - Free Speech
Erowid - Everything You Need To Know