Music
Music Radio. Music: New Music, Music Reviews and Music News. Un Disque Un Jour. Le mouv' iConcerts - Homepage | i-concerts - Homepage. SCATTERED BLACK and WHITES. The Quietus. Homepage. Music News, Album Reviews, Concert Photos, MP3s, Videos and More. Free and legal music downloads. OWNImusic, Réflexion, initiative, pratiques. Independent Music Journalism - For The People, By The People. Toujours un coup d'Avance! Trackitdown - Dance Music MP3/WAV/Merchandise Distribution Centre. Musique : actu, chroniques et dossiers. Pitchfork: Home. The Ultimate Music Blog for Free MP3s, Free CD Listening, Discovering New Artists.
MOJO – The world's best music magazine is also online. Home - BALCONYTV - Over 15 million video views - Music with a View. Best indie rock music, great new songs, hot bands, album releases. From the Basement : Home. Lilly Wood & The Prick | Invincible Friends. The Wilderness Downtown. Rolling Stone | Music News, Reviews, Photos, Videos, Interviews and More. Musique Mag | Toute l'actu de la musique : clip, interview, mp3. Punk, Emo, Hardcore, Ska, ... |News, chroniques, MP3, Vid os, In. Chronique Neige Morte - Bicephaale : "Alors que l'hiver de l'An de grâce 2014 touche à sa fin, un certain trio lyonnais persiste à se complaire dans le permafrost et la noirceur, le désordre sans retenue. [...]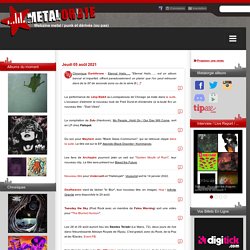 " Concours : Le Superbowl Of Hardcore Festival se déroulera le 17 mai à l'Antipode de Rennes avec Merauder, Born From Pain, Backfire, Stormcore, Get The Shot, Risk It, The Dead Man's Chest, Awol, Alea Jacta Est et Ultimhate. Face 2 Face&Knock Out Boys & 3S mettent en jeu 2 x 1 places. Pour participer rien de plus simple, il vous suffit de répondre à la question par ici. Toutes les infos sur l'event Facebook. Sound Of Violence - L'actualité du rock britannique. Uncut.co.uk - Music and Movies with something to say. Music news, Listings, Reviews, Reaction, Interviews and Communit. Music News and Reviews, Concert Tickets, Videos, Pictures and Fr.
POL Arida.
---