More
The Middle Way. An Enso is the Zen symbol that represents enlightenment.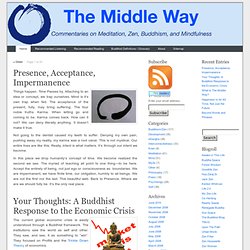 It's generally considered an output of enlightened activity. It's both the symbol and reality of enlightenment. It's a brush stroke from a master, that in a single thought-less breath captures the moment of non-thought. The Buddha and His Dhamma, by Dr. B. R. Ambedkar. *Part I — From Birth to Parivraja* *Part II — Renunciation for Ever* *Part III — In Search of New Light* *Part IV — Enlightenment and the Vision of a New Way* *Part V — The Buddha and His Predecessors* *Part VI — The Buddha and His Contemporaries* *Part VII — Comparison and Contrast* *Part I — Buddha and His Vishad Yoga* *Part II — The Conversion of the Parivrajakas* *Part III — Conversion of the High and the Holy* *Part IV — Call from Home* *Part V — Campaign for Conversion Resumed* *Part VI — Conversion of the Low and the Lowly* *Part VII — Conversion of Women* *Part VIII — Conversion of the Fallen and the Criminals* *Part I — His Place in His Dhamma* *Part II — Different Views of the Buddha's Dhamma* *Part III — What is Dhamma* *Part IV — What is Not Dhamma* *Part V — What is Saddhamma*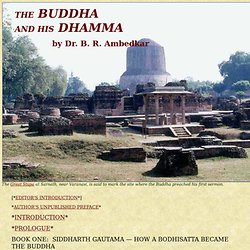 Buddha's Wheel of Life. Tibetan Buddhism Archives. Sacred-Texts Buddhism Tibetan Buddhism Archives Here, in no particular order, are miscellaneous articles about Tibetan Buddhism from various sources on the Internet, mostly predating the World Wide Web.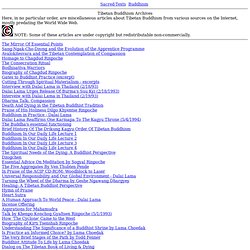 NOTE: Some of these articles are under copyright but redistributable non-commercially. Buddha's World & Buddhism. Hi Stumblers!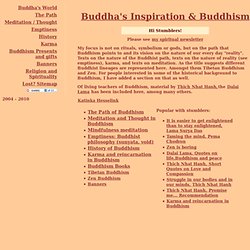 Please see my spiritual newsletter My focus is not on rituals, symbolism or gods, but on the path that Buddhism points to and its vision on the nature of our every day "reality". Texts on the nature of the Buddhist path, texts on the nature of reality (see emptiness), karma, and texts on meditation. As the title suggests different Buddhist lineages are represented here. Amongst them Tibetan Buddhism and Zen. Buddhism - The Four Noble Truths, The Eightfold Path, Karma and Meditation Practice.
---