Psychology
- StumbleUpon. Eating 10 hot dogs in 6 minutes and belching the national anthem may impress your friends, but neither of those feats will do much for your body—at least not much good.
Instead, why not train yourself to do something that may actually pay off? We're not talking bench presses and interval training (though those do help). You can teach your body to cure itself from everyday health ailments—side stitches, first-date jitters, even hands that have fallen asleep. Just study this list, and the next time your friends challenge you to an ice cream eating contest, chow down: You know how to thaw a brain freeze—and 17 other tricks that'll make everyone think you're the next David Blaine. But without all that "hold your breath for 17 minutes" mess.
Adventures in Depression - StumbleUpon. Some people have a legitimate reason to feel depressed, but not me.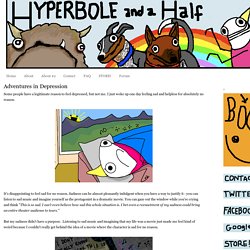 I just woke up one day feeling sad and helpless for absolutely no reason. It's disappointing to feel sad for no reason. Sadness can be almost pleasantly indulgent when you have a way to justify it - you can listen to sad music and imagine yourself as the protagonist in a dramatic movie. You can gaze out the window while you're crying and think "This is so sad. 5 Freewriting Secrets for Being a &Genius& | Psychology Today - StumbleUpon. You've heard of freewriting, certainly.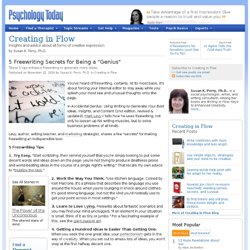 At its most basic, it's about forcing your internal editor to stay away while you splash your most raw and unusual thoughts onto the page. In Accidental Genius: Using Writing to Generate Your Best Ideas, Insights, and Content (2nd edition, revised & updated), Mark Levy tells how he uses freewriting, not only to loosen up his writing muscles, but to solve business problems of all kinds. Levy, author, writing teacher, and marketing strategist, shares a few "secrets" for making freewriting an indispensible tool: 5 Freewriting Tips. The Top 10 Psychology Studies of 2010 | Psychology Today - StumbleUpon. The end of 2010 fast approaches, and I'm thrilled to have been asked by the editors of Psychology Today to write about the Top 10 psychology studies of the year.
I've focused on studies that I personally feel stand out, not only as examples of great science, but even more importantly, as examples of how the science of psychology can improve our lives. Each study has a clear "take home" message, offering the reader an insight or a simple strategy they can use to reach their goals , strengthen their relationships, make better decisions, or become happier.
If you extract the wisdom from these ten studies and apply them in your own life, 2011 just might be a very good year. 1) How to Break Bad Habits. Why It's OK To Stay In Tonight & Thought Catalog. Because Thursday was your Friday.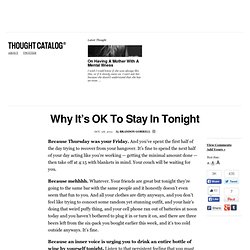 And you've spent the first half of the day trying to recover from your hangover. It's fine to spend the next half of your day acting like you're working — getting the minimal amount done — then take off at 4:15 with blankets in mind. 10 Instant Emotional Fitness Tools. When things get out of control and you momentarily lose your emotional balance, there are any number of little things you can do to regain it.
Here are ten tools to help get you started. 1. Wash your hands and face and brush your teeth.
---