Crafts
$5 in Paris (KUAS Original Pattern) Original knitting pattern by Anna Maliszewski Updated 8/27/13 English, French & Spanish Have you ever just wanted to make a quick and inexpensive raglan tee that is fluffy-soft without breaking the bank?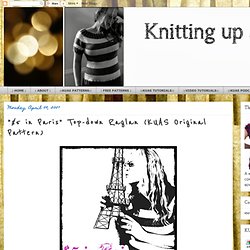 Crayola Wall Art. My mom is a preschool teacher.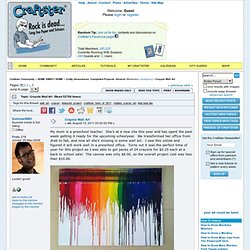 She's at a new site this year and has spent the past week getting it ready for the upcoming schoolyear. We transformed her office from drab to fab, and now all she's missing is some wall art. I saw this online and figured it will work well in a preschool office. Bath Fizzies. Ice-cube trays serve as molds, giving the fizzies their shape.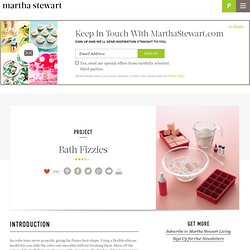 Using a flexible silicone model lets you slide the cubes out smoothly without breaking them. Show off the colors of the bath fizzies in glass jars with screw tops, the kind used for storing sugar and flour. Pack each type of fizzy in a separate jar so the scents won't meld. All Natural Graffiti Made from Moss – Crafting a Green World. I just love a DIY urban beautification project!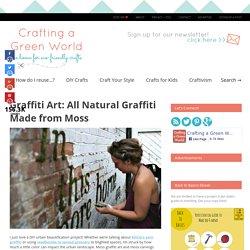 Whether we're talking about Kintta's yarn graffiti or using seedbombs to spread greenery to blighted spaces, I'm struck by how much a little color can impact the urban landscape. Moss graffiti art and moss carvings definitely fall under this umbrella. Moss Graffiti Art Unlike spray paint, moss graffiti art is all natural and healthy to work with. You can paint words or images, and the moss fills in like magic!
Handmade Salt Pouches For The Shower Or Bath. I love salt scrubs, especially this time of year when I want to slough off the dead skin from winter, and I equally love bath salts for the skin softening ingredients in them – but more often than not I find myself in the shower.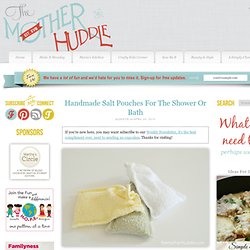 These pouches are perfect for combining both bath salt and salt scrub into an exfoliating pouch I can bring into the shower, and they are simple to make. You can go a few different routes when making these so play around with your recipes and find your favorite. I made these for my mom for Mother's Day so I added a few things for specific reasons. Fabulous Find Friday with Bev!! - Blog Tiffany.
A cabin in the mezzanine for the garden - Living with You. DIY Macro Lens. Mi Vida Loca: How To Glitter A Concrete Floor. Glowing Outdoor Orbs. O.K.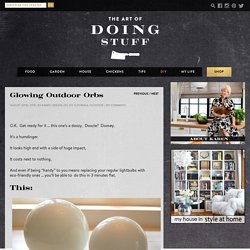 Get ready for it … this one's a doozy. Doozie? Doosey. It's a humdinger. Message inside an egg in Craft ideas for original gifts and presents. The first step to empty the egg is making two small holes in the oposite corners of the raw egg using a needle.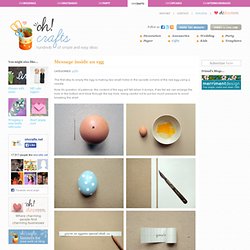 Now it's question of patience: the content of the egg will fall when it dumps. If we fail we can enlarge the hole in the bottom and blow through the top hole, being careful not to put too much pressure to avoid breaking the shell. Flowers in hanging glass bottles in Crafts for decorating and home decor. Imagine an ethereal and colorful atmosphere over your head ... this is the idea to make your wedding, party or celebration different.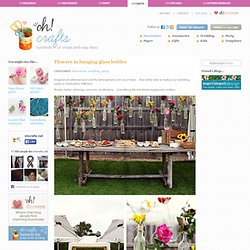 Roses, tulips, petunias, peonies, sunflowers ... everything fits into these suspended bottles. Wrapping the wire around the neck of the most beautiful bottles we have and fix them at some higher level support, we will make this magical effect becomes true. Images: Rock My Wedding, Ruffled Blog. Confetti Invitations + Template. Mar 14 I made this prototype for a couple who needed save-the-dates for a wedding.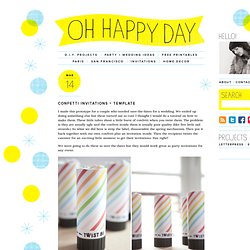 We ended up doing something else but these turned out so cute I thought I would do a tutorial on how to make them. These little tubes shoot a little burst of confetti when you twist them. The problem is they are usually ugly and the confetti inside them is usually poor quality (like five little sad strands.) So what we did here is strip the label, disassemble the spring mechanism. House of Smith's: Hanging Roses Flower Ball Tutorial. I was browsing blogs a couple weeks back and found a post about these great hand made crepe paper roses on this cute scrapbooking blog!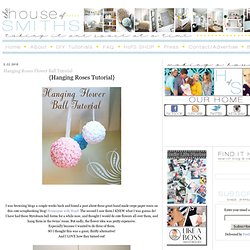 Homespun with Heart The second I saw them I KNEW what I was gonna do! I have had these Styrofoam ball forms for a while now, and thought I would do cute flowers all over them, and hang them in the twins' room. But sadly, the flower idea was pretty expensive. Shoe Sugar Month: Day 17 Insole Heaven. One of the downsides to buying shoes at the thrift store is that they often don't have the prettiest insoles. And honestly, I don't really care about what my shoes look like on the inside unless I'm photographing them. But I'll admit that I've been drawn to shoes in the store that have a pretty pattern on the inside. If you love to have your shoes look as good on the rack as they do on your feet you can try this simple tutorial for making custom insoles.
And BTW, I bought these Apt. 9 shoes for only $1.50! I love their pinkish but neutral hue.
Crochet
Sewing. Princesses. Redecorating.
---