iPads
Education Apps
iPad for Teaching & Learning
iPad Apps for the Middle School Student
Free Educational Apps for Middle School Students Tutorial
Middle School iPad Apps
IPADS.com - ipad tablet computers news from Apple Computer, Samsung, Motorola, RIM reviewed
MSN Games - Web Search
iPads and Tablets in Education
How Students Benefit From Using Social Media 14.60K Views 0 Likes A lot of criticism has been leveled at social media and the effect it has on the way students process and retain information, as well as how distracting it can be. However, social media offers plenty of opportunities for learning and interactivity, and if you take a moment to think about it, it's not too hard to see how students benefit from using social media. 3 Tech Tips Your Grandma Could Teach You 2.15K Views 0 Likes
50 Innovative Ways To Use iPads In School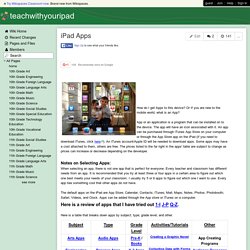 How do I get Apps to this device? Or If you are new to the mobile world, what is an App? App or an application is a program that can be installed on to the device. The app will have an icon associated with it. An app can be purchased through iTunes App Store on your computer or through the App Store app on the iPad (If you need to download iTunes, click here ). An iTunes account/Apple ID will be needed to download apps.
iPad Resources For School Administrators
Yesterday after receiving my iPad I quickly reached out to my PLN for some suggestions on which apps to download. The key for me is that I will be using this device at work in concert with my administrative team during administrative walk-throughs, observations, and to take notes during meetings (I am sure some other uses will come up as I get more acclimated with the iPad). So after roughly 12 hours here is my quick list of some applications that I feel educational administrators and other educators should have on their device.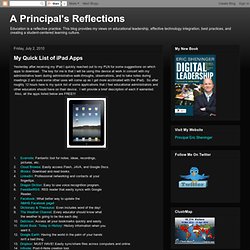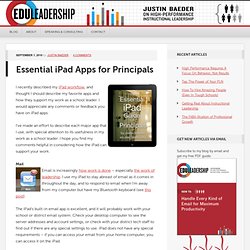 I recently described my iPad workflow , and thought I should describe my favorite apps and how they support my work as a school leader. I would appreciate any comments or feedback you have on iPad apps. I've made an effort to describe each major app that I use, with special attention to its usefulness in my work as a school leader. I hope you find my comments helpful in considering how the iPad can support your work.
Support - iPad
How Students Benefit From Using Social Media 14.60K Views 0 Likes A lot of criticism has been leveled at social media and the effect it has on the way students process and retain information, as well as how distracting it can be.
Future Education Tech
If you're a student, teacher, or administrator at a middle school looking into adopting iPads for educational purposes, it's important to know that the iPad is more than just an easy way to browse the web or visit the app store. There are actually thousands of educational apps hiding in the bowels of the app store. But how do you find them? Unless you know exactly what you're looking for, it is usually pretty tough to find the best apps. Heck, once you may come across an app it may prove to not be worth the time it took to download! Check out the list, sorted by content area, CLICK HERE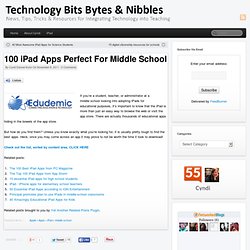 100 iPad Apps Perfect For Middle School