Food
I have been experimenting with different mug cakes every since I heard about them about a year ago. None of them have been winners. They were either too chewy, too dry, or not sweet enough.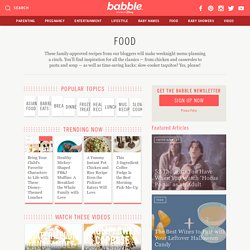 The USDA released its new food pyramid the other day (which is actually a plate now instead of a pyramid), and I am sorely disappointed to report that cinnamon rolls did not appear anywhere on that plate. I think by now most of us know what should be on our dinner plate in terms of healthy, well-rounded nutrient-laden meals, but it is my considered opinion that our breakfast plate should include cinnamon rolls now and then. And not just any cinnamon roll, mind you, but how 'bout a homemade cinnamon roll hybrid that is a cross between a cinnamon roll and cinnamon toast, is super easy to make and gosh darn delicious. In honor of their ancestry, I call these little gems cinnamon toast rolls, and here's all you need to make them…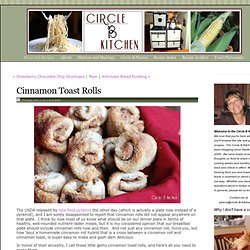 Love brownies. Love their shiny, flaky top that shatters into micro-thin shards that shower onto your fingers as you eat. Love their dark, gooey center.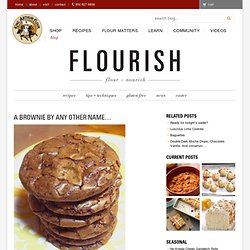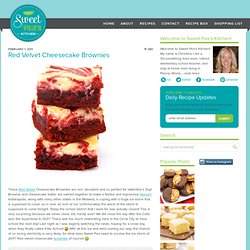 Red Velvet Cheesecake Brownies These Red Velvet Cheesecake Brownies are rich, decadent and so perfect for Valentine's Day! Brownie and cheesecake batter are swirled together to make a festive and impressive dessert . Indianapolis, along with many other states in the Midwest, is coping with a huge ice storm that is supposed to cover us in over an inch of ice. Unfortunately the worst of the storm is supposed to come tonight.
I have become completely overpowered by the force that is salted caramel. I simply can't get enough of it, no matter how it's presented to me. Ice cream ?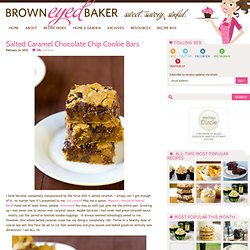 Salted Caramel Chocolate Chip Cookie Bars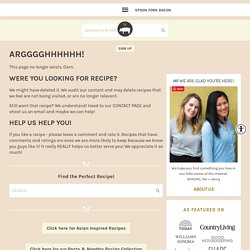 Blue Moon Cupcake
Hi All! Something you guys might not know about me is that I'm a big craft beer lover….like huge. I live one block from a liquor store that has the, "Biggest Beer Selection in the South Bay" and it's really awesome because they have large bottles of Dogfish Head, Allagash Black (yes, yes and Allagash White, of course), Pliny the Elder, Delirium Nocturnum, Leinenkugel's Sunset Wheat, and much much more. It's totally an adult candy shop…very awesome…makes me happy. Anyway, when I'm not in the mood to spend $12.99 on one bottle of beer (gross) I like to go to one of my "everyday" favorites, Blue Moon. I love wheat ales in general and especially love the citrus notes in Blue Moons.
Brown Sugar Cupcakes with Peanut butter
Oooooh.My.Gosh. Let's talk cupcakes. Some people think they are overrated. I tend to agree when they cost $6.50 a pop and crumble in your hand like fallen plaster or require chugging a gallon of milk to cancel out the dryness.