Feminism and Women's issues
women - NYTimes.com Search
The global economic crisis is showing the cracks in the surface of how patriarchy is lived in everyday lives; is now not the right time to refocus the discussion? Can we reclaim 'patriarchy' from the analysis of all men as patriarchs? How do we understand masculinities in a more political way?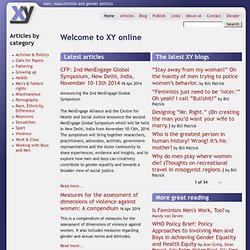 Welcome to XY online | www.xyonline.net
Looking at Muslim women in the media and pop culture » Muslimah Media Watch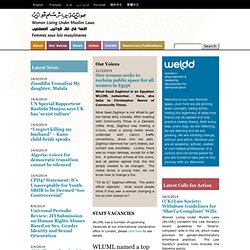 Women Living Under Muslim Laws
Nihal Saad Zaghloul is an Egyptian WLUML networker. Here, she talks to Christopher Reeve of Community Times. Nihal Saad Zaghloul is not afraid to get her hands dirty. Literally. After meeting with Community Times in a Zamalek coffee shop, Zaghloul was making a U-turn, when a young rookie driver, unfamiliar with Cairo's traffic conventions, drove into her path.
womensnewsnetwork.net
Copyright © 1999-2012 GoDaddy.com, LLC. All rights reserved. *One FREE .COM, .CO, .NET or .ORG with purchase of a new 12-, 24- or 36-month website builder plan. Plus ICANN fee of $0.18 per domain name per year. You must add the domain name into your cart before purchase, and you must select a domain term length equal to or less than the term length of your website builder plan to qualify for the free domain offer.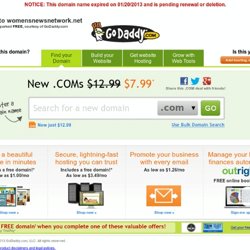 Radio 4 - Woman's Hour
IWMF - International Women's Media Foundation
Women's eNews
(This post is cross-posted at Crikey.) There's an article by Helen Dow currently on News.com.au (originally in Queensland's Sunday Mail) reporting on some findings from social research consultancy McCrindle Research in Sydney: namely, that Generation Y are losing basic skills of self-care and self-sufficiency. Here are some of the stats from the story: Only 51 per cent of survey respondents aged under 30 can cook a roast, compared with 82 per cent of baby boomers.Only 20 per cent of young respondents can bake lamingtons; 45 per cent of respondents aged over 30 can.Only 23 per cent of young respondents can grow a plant from a cutting; 78 per cent of older respondents can.And only 40 per cent of respondents under 30 can drive manual cars, compared to 71 per cent of older respondents. Notice that I have deliberately elided the issue of whether the respondents were male or female, and I have not generalised out from the survey sample to the wider Australian population.
The Dawn Chorus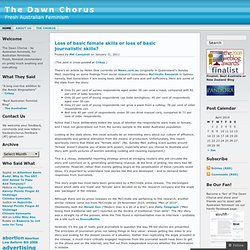 Hoyden About Town: a mixed bag of uppity women blogging from Australia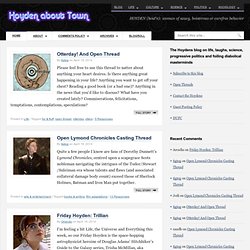 Otterday! And Open Thread By Lauredhel on January 18, 2014
Feminist.com
New Articles/Features: International Women's Day: Reflections from Natalie Portman, Maya Angelou and Other Renowned Women by Marianne Schnall Highlights of What Will It Take to Make a Woman President?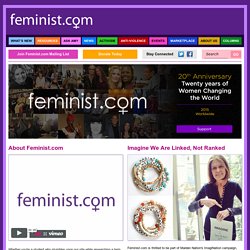 Guest Post by Dana Hunter Men, even good men, believe women lie about rape. There's this myth that runs amok saying that some enormous proportion of rape accusations are just women lying to get attention, or revenge, or to hide their summer fling from mommy and daddy.
Finally, A Feminism 101 Blog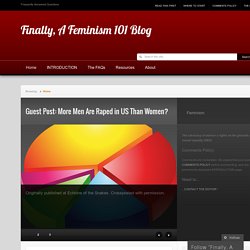 The XX Factor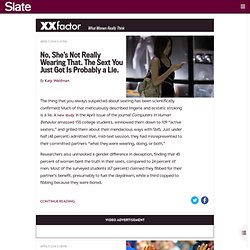 Thanks to the BuzzFeed quiz, we now all know which city we should live in (Paris), what kind of sandwich we are (grilled cheese), and which Twin Peaks character we are (Agent Dale Cooper). BuzzFeed quizzes exploit our urge to belong, to categorize ourselves into an identifiable group that we are instantly a part of. (Oh, you're a Miranda? Me too!) Which is why the latest BuzzFeed quiz, "How Metal Is Your Period?"
National Foundation for Australian Women — Just another WordPress site
Don't tie our hands, Barry. Vote NO on Zoe's Law This Thursday the Liberal Party of NSW will try to push through the Crimes Amendment (Zoe's Law) Bill (No.2) 2013. "Zoe's Law" is a bill which will, for the first time in Australia, grant legal rights to a foetus through creating a separate legal offense of grievous bodily harm against the foetus in addition to any harm to the mother.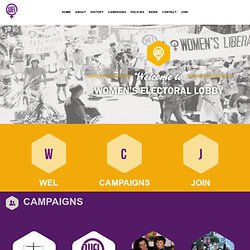 Women's Electoral Lobby
YWCA Australia.
The World YWCA joins the world in mourning Tata Nelson Rolihlahla Mandela, a towering champion of freedom and liberty. He made many personal sacrifices for his country, South Africa, for Africa and beyond. This was a journey he shared with the his family, friends the people of South Africa. With his death, the world's conscience is pricked, for we are all reminded of the deep values he stood for.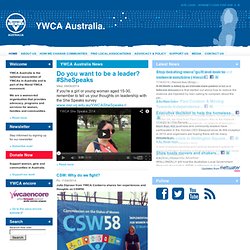 As you look through our website you will learn a lot about us and what our members are up to around Australia. You will find us helping people in disaster areas such as drought and f floods, lobbying governments about all sorts of issues, teaching cooking and crafts, entertaining and even making scones at agricultural shows. The News and Events page gives important information and has links to areas of interest e.g. reports, submissions etc. We have residences that are used by country people to support families in hospital, provide accommodation for students or just to have a holiday. We have sholarships for all sorts of rural students from those still at school wanting to further their education to a post graduate scholarship for a rural nurse.
CWAA
The Happy Feminist: FEMINISM 101 -- WHAT IS FEMINISM?
Feminism is not a monolith, nor is it a dogma. The only thing you have to believe in order to call yourself a feminist is that ensuring women's freedom and equality of opportunity in all spheres of life is a crucial priority. That's it. Feminists all work from that basic axiom, but aside from that we are an incredibly diverse group. We are diverse in five ways: 1) We come from every conceivable background and life experience.
Intro to Feminism and Women's Studies: Welcome
Feminist Lexicon: "Angel in the House" A concept of desirable femininity (from Coventry Patmore's nineteenth century poem) critiqued by Virginia Woolf who argued for the necessity of killing this internalised aspect of the feminine for women to be fully effective. She argued further in Three Guineas that it was also necessary to kill 'the lady'—although even then 'the woman still remained'.
Feminist Lexicon
Women's eNews
Women's Rights
Bitch Magazine | Feminist Response to Pop Culture
Feminist Majority
2011 Reading List « A Year of Feminist Classics
A Year of Feminist Reading - 12 Months of Important Feminist Books
Feminist Texts
The Feminist eZine - StumbleUpon
Contemporary UK Feminism
Feministing | Young Feminists Blogging, Organizing, Kicking Ass
Why was I sent to this blog? « Finally, A Feminism 101 Blog
Shakesville