Learning Technologies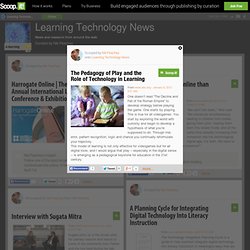 The Pedagogy of Play and the Role of Technology in Learning | Learning Technology
In this talk, Sugata Mitra will take us through the origins of schooling as we know it, to the dematerialisation of institutions as we know them. Thirteen years of experiments in children's education takes us through a series of startling results – children can self-organise their own learning, they can achieve educational objectives on their own, they can read by themselves. Finally, the most startling of them all: groups of children with access to the internet can learn anything by themselves. From the slums of India, to the villages of India and Cambodia, to poor schools in Chile, Argentina, Uruguay, the USA and Italy, to the schools of Gateshead and the rich international schools of Washington and Hong Kong, Sugata's experimental results show a strange new future for learning.
Learning Technology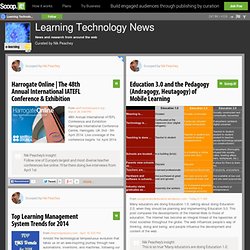 Catchbox is a new throwable microphone designed to liven up audience participation, and in turn reduce the faffing around that seems to occur whenever a conference turns to questions from the audience. The brightly coloured padded cube houses a wireless microphone that doesn't mind being tossed across a room or passed from person-to-person crowd surfing-style. In fact, it's actively encouraged.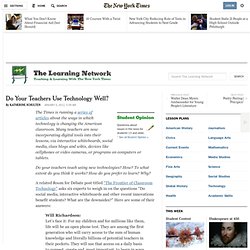 The Times is running a series of articles about the ways in which technology is changing the American classroom. Many teachers are now incorporating digital tools into their lessons, via interactive whiteboards, social media, class blogs and wikis, devices like cellphones or video cameras, or programs on computers or tablets. Do your teachers teach using new technologies? How?
Student Opinion | Do Your Teachers Use Technology Well?