Work
Companies Need 4 Leadership Types, Says VMware's Chief. Q.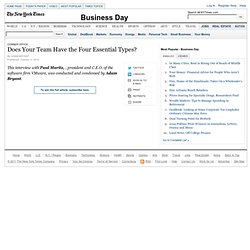 What are some important leadership lessons for you? A. I've learned that when you go from being an individual contributor to being a leader of a small group of 5 to 10 people, to leading 100 people, to leading 1,000 people, to leading 10,000 people, the nature of your job changes at each of those points. Q. From Cubicles, Cry for Quiet Pierces Office Buzz. The Myth of the Cool Office - Rebecca Greenfield.
Don't be fooled by the perks at all those Silicon Valley (and Alley) offices — it's all just part of a subtle plot to control employee behavior.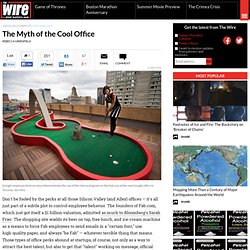 The founders of Fab.com, which just got itself a $1 billion valuation, admitted as much to Bloomberg's Sarah Frier. The shopping site wields its beer on tap, free lunch, and ice-cream machine as a means to force Fab employees to send emails in a "certain font," use high-quality paper, and always "be Fab" — whatever terrible thing that means. Those types of office perks abound at startups, of course, not only as a way to attract the best talent, but also to get that "talent" working on message, official office font included.
Each and every kegerator serves as a reminder of what you owe the company. On the Phenomenon of Bullshit Jobs | Strike! Magazine. Ever had the feeling that your job might be made up?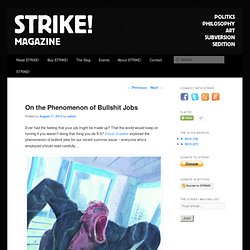 That the world would keep on turning if you weren't doing that thing you do 9-5? David Graeber explored the phenomenon of bullshit jobs for our recent summer issue – everyone who's employed should read carefully… On the Phenomenon of Bullshit Jobs by David Graeber. Should we worry about 'unproductive' financial sector gobbling up our best? | Business. Are too many of our most talented people choosing careers in finance – and, more specifically, in trading, speculating, and other allegedly unproductive activities?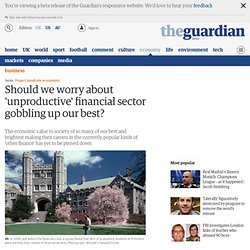 In the United States, 7.4% of total compensation of employees in 2012 went to people working in the finance and insurance industries. Whether or not that percentage is too high, the real issue is that the share is even higher among the most educated and accomplished people, whose activities may be economically and socially useless, if not harmful. In a survey of elite US universities, Catherine Rampell found that in 2006, just before the financial crisis, 25% of graduating seniors at Harvard, 24% at Yale, and a whopping 46% at Princeton were starting their careers in financial services.
Those percentages have fallen since, but this might be only a temporary effect of the crisis. The Ethic of Marginal Value :: Peter Frase. Recently David Graeber has gotten some attention for an essay on "the Phenomenon of Bullshit Jobs", which is notable mostly for getting some important arguments about the nature of work into wider circulation than usual.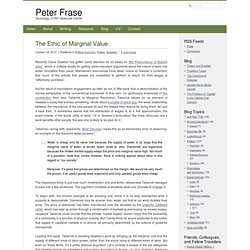 Mainstream economists have taken notice of Graeber's contention that much of the activity that people are compelled to perform in return for their wages is "effectively, pointless". But the result of mainstream engagement, as often as not, is little more than a demonstration of the narrow perspective of the conventional economist. A two-tiered employment world. Tatyana Deryugina (Illinois) and Olga Shurchkov (Wellesley): When are Appearances Deceiving?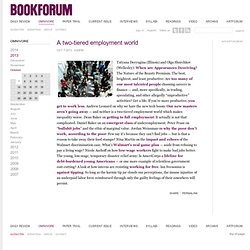 The Nature of the Beauty Premium. The best, brightest, and least productive: Are too many of our most talented people choosing careers in finance — and, more specifically, in trading, speculating, and other allegedly "unproductive" activities? Get a life: If you're more productive, you get to work less. Andrew Leonard on why we hate the new tech boom: Our new masters aren't going away — and neither is a two-tiered employment world which makes inequality worse.
Throw Out Your Resume. 10 Surprising Marketing Job Titles For The Next 10 Years. Sample Behavioral Job Interview Questions. We've pulled together a list of common behavioral-interview questions job-seekers may be asked in job interviews.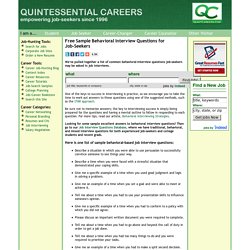 One of the keys to success in interviewing is practice, so we encourage you to take the time to work out answers to these questions using one of the suggested methods, such as the STAR approach. Be sure not to memorize answers; the key to interviewing success is simply being prepared for the questions and having a mental outline to follow in responding to each question. For more tips, read our article, Behavioral Interviewing Strategies. How to Answer The 64 Toughest Interview Questions. Interview Questions General Basic Interview A&Q XML Interview A&Q Windows Programming A&Q Web Service A&Q.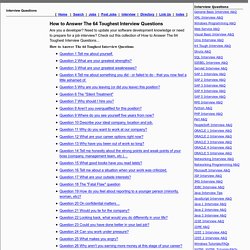 6 interview questions that will make any employer want to hire you. This story originally ran on PR Daily in March 2013.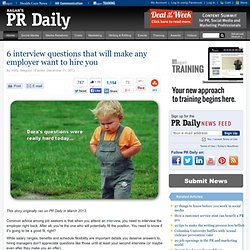 Common advice among job seekers is that when you attend an interview, you need to interview the employer right back. After all, you're the one who will potentially fill the position. 100 Useful Job & Internship Resources. <i><i><i><i><i><i><i><i><i><i><i><i><i><i>This post is #16 in DailyTekk's famous Top 100 series which explores the best startups, gadgets, apps, websites and services in a given category.
Total items listed: 122. Time to compile: 8+ hours. Follow @DailyTekk on Twitter to make sure you don't miss a week! </i></i></i></i></i></i></i></i></i></i></i></i></i></i> Wall Street Oasis | Investment Banking & Finance Community. Employee Job Reviews. Need a Job? Invent It. Why Work? // Index. 3 Signs That It's Time To Quit Your Job | 10 Reasons You Need to Quit Your Job Altucher Confidential. Posted by James Altucher Private Equity Firm I fell straight down and broke both my legs right in the middle of the street. Or strained them. Or something. Because I couldn't walk for a week afterwards. How to Find Your Purpose and Do What You Love.
By Maria Popova Why prestige is the enemy of passion, or how to master the balance of setting boundaries and making friends. "Find something more important than you are," philosopher Dan Dennett once said in discussing the secret of happiness, "and dedicate your life to it." But how, exactly, do we find that? INTJ Careers: A List of Professional Jobs.
INTJs tend to enjoy a career if it involves innovation and creativity, particularly in developing systems, strategies and models. They enjoy having plenty of privacy, and working with intellectually challenging and competent people. They like to have high-level objectives that tackle complex and difficult problems. INTJs prefer careers in which there is more: How to Ask for an Informational Meeting. By Hannah Morgan on December 14, 2010 I was invited to a presentation yesterday given by a marketing guru to a group of talented design students. The purpose of his presentation was to convey the parallels between marketing a product and marketing themselves. Search Resumes Online | JOBSTAR.INFO. This is what a GOOD resume should look like. Although the example here is a developer resume, almost all of these points (everything but #9 and #11) apply to other positions as well.
If your resume doesn't look like this, we can help! One Page Resume: Recruiters do not read your resume; they do a 15 - 30 second "spot check" of your resume. When your resume is too long, it just takes your best stuff - the stuff that would have made the "one page cut" - and dilutes it with more mediocre content. Lengthy resumes do not make you more impressive, and there are many other reasons to keep your resume short too. The Resume Is Dead, The Bio Is King. Careers / corporate / HR. Peter Principle. Learning organization. Evernote, Moleskine debut techy Smart Notebook | Crave. Open Badges and Proficiency-Based Education: A Path to a New Age of Enlightenment.
Your Employee Is an Online Celebrity. Now What Do You Do? Get work done with anyone. Top Pet-Friendly Corporations Across America. (300) What companies will let me bring my dog to work. Home | Amplify. Freelancer.com - Hire Freelancers & Find Freelance Jobs Online. Blog Writing Service & Content Marketing Service for Small Business | WaterMyBlog. Are there any internships for non-students. Are you in career transition? Been laid off? Want a new job? | VocationVacations®
Being a Writer. 10 Ridiculously Simple Tips for Writing a Book. Ask The Headhunter: The Talent Shortage Myth and Why HR Should Get Out of the Hiring Business | The Business Desk with Paul Solman. 6 Successors to the Elevator Pitch. What is Existential Coaching? For Teachers – Google in Education. Teaching Policy Fellows. America Achieves | Home.
Apply for the d.fellowships!
Art & Activity: Interactive Strategies for Engaging with Art. Practical Ethics. New-York Historical Society | WorkFlowy - Organize your brain. Where your life gets better | MagicFuture.com. Jobdreaming - What's your dream job? 5 Minute Drill: How to Negotiate Like a Pro | Big Think Edge. Kickstarter. Indiegogo. Fiverr: Graphics, marketing, fun and more online services for $5. Earn Money for Web User Testing - UserTesting.com.
Refresh Miami - Bringing Tech Professionals Together in South Florida. What to Do With a Workplace Whiner. 5 Phrases That Can Boost Employee Morale. A Few Troublesome Employees Can Outweigh the Good. Why Do So Many Incompetent Men Become Leaders? - Tomas Chamorro-Premuzic. Things I Never, Ever Want to Hear Again — about work. The Energy Project. The Fox Is Black Is Looking For A Female Writer.
12 for 12 - Careers with Inflection.
---