Speeches and Presentations
November 17, 2011 Thank you for participating in our 280 Slides beta program, and your evaluation of our 280 Slides software application. On December 21, 2011 we will be discontinuing this 280 Slides beta program.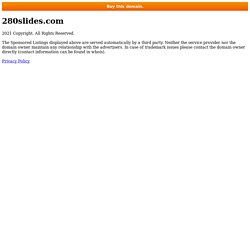 When you're presenting a PowerPoint should help you out, not distract your audience. Here's how to put together a great one. June 14, 2011 When it comes to our senses, vision trumps them all. When I'm communicating to persuade, I need to get the point across as clearly as possible. If my presentation slides are cluttered or confusing, I lose my chance.
6 Rules For A Beautiful PowerPoint