Ressources for English
Utopia. For thousands of years human beings have dreamt of perfect worlds, worlds free of conflict, hunger and unhappiness.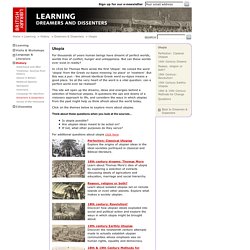 But can these worlds ever exist in reality? In 1516 Sir Thomas More wrote the first 'Utopia'.
Death Penalty Ressources. American Beauty | analyse. Poetry. Heroes. Games and quizzes. Canada. TES - Masser af færdige øvelser og skabeloner. Get English Lessons. Educational Hip-Hop. The Times in Plain English | En del færdige øvelser og skabeloner. Our news-based teaching ideas page has links to pertinent source material (plus teaching ideas) and will ensure that your teaching of non-fiction is current, relevant and strikes a chord with your students ...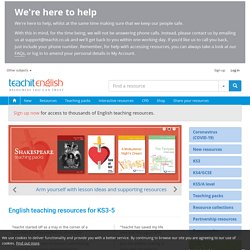 Find out more here Are you new to Teachit? Tashtees materiale i TES. We Are Teachers - foreløbigt utestet.
Skriftlighed ideer. Film i undervisningen. Ordforråd. Digital literacy. Lyttefærdighed. Mundtlig sprogfærdighed. Evaluering. Ipad. Repetition.
---