Ressources for English
Death Penalty Ressources. American Beauty | analyse. Poetry. Heroes. Games and quizzes. Canada. TES - Masser af færdige øvelser og skabeloner. Get English Lessons. Educational Hip-Hop. The Times in Plain English | En del færdige øvelser og skabeloner. Our news-based teaching ideas page has links to pertinent source material (plus teaching ideas) and will ensure that your teaching of non-fiction is current, relevant and strikes a chord with your students ...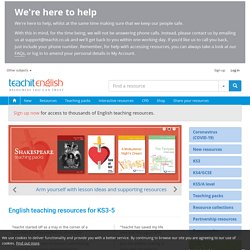 Find out more here Are you new to Teachit? Tashtees materiale i TES. We Are Teachers - foreløbigt utestet.
Skriftlighed ideer. Film i undervisningen. Ordforråd. Digital literacy. Lyttefærdighed. Mundtlig sprogfærdighed. Evaluering. Ipad.
Repetition.
---