Creativity in Schools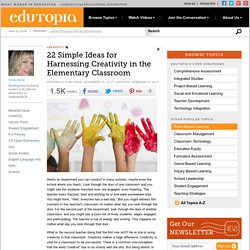 Here's an experiment you can conduct in many schools, maybe even the school where you teach. Look through the door of one classroom and you might see the students hunched over, not engaged, even frowning. The teacher looks frazzled, tired and wishing he or she were somewhere else. You might think, "Well, everyone has a bad day."
22 Simple Ideas for Harnessing Creativity in the Elementary Classroom
Education Week Teacher Professional Development Sourcebook: Reading Fiction Whole
Published Online: February 29, 2012 Published in Print: February 29, 2012, as Reading Fiction Whole English teacher Ariel Sacks believes it's important to lead students to make their own discoveries in literature. —Emile Wamsteker By Ariel Sacks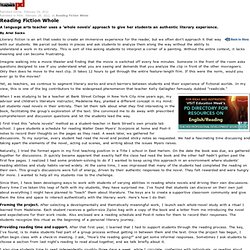 Creativity_in_Education
The potential consequences are sweeping. The necessity of human ingenuity is undisputed. A recent IBM poll of 1,500 CEOs identified creativity as the No. 1 "leadership competency" of the future. Yet it's not just about sustaining our nation's economic growth. All around us are matters of national and international importance that are crying out for creative solutions, from saving the Gulf of Mexico to bringing peace to Afghanistan to delivering health care.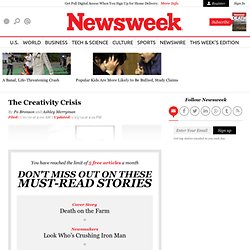 New children's laureate Anthony Browne. Photograph: Sarah Lee On a recent school visit I was greeted by a teacher who proudly informed me that the children at this particular school were two years further ahead in their reading compared with those in other schools .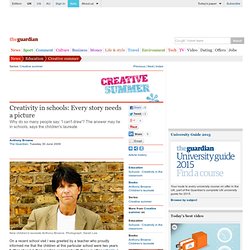 Anthony Browne on keeping creativity alive in schools | Education
How schools stifle creativity
Are schools killing creativity?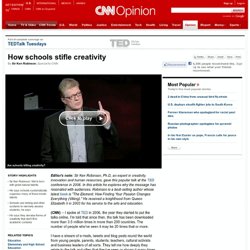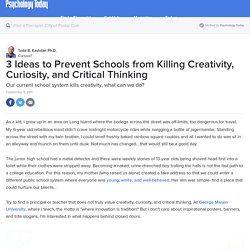 As a kid, I grew up in an area on Long Island where the bodega across the street was off-limits, too dangerous for travel. My 6-year old rebellious mind didn't crave midnight motorcycle rides while swigging a bottle of jagermeister. Standing across the street with my twin brother, I could smell freshly baked rainbow square cookies and all I wanted to do was sit in an alleyway and munch on them until dusk. Not much has changed....that would still be a good day.
3 Ideas to Prevent Schools from Killing Creativity, Curiosity, and Critical Thinking