Art&Design General
Watercolor by techgnotic on deviantART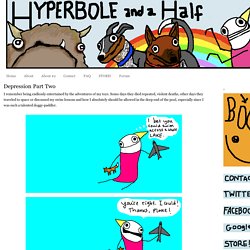 Depression Part Two
I remember being endlessly entertained by the adventures of my toys.
Adventures in Depression
Some people have a legitimate reason to feel depressed, but not me. I just woke up one day feeling sad and helpless for absolutely no reason. It's disappointing to feel sad for no reason. Sadness can be almost pleasantly indulgent when you have a way to justify it - you can listen to sad music and imagine yourself as the protagonist in a dramatic movie. You can gaze out the window while you're crying and think "This is so sad.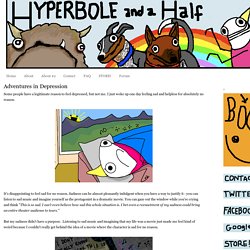 EmailEmail A casual underground ride in Stockholm becomes quite a treat for the eyes of the passengers, as most of the stations in the capital of Sweden are showcasing some amazing underground artwork. Russian software architect Alexander Dragunov must've really enjoyed his rides as well, and made some stunning shots of the underground artwork.
Amazing Underground Art In Stockholm's Metro Station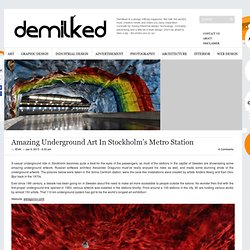 Teaching to See on Vimeo
Sign Painters: What a Disappearing Art Teaches Us About Creative Purpose and Process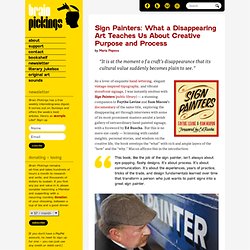 by Maria Popova "It is at the moment o f a craft's disappearance that its cultural value suddenly becomes plain to see." As a lover of exquisite hand-lettering, elegant vintage-inspired typography, and vibrant storefront signage, I was instantly smitten with Sign Painters (public library) — a stunning companion to Faythe Levine and Sam Macon's documentary of the same title, exploring the disappearing art through interviews with some of its most prominent masters amidst a lavish gallery of extraordinary hand-painted signage, with a foreword by Ed Ruscha.
February 5, 12:30pm ETBerkman Center for Internet & Society, 23 Everett St, 2nd FloorRSVP required for those attending in person via the form belowThis event will be webcast live at 12:30pm ET. What is the purpose of a liberal arts education?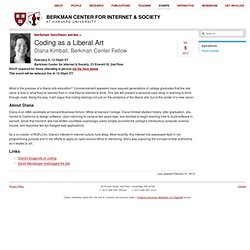 Coding as a Liberal Art
MAN on Vimeo
FIELD
Tattly™ Designy Temporary Tattoos — Welcome
leftKeep Shopping Tattly
About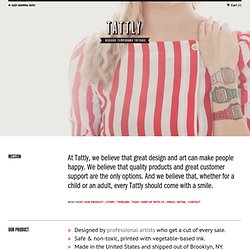 "Who in the rainbow can draw the line where the violet tint ends and the orange tint begins? Distinctly we see the difference of the colors, but where exactly does the one first blendingly enter into the other? So with sanity and insanity."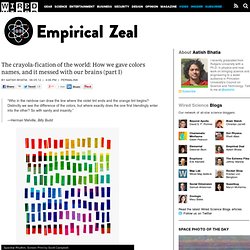 The crayola-fication of the world: How we gave colors names, and it messed with our brains (part I)
Water Light Graffiti by Antonin Fourneau, created in the Digitalarti Artlab on Vimeo
The Best Art Books of 2012
by Maria Popova From Indian folklore to Paris vs. NYC, by way of Japanese Wonderland and 80 years of loving of dogs.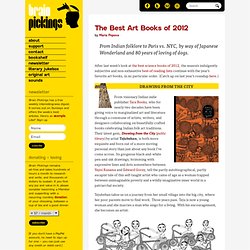 Kirby Ferguson: Embrace the remix
artists in their studios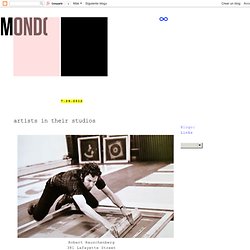 Robert Rauschenberg
Mike Dowson, Fashion, Portrait Photographer. | When Lorraine Bracco was a teenage model in Spain,...
by Maria Popova "A self-respecting artist must not fold his hands on the pretext that he is not in the mood."
Tchaikovsky on Work Ethic vs. Inspiration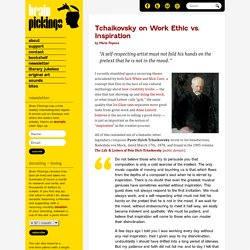 Rebecca J Coles
by Maria Popova
Yayoi Kusama, Japan's Most Celebrated Contemporary Artist, Illustrates Alice in Wonderland
Anna tekent ervoor
Flying People in New York City
Tale of the Floppy Disks: How Jonathan Larson Created 'Rent'
Sara Krulwich/The New York TimesJonathan Larson at the New York Theater Workshop on Jan. 24, 1996, one day before he died. At 6:44 pm on Feb. 4, 1992, a little-known composer and playwright named Jonathan Larson hit "save" for the first time on a Microsoft Word file containing the lyrics to a half dozen songs loosely tied together with fragments of a story that over the next four years would grow into the mega-hit musical "Rent."
Mind-Blowing Installation Makes You Feel Like You're Walking On A Cloud
I waited in line for two hours Saturday to slip on a pair of hospital booties and spend a few minutes, maybe 5 minutes tops, milling around a white room.
The 11 Best Art and Design Books of 2011
by Maria Popova From the Periodic Table to Craigslist, or what the greatest graphic designer of all time has to do with Moby-Dick. After last week's look at the 11 best illustrated books for (eternal) kids of 2011, this year's best-of series continues with a look at the finest art, design, and creativity books of 2011 — tomes that capture your imagination and encapsulate the richest spectrum of what it means to be a thoughtful, eloquent visual creator. Marie Curie is one of the most extraordinary figures in the history of science. A pioneer in researching radioactivity, a field the very name for which she coined, she was not only the first woman to win a Nobel Prize but also the first person to win two Nobel Prizes, and in two different sciences at that, chemistry and physics.
Handmade Portraits: The Sword Maker on Vimeo
by Maria Popova What the Mad Hatter has to do with one of the most inspired collaborations in Western culture. Last week, we marveled at Leonard Weisgard's stunning illustrations for the first color edition of Alice in Wonderland, circa 1949. But it turns out they might not be the most culturally intriguing. As reader Varvn Aryacetas points out on Twitter, exactly two decades later a collaboration of epic proportion took place as the Lewis Carroll classic was illustrated by none other than Salvador Dalí.
Salvador Dalí Illustrates Alice in Wonderland, 1969
Greek Girl Reaches for Euro Stars
the ANTHROPOLOGiST
Everything is a Remix: The Matrix
Watch
Blog Archive » Classical Manhattan
inininoutoutout
The Artist Is Present
Posters - A Bunch of Crock
Cute Creta on Vimeo
Vimeo, Video Sharing For You
Graffiti Exhibition Sets Attendance Records at Museum of Contemporary Art in Los Angeles
Who stole the Mona Lisa?
Kostis Vassiliadis
superSIGHT
Frank Chimero - The Shape of Design on Vimeo
Designers & Books | Book lists and commentary from esteemed designers and architects
Studiomates
Le pool Studiomates
iPad Desk | Flickr : partage de photos !
Seagull 1963 Air Force Watch Sapphire Crystal and Leather Strap - Seagull 1963 Air Force Military Watch
Making books is fun! (to watch)
The lost art of editing | Books