Art&Design General
Watercolor by techgnotic on deviantART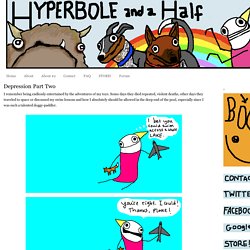 Depression Part Two
I remember being endlessly entertained by the adventures of my toys. Some days they died repeated, violent deaths, other days they traveled to space or discussed my swim lessons and how I absolutely should be allowed in the deep end of the pool, especially since I was such a talented doggy-paddler. I didn't understand why it was fun for me, it just was. But as I grew older, it became harder and harder to access that expansive imaginary space that made my toys fun.
Adventures in Depression
Some people have a legitimate reason to feel depressed, but not me. I just woke up one day feeling sad and helpless for absolutely no reason. It's disappointing to feel sad for no reason. Sadness can be almost pleasantly indulgent when you have a way to justify it - you can listen to sad music and imagine yourself as the protagonist in a dramatic movie. You can gaze out the window while you're crying and think "This is so sad.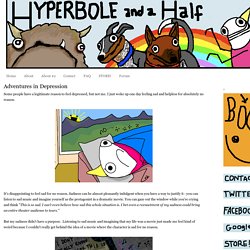 EmailEmail A casual underground ride in Stockholm becomes quite a treat for the eyes of the passengers, as most of the stations in the capital of Sweden are showcasing some amazing underground artwork. Russian software architect Alexander Dragunov must've really enjoyed his rides as well, and made some stunning shots of the underground artwork.
Amazing Underground Art In Stockholm's Metro Station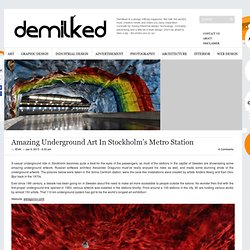 Teaching to See on Vimeo
Sign Painters: What a Disappearing Art Teaches Us About Creative Purpose and Process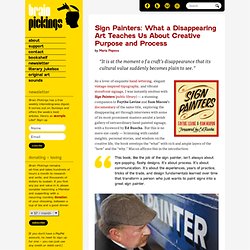 by Maria Popova "It is at the moment o f a craft's disappearance that its cultural value suddenly becomes plain to see." As a lover of exquisite hand-lettering, elegant vintage-inspired typography, and vibrant storefront signage, I was instantly smitten with Sign Painters (public library) — a stunning companion to Faythe Levine and Sam Macon's documentary of the same title, exploring the disappearing art through interviews with some of its most prominent masters amidst a lavish gallery of extraordinary hand-painted signage, with a foreword by Ed Ruscha.
February 5, 12:30pm ETBerkman Center for Internet & Society, 23 Everett St, 2nd FloorRSVP required for those attending in person via the form belowThis event will be webcast live at 12:30pm ET. What is the purpose of a liberal arts education? Commencement speakers have assured generations of college graduates that the real value is less in what they've learned than in how they've learned to think. This talk will present a personal case study in learning to think through code. Along the way, it will argue that coding belongs not just on the periphery of the liberal arts, but at the center of a new canon. About Diana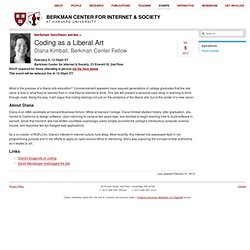 Coding as a Liberal Art
MAN on Vimeo
FIELD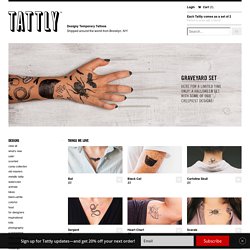 Shopify Tattly is run by swissmiss with help from Yoko, Julia, Natalie, Nic, Kate, Corbin, Karen, Yng, and Keeley. Built by oak. SWISSMISS and TATTLY are trademarks of Swiss Miss, LLC and Swiss Miss Shop, LLC.
Tattly™ Designy Temporary Tattoos — Welcome
leftKeep Shopping Tattly cartCart (0) Mission Our Product » Designed by professional artists who get a cut of every sale. » Safe & non-toxic, printed with vegetable-based ink. » Made in the United States and shipped out of Brooklyn, NY. » FDA-compliant and fun for all ages.
About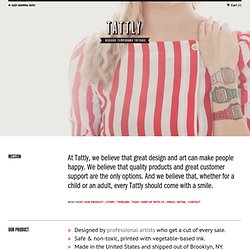 "Who in the rainbow can draw the line where the violet tint ends and the orange tint begins? Distinctly we see the difference of the colors, but where exactly does the one first blendingly enter into the other? So with sanity and insanity."—Herman Melville, Billy Budd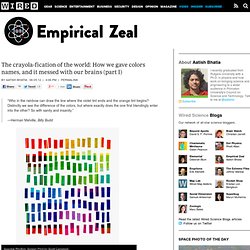 The crayola-fication of the world: How we gave colors names, and it messed with our brains (part I)
Water Light Graffiti by Antonin Fourneau, created in the Digitalarti Artlab on Vimeo
The Best Art Books of 2012
by Maria Popova From Indian folklore to Paris vs. NYC, by way of Japanese Wonderland and 80 years of loving of dogs.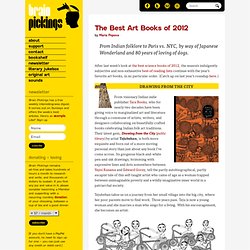 Kirby Ferguson: Embrace the remix
artists in their studios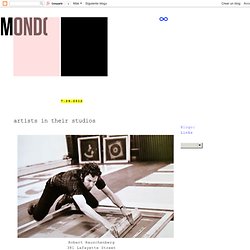 Robert Rauschenberg 381 Lafayette Street Photo: Henri Cartier-Bresson Robert Rauschenberg and Brice Marden Beverly Pepper
Mike Dowson, Fashion, Portrait Photographer. | When Lorraine Bracco was a teenage model in Spain,...
by Maria Popova "A self-respecting artist must not fold his hands on the pretext that he is not in the mood." I recently stumbled upon a recurring theme articulated by both Jack White and Nick Cave, a concept that flies in the face of our cultural mythology about how creativity works — the idea that just showing up and doing the work, or what Jonah Lehrer calls "grit," the same quality that Ira Glass says separates mere good taste from great work and Anne Lamott believes is the secret to telling a good story — is just as important as the notion of "inspiration" in the creative process. All of this reminded me of a fantastic letter legendary composer Pyotr Ilyich Tchaikovsky wrote to his benefactress, Nadezhda von Meck, dated March 17th, 1878, and found in the 1905 volume The Life & Letters of Pete Ilich Tchaikovsky (public domain): Do not believe those who try to persuade you that composition is only a cold exercise of the intellect.
Tchaikovsky on Work Ethic vs. Inspiration
'Stamps B' SOLD 700x700x90mm 'Weaver's Fritillary' Boloria dia
Rebecca J Coles
by Maria Popova Down the rabbit hole in colorful dots, twisted typography, and strange eye conditions. Alice's Adventures in Wonderland and Through the Looking Glass endure as some of history's most beloved children's storytelling, full of timeless philosophy for grown-ups and inspiration for computing pioneers. The illustrations that have accompanied Lewis Carroll's classics over the ages have become iconic in their own right, from Leonard Weisgard's stunning artwork for the first color edition of the book to Salvador Dali's little-known but breathtaking version.
Yayoi Kusama, Japan's Most Celebrated Contemporary Artist, Illustrates Alice in Wonderland
Anna tekent ervoor
Flying People in New York City
Tale of the Floppy Disks: How Jonathan Larson Created 'Rent'
Mind-Blowing Installation Makes You Feel Like You're Walking On A Cloud
I waited in line for two hours Saturday to slip on a pair of hospital booties and spend a few minutes, maybe 5 minutes tops, milling around a white room. And you know what? It was totally worth the wait. That's because Doug Wheeler's new installation at the David Zwirner gallery in New York is the closest I'll ever get to satisfying a desire I've had since childhood: to float on a puffy white cloud. The installation is called rather unromantically SA MI 75 DZ NY, and it's precisely what I've described--a white room and little else.
The 11 Best Art and Design Books of 2011
Handmade Portraits: The Sword Maker on Vimeo
Salvador Dalí Illustrates Alice in Wonderland, 1969
Greek Girl Reaches for Euro Stars
the ANTHROPOLOGiST
Everything is a Remix: The Matrix
Watch
Blog Archive » Classical Manhattan
inininoutoutout
The Artist Is Present
Posters - A Bunch of Crock
Cute Creta on Vimeo
Vimeo, Video Sharing For You
Graffiti Exhibition Sets Attendance Records at Museum of Contemporary Art in Los Angeles
Who stole the Mona Lisa?
Kostis Vassiliadis
superSIGHT
Frank Chimero - The Shape of Design on Vimeo
Designers & Books | Book lists and commentary from esteemed designers and architects
Studiomates
Le pool Studiomates
iPad Desk | Flickr : partage de photos !
Seagull 1963 Air Force Watch Sapphire Crystal and Leather Strap - Seagull 1963 Air Force Military Watch
Making books is fun! (to watch)
The lost art of editing | Books