linux
Get flash to fully experience Pearltrees
Have you wondered why certain programs are located under /bin, or /sbin, or /usr/bin, or /usr/sbin? For example, less command is located under /usr/bin directory. Why not /bin, or /sbin, or /usr/sbin? What is the different between all these directories?
Medibuntu ( M ultimedia, E ntertainment & D istractions I n U buntu ) is a repository of packages that cannot be included into the Ubuntu distribution for legal reasons (copyright, license, patent, etc). Some of these packages include the libdvdcss package from VideoLAN , FFMpeg codecs not supported in multiverse, and the external binary codecs package (commonly known as w32codecs) used by MPlayer and xine . Patent and copyright laws operate differently depending on which country you are in.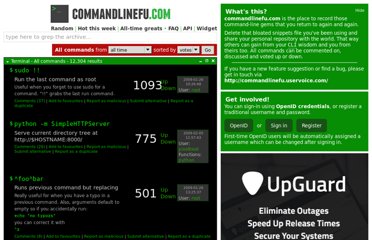 -p parameter tells wget to include all files, including images. -e robots=off you don't want wget to obey by the robots.txt file -U mozilla as your browsers identity. --random-wait to let wget chose a random number of seconds to wait, avoid get into black list. Other Useful wget Parameters:
So you've taken the plunge and installed Linux. You've followed all the HOWTOs all over the net. You've got your wireless card working flawlessly.
Before you start To get the most out of this tutorial, follow the steps provided for each task with either a computer running GNU/Linux or a virtual machine with GNU/Linux as the operating system. About this tutorial This tutorial introduces you to the basics of GNU/Linux security and shows you how to protect, or harden , your desktop against attacks. It gives you step-by-step examples of how to:
Why do you need to learn the command line anyway? Well, let me tell you a story. Not long ago we had a problem where I used to work.
Developers Contribute by writing or packaging new software or fixing bugs in existing software. We're always ready to embrace new technologies. Documentation
Introduction The Linux kernel in Ubuntu provides a packet filtering system called netfilter , and the traditional interface for manipulating netfilter are the iptables suite of commands. iptables provide a complete firewall solution that is both highly configurable and highly flexible. Becoming proficient in iptables takes time, and getting started with netfilter firewalling using only iptables can be a daunting task. As a result, many frontends for iptables have been created over the years, each trying to achieve a different result and targeting a different audience.