ENGB1 POWER
Using the word 'gay' to mean 'crap' is a form of bullying of gay people | Will Young. I like to think I'm down with youth culture and its slang.
Well, a bit anyway. I understand that the word "sick" can mean "cool", and "bare" can mean "a lot". This is pretty much the limit of my knowledge. The Lingua File: Remembering September 11: How One Day Changed the Way We Speak. As anyone with a calendar will know, yesterday was September 11.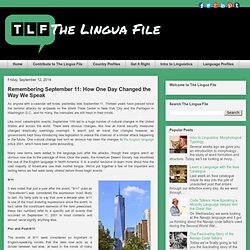 Thirteen years have passed since the terrorist attacks by al-Qaeda on the World Trade Center in New York City and the Pentagon in Washington D.C., and for many, the memories are still fresh in their minds. Like most catastrophic events, September 11th led to a huge number of cultural changes in the United States and across the world. There were obvious changes, like how air travel security measures changed drastically seemingly overnight. It wasn't just air travel that changed however, as governments kept busy introducing new legislation to reduce the chances of a similar attack happening in the future. One cultural change that isn't as obvious has been the changes to the English language since 2001, which have been quite astounding. UNSPEAK. HSBC 'demises' jobs – another absurd business euphemism | Nils Pratley | Business. Body language for cosmetic surgeons. 'Chopping off the end of your nose does not guarantee you a prince'.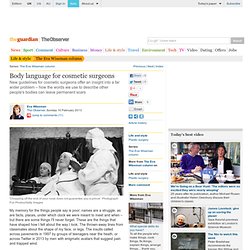 Photograph: Fox Photos/Getty Images My memory for the things people say is poor; names are a struggle, as are facts, places, under which clock we were meant to meet and when – but there are some things I'll never forget. Don't be beguiled by Orwell: using plain and clear language is not always a moral virtue. Orwell season has led me back to his famous essay "Politics and the English Language", first published in 1946.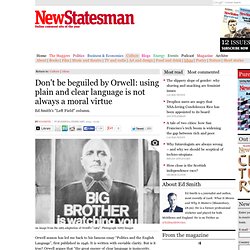 It is written with enviable clarity. But is it true? Orwell argues that "the great enemy of clear language is insincerity. Decoding a Menu at Root & Bone. Photo The menu at Root & Bone, a Southern restaurant that opened in Alphabet City in June, is loaded with precision-engineered descriptions like "Drunken Deviled Eggs," "Crispy Free-Range Bucket of Bird" and a breadless BLT that promises to "tickle your pickle."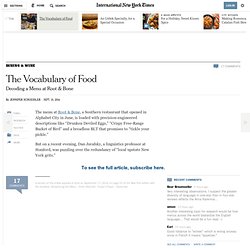 But on a recent evening, Dan Jurafsky, a linguistics professor at Stanford, was puzzling over the redundancy of "local upstate New York grits." It didn't quite have the protest-too-much ring of the promise of "real butter" at a greasy spoon, but it did prompt a potted (or maybe Mason jarred?) Lecture on the principles known as Grice's conversational maxims, after the philosopher H. Paul Grice. Language in Conflict - Language in Conflict. The state of our union is … dumber: How the linguistic standard of the presidential address has declined | World news.
Loaded Words: How Language Shapes The Gun Debate : It's All Politics. Hide captionAdvocates for and against stronger gun laws demonstrate in the Pennsylvania Capitol on Jan. 23 in Harrisburg, Pa.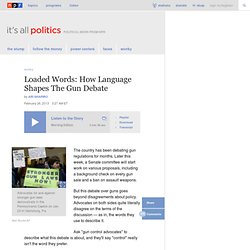 Matt Rourke/AP Advocates for and against stronger gun laws demonstrate in the Pennsylvania Capitol on Jan. 23 in Harrisburg, Pa. The country has been debating gun regulations for months. Later this week, a Senate committee will start work on various proposals, including a background check on every gun sale and a ban on assault weapons. Office workers use 'pointless jargon' Office workers have lost the ability to speak clearly to each other - an issue which is "horrible and damaging", a new book called Who Touched Base in My Thought Shower?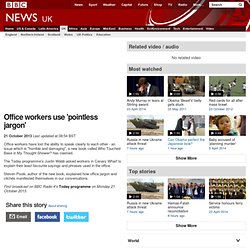 Has claimed. The Today programme's Justin Webb asked workers in Canary Wharf to explain their least-favourite sayings and phrases used in the office. Why do politicians use business jargon? 5 February 2013Last updated at 19:46 ET Going forward.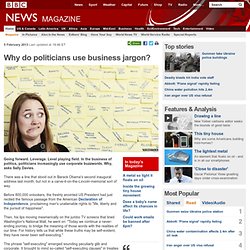 Leverage. Level playing field. In the business of politics, politicians increasingly use corporate buzzwords. Stephen King: why the US must introduce limited gun controls | World news. During my junior and senior years in high school, I wrote my first novel, then titled Getting It On.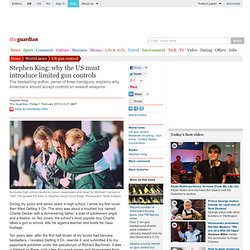 The story was about a troubled boy named Charlie Decker with a domineering father, a load of adolescent angst and a fixation on Ted Jones, the school's most popular boy. Charlie takes a gun to school, kills his algebra teacher and holds his class hostage. Ten years later, after the first half-dozen of my books had become bestsellers, I revisited Getting It On, rewrote it, and submitted it to my paperback publisher under the pseudonym of Richard Bachman. It was published as Rage, sold a few thousand copies and disappeared from view. Language in Conflict - Negation. Like opposition, negation refers to a particular way in which language reflects human cognition's view of the world.
Linguistic representations of opposition encourage the reader to view phenomena as being somehow opposed to each other – 'Democracy by contrast with corrupt autocracy'. Negation, meanwhile, constructs in a reader or hearer's mind a representation of a situation that is at odds with the reality constructed elsewhere in the text – 'Democracy is not possible in the current political situation'.
Heists and mayhem: the language of crime. There has been a lot on British minds recently, with horsemeat and obesity coming high on the list of preoccupations. But amid the furore over such unpalatable subjects, it was a different headline altogether that caught my eye. 'Diamond heist at Brussels airport nets gang up to £30m in gems', was the Guardian's version, while the Daily Telegraph followed up with 'Mole mastermind sought for perfect Brussels diamond heist'.
For the Daily Mail, it was simply 'The Belgian Job'. The facts of the story were certainly remarkable, involving eight men who managed to cut a hole in a security fence and burst through it in fake police cars. Although heavily armed with military machine-guns, they managed to seize the diamonds without firing a shot. Don't be beguiled by Orwell: using plain and clear language is not always a moral virtue. Obama/Clinton Debate. If Obama had been Lincoln: 10 lines from Obama's Second Inaugural Address that wouldn't have been used in 1865. When writing his screenplay for the film Lincoln, playwright Tony Kushner used his copy of the Oxford English Dictionary to check for possible anachronisms, seeking to impart the flavor of 19th-century English to the script. How much has the vocabulary of English changed since Abraham Lincoln's presidency? About 25% of the OED's entries are for words which entered the English language after Lincoln delivered the Gettysburg Address, including racism (1926), leftist (1924), and boycott (1880).
Language and power. Introduction This guide is written for students who are following GCE Advanced level (AS and A2) syllabuses in English Language. This resource may also be of general interest to language students on university degree courses, trainee teachers and anyone with a general interest in language science. On this page I use red type for emphasis. A user's guide to art-speak | Art and design. The Simon Lee Gallery in Mayfair is currently showing work by the veteran American artist Sherrie Levine. A dozen small pink skulls in glass cases face the door.
A dozen small bronze mirrors, blandly framed but precisely arranged, wink from the walls. In the deep, quiet space of the London gallery, shut away from Mayfair's millionaire traffic jams, all is minimal, tasteful and oddly calming. Until you read the exhibition hand-out. Skivers v strivers: the argument that pollutes people's minds. David Starkey "Whites Have Become Blacks" London Riots.Quotes From Enoch Powell's Rivers Of Blood Speech.
Newnsight debate.docx - DocDroid. Mitt Romney vs. the English Language. The shared language of sport and politics.
---