Ergonomie logicielle / web
UX Methods & Deliverables — Hints from the lazy bear. What does a User Experience Designer do from 9 to 5?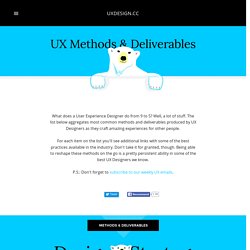 Well, a lot of stuff. The list below aggregates most common methods and deliverables produced by UX Designers as they craft amazing experiences for other people. For each item on the list you'll see additional links with some of the best practices available in the industry. Don't take it for granted, though. Hci.stanford.edu/courses/dsummer/handouts/NeedFinding.pdf.
Web usability. UX Design. UX Booth: User Experience & Usability Blog. Ergonomie web et logiciel, architecture de l'information, utilisabilité sites Internet – Ergolab. Jacinthe Busson - Ergonomie web & mobile. SimpleWeb.fr « Simplifions l'internet SimpleWeb.fr. Ergonomie IHM, Interaction design, UX.
---