Food
Hot Buttered Soft Baked Pretzels. Have you ever waited in one of those really long lines at the mall for a soft pretzel?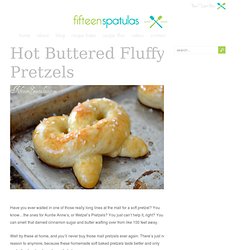 You know…the ones for Auntie Anne's, or Wetzel's Pretzels? You just can't help it, right? You can smell that darned cinnamon sugar and butter wafting over from like 100 feet away. Well try these at home, and you'll never buy those mall pretzels ever again. There's just no reason to anymore, because these homemade soft baked pretzels taste better and only cost a buck or two to make a whole tray. My Mother's Peasant Bread: The Easiest No-Knead Bread You Will Ever Make. When I tell you that, if forced, I had to pick one and only one recipe to share with you that this — my mother's peasant bread — would be it, I am serious.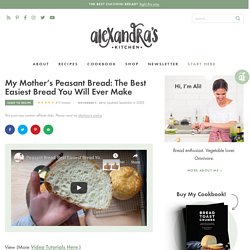 I would almost in fact be OK ending the blog after this very post, retiring altogether from the wonderful world of food blogging, resting assured that you all had this knowledge at hand. This bread might just change your life. The reason I say this is simple. Matchstickmolly: Mini PB&F: One fig Newton. 10 Slow Cooker Recipes that WOW. Creamy Macaroni and Cheese Dishes that Put the Blue Box to Shame. Recipe Pictures | Funny Dumps.
Snacks/Healthy. Breakfast. Dessert. PepperClip - The easy shopping list generator - login. 10 Holiday Appetizers to Whet Your Appetite. It's party time and as folks are gathering around, what do they look for?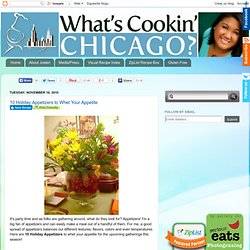 Appetizers! I'm a big fan of appetizers and can easily make a meal out of a handful of them. For me, a good spread of appetizers balances out different textures, flavors, colors and even temperatures. Here are 10 Holiday Appetizers to whet your appetite for the upcoming gatherings this season! These will go perfectly with a few wedges of good cheese, fresh fruit, toasted nuts and maybe a few slices of prosciutto, sopressata or even summer sausage. Ultimate Gluten Free Bread & Veggie Wedgie. Even though I have no problems digesting gluten, I love baking gluten free.Why?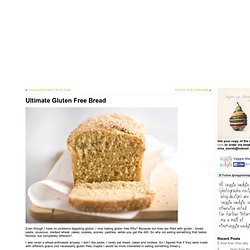 Because our lives are filled with gluten : bread, pasta, couscous, cracked wheat, cakes, cookies, scones, pastries, seitan-you get the drill. So why not eating something that tastes familiar, but completely different? I was never a wheat-enthusiast anyway. 7 Homemade Holiday Gifts That Are Good Enough to Eat | MintLife Blog | Personal Finance News & Advice - StumbleUpon. Shoppers looking to save on holiday gifts may want to spend less time in the mall and more time in the kitchen.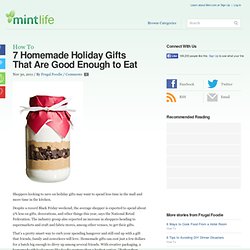 Despite a record Black Friday weekend, the average shopper is expected to spend about 2% less on gifts, decorations, and other things this year, says the National Retail Federation. The industry group also reported an increase in shoppers heading to supermarkets and craft and fabric stores, among other venues, to get their gifts. Top 10 Things Every Budding Foodie Should Know - StumbleUpon.
You're probably right.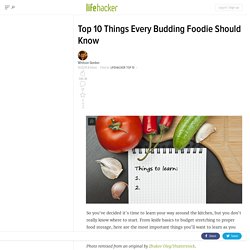 Or you could be like me, a single young male living on his own, never washes hands, cleans kitchen once every other week, ignores best before dates, forgets to throw away old food (and leave it in the fridge until I finally notice), have a cat running around the house. I have never had food poisoning. Guess either I built up a strong enough immune system, or I'm doing just the bare minimum so that I don't get sick.... Orange Chicken With Bulgur Pilaf. Skinny Chocolate Chip Cookies - StumbleUpon. Remember when I told you I love chocolate?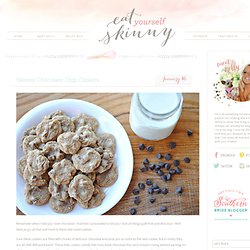 And then I proceeded to tell you I love all things guilt-free and delicious? Well here ya go, all that and more in these bite-sized cookies. Sure these cookies are filled with chunks of delicious chocolate and taste just as sinful as the next cookie, but in reality they are all ONE WW point each! These little cookies satisfy that must-have-chocolate-this-very-instant craving without packing on all the extra calories. Oh, and the portion sizes are perfect for you and your kids! Planting A Pineapple — Tickled Red - StumbleUpon. Did y'all know that you can take this and turn it into… This?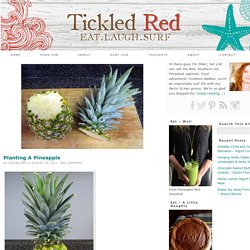 And that this will eventually produce… This?
---