Outils de Curation Tools
Why Deep Dive? One of our central problems here at NYTimes.com is surfacing content. With hundreds of articles, blog posts, media features and apps published every day it is simply impossible for readers to see them all.
beta620 | Exploring Stories With Deep Dive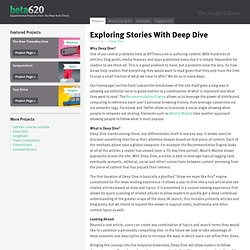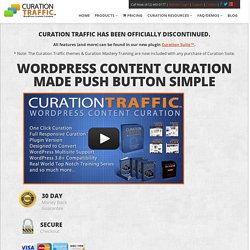 Content Curation is where you collect posts, articles, infographics, videos, really any type of content and share it in a way that your market will find helpful and interesting. Like a museum or art curator, people who organize content from around the web are also called curators. Good curation always gives credit to the original content creator and usually includes the curator's thoughts and ideas so the material is tailored just for their readers. For instance, imagine you're making a playlist of your favorite music for a friend and adding a little note about why you like each song. This is curating and you're essentially doing the same thing when you curate content from all over the internet.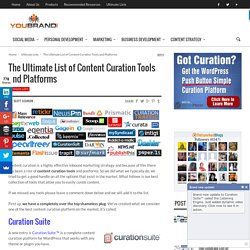 Content curation is a highly effective inbound marketing strategy and because of this there has been a rise of content curation tools and platforms. So we did what we typically do, we tried to get a good handle on all the options that exist in the market. What follows is our best collection of tools that allow you to easily curate content. If we missed any tools please leave a comment down below and we will add it to the list.
Collaborative comparison engine Register Sign in Sign in Sign out 's dashboard Curation Platforms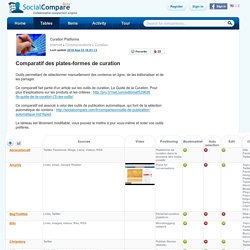 Curate.Me | Curated News Delivered On Your Schedule
ne of the most magical things about the internet is that it's a whimsical rabbit hole of discovery – we start somewhere familiar and click our way to a wonderland of curiosity and fascination we never knew existed. What makes this contagion of semi-serendipity possible is an intricate ecosystem of "link love" – a via-chain of attribution that allows us to discover new sources through those we already know and trust. A suggested system for honoring the creative and intellectual labor of information discovery by making attribution consistent and codified, celebrating authors and creators, and also respecting those who discover and amplify their work. While we have systems in place for literary citation, image attribution, and scientific reference, we don't yet have a system that codifies the attribution of discovery in curation as a currency of the information economy, a system that treats discovery as the creative labor that it is.
You are what you curate: why Pinterest is hawt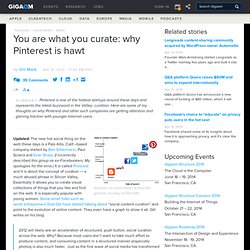 Evolution of social media by Elad Gill (graphic courtesy of Elad Gill) Updated: The new hot social thing on the web these days is a Palo Alto, Calif.–based company started by Ben Silbermann, Paul Sciarra and Evan Sharp. (I incorrectly described this group as ex-Facebookers. My apologies for the error.) It is called Pinterest and it is about the concept of curation — a much abused phrase in Silicon Valley.
Laura Paine has a simple answer when asked why Pinterest exploded in popularity at this particular juncture in Internet history. The former reporter watched her newspaper cut positions, go from being a daily to a weekly and focus more on creating short, Q&A pieces, video and photo galleries in an effort to cling to dwindling online traffic. "People aren't really reading anymore," said Paine, who now works for the public relations firm InkHouse. A new Engauge white paper breaks down the make-up of the average Pinterest user and shows that the end result of less reading is more of a focus on content curation than creation. The timing of that trend, combined with a stunning design when Internet users are focusing more on visual than text, has allowed Pinterest to explode in popularity. "When I'm looking for new trends on specific topics like fashion or birthday party themes, I now search Pinterest first -- not Google." - Karah Street
The Curation-Over-Creation Trend That Fueled Pinterest's Rapid Growth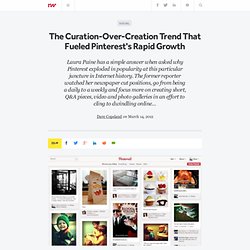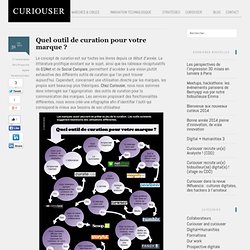 Quel outil de curation pour votre marque ? Méthodologie Pour réaliser cette infographie, nous avons privilégié les outils qui permettent à la marque de se présenter comme expert en proposant une ligne éditoriale propre, nous avons donc écarté les outils de curation automatique. En effet, ces derniers ne permettent pas à l'utilisateur de contrôler ce qui est publié. Lors de nos observations, nous avons pu constater que parmi le nombre très important d'outils existants, peu sont en réalité directement utilisables par une marque car peu proposent une réelle éditorialisation et dans un but de publication : c'est à dire la possibilité de choisir exactement les contenus, de les catégoriser, les tagger, les annoter ou les commenter mais aussi d'être maître de leur mise en forme.
Guest post by Courtney Seiter Show of hands: Who has enough time every day to read up on your industry's news? Oh, and everything new you need to know to market your business? Yeah, me neither. But knowing what's going on in your space is critical for content creation, competitive intelligence and social media efforts.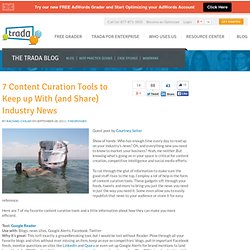 Content Curation Knowledge Center | Eqentia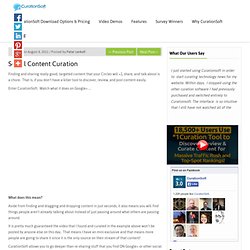 Social Content Curation | Content Curation Software
Finding and sharing really good, targeted content that your Circles will +1, share, and talk about is a chore. That is, if you don't have a killer tool to discover, review, and post content easily. Enter CurationSoft. Watch what it does on Google+…
With the BeeSpace Navigator, University of Illinois researchers have created both a curation tool for genetic biologists and a new approach to searching for information. The project was a collaboration between researchers at the Institute for Genomic Biology and the department of computer science. Led by Bruce Schatz, professor and head of medical information science at the U. of I., the team described the software and its applications in the web server issue of the journal Nucleic Acids Research.
New curation tool a boon for genetic biologists
Cet article a été publié il y a 3 ans 2 mois 5 jours, il est possible qu'il ne soit plus à jour. Les informations proposées sont donc peut-être expirées. On le sait maintenant, en plus du terme de community manager, celui de curation ou content curator (définition selon Vincent Berthelot : « Le curator est celui qui transforme l'information qu'il a recueilli pour en faire une agrégation concise et porteuse de sens soit pour information soit pour décision. ») fait une entrée fracassante dans le domaine du marketing social. Même si ce dernier n'est pas nouveau, et que les premières théories autour de celui-ci date des alentours de 2006, il semble que l'activité de curation devienne très importante.
Vendredi 18 mars Web - 18 mars 2011 :: 10:28 :: Par Eric Un dossier complet, fouillé, et très intéressant chez O1net pour ceux qui s'intéressent à la curation. Image: 'The Great Dinosaur Museum Mystery' – Flickr CC Je pense que ceux qui sont sceptiques et qui ne voient derrière cet usage qu'un concept fumeux et du vent de marketeux se trompent.
Curator, curation... Néologisme, buzzword ou simple phénomène marketing, un constat est à faire : de plus en plus de plateformes dédiées à cette activité se développent sur le web. Outils qui, au-delà de leur utilité pour formaliser, classer et diffuser une veille, se révèlent aussi intéressant à observer dans une problématique de gestion de la réputation en ligne.
The story behind Storify, new real-time curation service ? Scobleizer
You're seeing more and more Storify links around the web. The Washington Post has used it. So have many other journalists and curators. Why do we need Storify?
commissariat web : sélectionner, trier et organiser les contenus (introduction à Scoop.it) | redire.net
Storify launches public beta: Curation is a core news skill
storyful
Content Curation in Action - Darwin Awareness Engine Blog