Google Apps
Maps. Google Voice. Reader. Translate. Chat de Google: chatea con tus familiares y amigos. Conversaciones más interactivas Entérate de cuándo tus amigos han leído tus mensajes y cuándo te están respondiendo.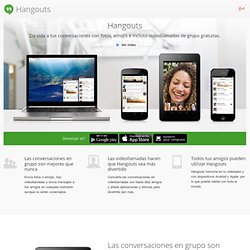 Si alguno de tus amigos no está disponible cuando intentas contactar con él, la próxima vez que se conecte verá una alerta avisándole de que puede retomar la conversación. Si habilitas los SMS para Hangouts, recibirás los mensajes incluso cuando no estés conectado a Internet. Los mensajes se te enviarán como SMS y podrás responder por SMS para continuar la conversación. Habilitar los SMS para Hangouts. YouTube. Sites. SketchUp. Groups.
All of your discussions in one place Organize with favorites and folders, choose to follow along via email, and quickly find unread posts.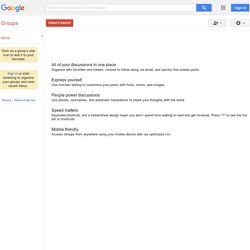 Express yourself. Picasa. Blogger. Calendar. Panoramio. Docs. Gmail. Picnik.
---