Innovation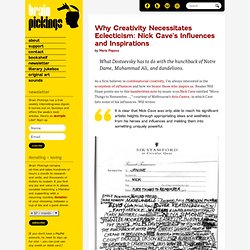 by Maria Popova What Dostoevsky has to do with the hunchback of Notre Dame, Muhammad Ali, and dandelions. As a firm believer in combinatorial creativity, I'm always interested in the ecosystem of influences and how we honor those who inspire us.
Why Creativity Necessitates Eclecticism: Nick Cave's Influences
by Maria Popova Why creativity is like LEGO, or what Richard Dawkins has to do with Susan Sontag and Gandhi. In May, I had the pleasure of speaking at the wonderful Creative Mornings free lecture series masterminded by my studiomate Tina of Swiss Miss fame.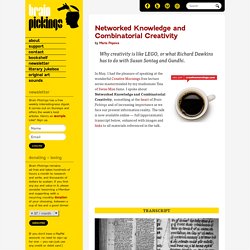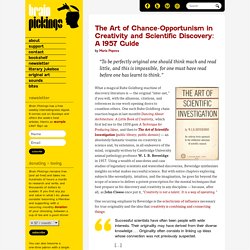 by Maria Popova "To be perfectly original one should think much and read little, and this is impossible, for one must have read before one has learnt to think." What a magical Rube Goldberg machine of discovery literature is — the original "inter-net," if you will, with the allusions, citations, and references in one work opening doors to countless others.
An Anatomy of Inspiration circa 1942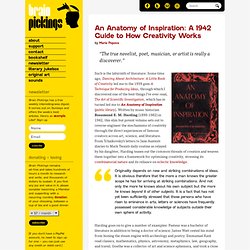 by Maria Popova "The true novelist, poet, musician, or artist is really a discoverer."
by Maria Popova "Beyond the age of information is the age of choices."
Charles Eames in 15 Quotes for His 105th Birthday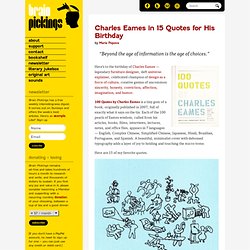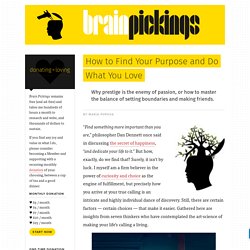 by Maria Popova
January 2006 To do something well you have to like it.
Book Review: The Forever Fix | The Epigenetics Revolution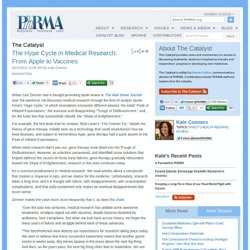 The Hype Cycle in Medical Research: From Apple to Vaccines | PhRMA
Writer Carl Zimmer had a thought-provoking book review in The Wall Street Journal over the weekend.
Hype cycle The Hype Cycle is a branded graphical tool developed and used by IT research and advisory firm Gartner for representing the maturity, adoption and social application of specific technologies. Five phases[edit]
Hype cycle