Beauty
Nasty Gal - New & Vintage Clothing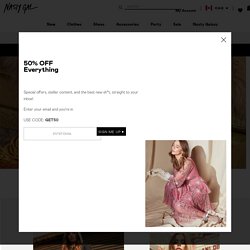 Accessibility Information Skip To Main Content Skip To Main Navigation Customer Care My Account
Beauty Undercover
how to: pore strips - StumbleUpon
You know those Biore pore strips you buy at the drugstore for about $12 a pop? Yeah, those. Today I'm going to teach you how to make your own homemade pore strips. Celebrity Hairstyles, Fashion, Makeup, and More - Beauty Riot
Women's Shoes and Handbags from JustFabulous - JustFab.com
50% OFF SAVINGS VIP's Get their first item for 50% off! Plus exclusive access to sales, early releases & more! FREE SHIPPING Your first order as a VIP ships absolutely FREE! Plus, all orders over $39 thereafter are free too! SKIP THE MONTH Once you are a VIP, there's never an obligation to buy!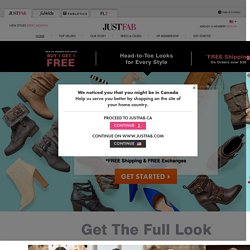 Indie, Retro, Vintage Clothing & Cute Dresses | ModCloth
Wanelo - Find unique products and stores you have never heard of.
Sir Charles Spencer "Charlie" Chaplin, (16 April 1889 – 25 December 1977) was an English comic actor, film director and composer best known for his work during the silent film era. Chaplin was one of the most creative and influential personalities of the silent-film era. In 2008, Martin Sieff, in a review of the book Chaplin: A Life, wrote: Chaplin was not just 'big', he was gigantic. In 1915, he burst onto a war-torn world bringing it the gift of comedy, laughter and...
She Exists
Stylemint.com
ShoeMint
Discount Clothing Online | Cheap Clothes | Plus Size Apparel | Junior Clothing | 599fashion.com
Love Culture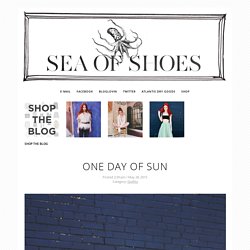 My sister found these Frye work boots at a Nordstrom outlet a few months back, but in a beautiful grey-blue color with white laces. Carol has been wearing them non-stop with scrunchy socks and making them look extremely adorable. I looked online and found the same boot in a stunning cognac color with contrasting laces. What with sale season and all I had to order a pair for me and a pair for my mom. Can't wait! You can get them on sale here!
Sea of Shoes
Free People Clothing Boutique > Women's Clothes, Accessories, Boho Clothing, Shoes
A Beautiful Mess
Hey friends! I'm here today to share some progress that we've made in our soon-to-be dining room! In this room I achieved one of my big goals which was to paint something a "not white". I love how the deep gray makes the new bright white trim pop. I'm excited to host parties and dinners in this room. There is still so much more I want to do in here-but first, a little walk down memory lane...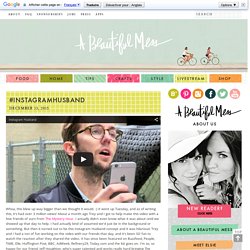 HauteLook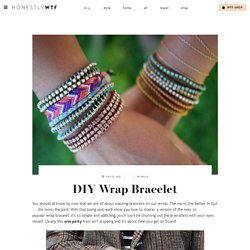 DIY Wrap Bracelet - Honestly WTF - StumbleUpon
You should all know by now that we are all about stacking bracelets on our wrists. The more, the better. In fact . . . the most, the best!
Vintage Inspired Indie Dresses & Affordable Clothing
Your Spot For Indie Clothing & Indie Urban Culture
watermelon vs. pear - Compare which is healthier? - StumbleUpon
Trendy Teen's, Girl's, Junior's Clothings - Tops, Jeans, Jackets, Dresses, Shoes, Accessories. Pinkice.com
The Beauty Department: Your Daily Dose of Pretty.
We love a good DIY, and we particularly love a DIY that includes flowers. Saw one of these floral ribbons at a retail store the other day. It was way too overpriced for my liking so of course we decided to create a version you can make yourself for about $2. It's a simple thin ribbon with flowers and a bobby pin attached– not rocket science, but sometimes simple is just prettier. You know we love a flower crown but we're head over heels for this as a new alternative.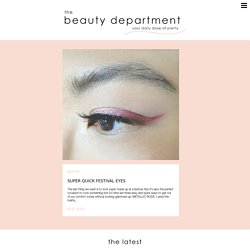 If you are a mom on the go with long hair you HAVE TO try this. It will knock your socks off and have you wrapping your hair up in them! This is all about how to make your hair beautiful with no heat and no time. Curl your hair in your sleep with a sock.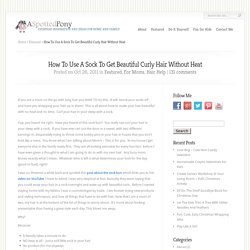 How To Use A Sock To Get Beautiful Curly Hair Without Heat | A Spotted Pony - StumbleUpon
YouBeauty - The Science of a Beautiful You
Fashion Magazine for Women - Celebrity Photos on ELLE
Beso | The Site Devoted to Shopping
Cult of Pretty - A Cult Beauty Products Blog
Happy #GIVEAWAY Friday! #cherrytopper #tgif We love perfume here at Cult. Spritzing, smelling, layering, packaging, the whole bit. We always have an eye out for what's new on the market - recently fragrance sampling programs. Our top player of the moment, Commodity Goods.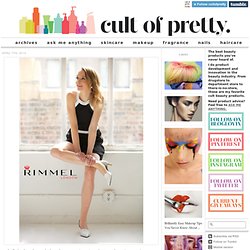 Beauty Tips, Hairstyles, Makeup Tutorials and Reviews