WORKOUTS
Get flash to fully experience Pearltrees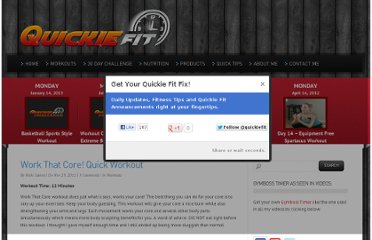 Workout Time: 12 Minutes Work That Core workout does just what is says, works your core! The best thing you can do for your core is to vary up your exercises. Keep your body guessing. This workout will give your core a nice burn while also strengthening your arms and legs. Each movement works your core and several other body parts simultaneously which means more body sculpting benefits for you.
By Ashley • Oct 6th, 2011 • Category: HEALTH In the past couple of weeks, as I've laid my claim as a SoulCycle cult member that the majority of its effectiveness comes down to the upbeat, beat-heavy and oftentimes cheesey tunes. Well that, and thoughts of muffin top in skinny jeans from an overabundance of b-raw-nies (after all, looking svelte while wearing a chunky fall sweater is considered an art in most countries). But, when flying solo for a run, I've been diggin' this mix (with my reasons noted, and beat per minute counts for serious ) from RunHundred.com to give me treadmill gusto when I don't have a skinny little man that looks like Robyn yelling at me to " WERQ ."
Everyone wants flatter abs, and a lot of people try to "spot reduce" by doing ab exercises to try to get them. The problem is, you aren't going to lose fat from your midsection by doing 1,000 crunches. It's just not going to happen. What I like to do instead is Core Exercises.
Burn calories before you jump in the shower with this bodyweight circuit from Craig Ballantyne, C.S.C.S. Perform this circuit without rest between exercises. Then rest 1 minute and repeat the circuit. Do as many circuits as you can in 10 minutes. Click here for a video demonstration of the workout . Jumping Jack Start with your feet hip-width apart and hands at your sides.
This is part of The Lifehacker Workout , a 3-4 day exercise program for normal people. Our full-body workout combines 20 minutes of cardio with strength exercises. (You can separate the cardio and the strength exercises if you like, doing the walking/jogging in the a.m., for example, and the exercises in the p.m.) 20 minutes of walking or jogging.
You know exercise is key if you want to stay fit. But did you know that what you eat and drink can help you reach your fitness goals faster? By feeding your body the right nutrients you can ensure it's getting the raw materials it needs to help you power through your workout and build and repair muscle afterward. Jumpstart your exercise program with these 10 essential food and drinks. Oatmeal When it comes to priming your muscles for a workout, carbs are your best friend.
Do you want to see more effective workout routines? Go to http://WorkoutPass.com/fitnessvip What is WorkoutPass exactly? Members will gain access to 43 different fitness websites ranging from sport specific training, to fat loss, to building strength, power, and explosion, all the way to injury prevention if you?e got a fitness obstacle, WorkoutPass . com has the solution.