Ipads
65+ iPad Apps Perfect For Elementary School.
Pearltrees videos
5 Fun Free iPad Math Game Apps. These free apps offer fun ways for elementary/primary grade students to practice their math fundamentals.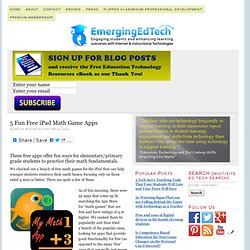 We checked out a bunch of free math games for the iPad that can help younger students reinforce their math basics, focusing only on those rated 4 stars or better. There are quite a few of these. As of this morning, there were 92 apps that come up by searching the App Store for "math games" that are free and have ratings of 4 or higher. We ranked them by popularity and then tried a bunch of the popular ones, looking for apps that provide good functionality for free (as opposed to the many 'free' apps that are really just teases to buy a full version). Here are five that we liked (some of these do have fuller versions or companion apps that you have to pay for, but the free versions here offer useful gaming without requiring registration or fees). Mathematics with an iPad. Math Apps.
iPads in Education- Part 2. iPod Touch & iPad Resources. Look Mum – No Cables! iPad2 Mirroring In The Classroom. We had a big day last week.
A day when long term planning in a school and taking a measured risk paid off. Let me explain… One of the most underrated and significant developments of iOS5 has been the ability to mirror the iPad2 onto any screen via AppleTV. 100 iPad Apps Perfect For Middle School. Blooms infographic.JPG 645×802 pixels. Preposition Builder | Teachers with Apps. , by , is another feather in Kyle Tomson's hat!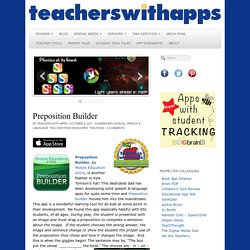 This dedicated dad has been developing solid speech & language apps for quite some time and Preposition Builder moved him into the mainstream. This app is a wonderful learning tool for all kids at some point in their development. We found this app especially helpful with ESL students, of all ages. And this is when the giggles begin!
Getting started
Bloomsapps. Using Blooms Taxonomy in education is a highly effective way to scaffold learning for the students.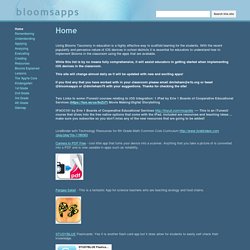 With the recent popularity and pervasive nature of iOS devices in school districts it is essential for educators to understand how to implement Blooms in the classroom using the apps that are available. While this list is by no means fully comprehensive, it will assist educators in getting started when implementing iOS devices in the classroom. This site will change almost daily as it will be updated with new and exciting apps! If you find any that you have worked with in your classroom please email dmileham@e1b.org or tweet @bloomsapps or @dmileham75 with your suggestions. Thanks for checking the site! iPhone & iPad Live 276: Apple education event, iBooks 2, and iTunes U. Rene, Leanna, and Seth bring you live color, commentary, and analysis of Apple's New York education event, including iBooks 2, Textbooks, iBooks Author, and iTunes U.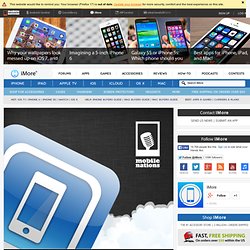 What does it mean for schools, for Apple, and for the future? This is iPhone & iPad Live! (Note: Show number has been incremented to reflect all previous iPhone Live and iPad Live podcasts -- since they merged like Devastator!) Hitpad for iPad. 5 Free Twitter Clients For The iPad. From the official Twitter app to the broader social networking client apps, if you're an avid Twitter and iPad user, you will no doubt want to download more than one Twitter client for iPad, because each of the ones reviewed below offer something a little unique that you may find useful to how you interact with Twitter.
With the new multitasking features of the iOS 4 for the iPad, there's little reason not to have a folder of several Twitter apps to choose from. Some client apps are great for extended Twitter browsing while others are more useful for quick tweeting and checking in on the latest updates. 100 Incredibly Useful & Free iPad Apps. If you just dropped a few hundred dollars on an iPad, you might not have much left in your budget to fill it up with apps.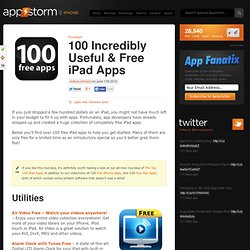 Fortunately, app developers have already stepped up and created a huge collection of completely free iPad apps. Below you'll find over 100 free iPad apps to help you get started. The Ultimate Dropbox Toolkit & Guide. Dropbox, the app we all (at least many of us) know and love, has a plethora of advanced uses to make life so much easier in managing data between multiple computers and online.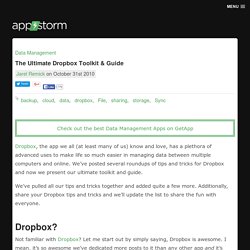 We've posted several roundups of tips and tricks for Dropbox and now we present our ultimate toolkit and guide. We've pulled all our tips and tricks together and added quite a few more. Additionally, share your Dropbox tips and tricks and we'll update the list to share the fun with everyone. 40 Amazingly Educational iPad Apps for Kids. Adults are obsessed with the new iPad, but have you ever thought about sharing your new toy with your kids?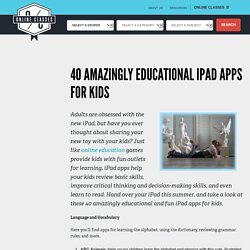 Just like online education games provide kids with fun outlets for learning, iPad apps help your kids review basic skills, improve critical thinking and decision-making skills, and even learn to read. Hand over your iPad this summer, and take a look at these 40 amazingly educational and fun iPad apps for kids. Language and Vocabulary Here you'll find apps for learning the alphabet, using the dictionary, reviewing grammar rules, and more. Apps for Principals. Blooms Taxonomy with Apps. After seeing the chart on of Bloom's Taxonomy on bloomsapps, I thought I could make a more thorough table.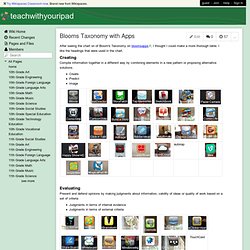 I like the headings that were used in the chart. Creating Compile information together in a different way by combining elements in a new pattern or proposing alternative solutions.CreatePredictImage. 50 Must-Have Educational Apps. It's time for holiday road trips and you know what that means: driving, flying, cranky kids, and… teaching opportunities! What's that, you say? Well, there is so much downtime during the holidays where kids and adults spend hours just passing the time… why not try out some new apps on your phone? Many of these apps were found by The Teaching Palette, be sure to check out their fantastic site for more helpful resources! From learning the ABCs to doodling, there's plenty of terrific apps out there that will pass the time but also educate. If you have other apps you want added to this list, just add them in the comments.
---