Historical Resources
History Tunes. Sample Songs (click on the title to follow the lyrics) Sample all 50 songs at iTunes © Copyright 2010 by Mr. and Mrs.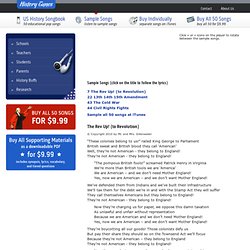 Gillenwater "These colonies belong to us!" Railed King George to Parliament British sweat and British blood they call 'American' Well, they're not American - they belong to England! Black History. Wikispace USI. Students examine the historical and intellectual origins of the United States during the Revolutionary and Constitutional eras.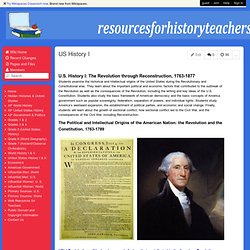 They learn about the important political and economic factors that contributed to the outbreak of the Revolution as well as the consequences of the Revolution, including the writing and key ideas of the U.S. Constitution. Students also study the basic framework of American democracy and the basic concepts of America government such as popular sovereignty, federalism, separation of powers, and individual rights. Archiving Early America. Outline Maps.
Roosevelt Speeches. History Matters: The U.S. Survey Course on the Web. American History Timeline: 1780-2010. Library of Congress.
---