Android Websites in English
Android (operating system) Android is an operating system based on the Linux kernel,[12] and designed primarily for touchscreen mobile devices such as smartphones and tablet computers.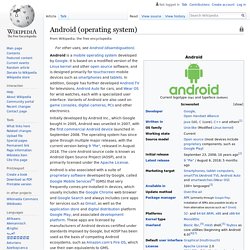 Initially developed by Android, Inc., which Google backed financially and later bought in 2005,[13] Android was unveiled in 2007 along with the founding of the Open Handset Alliance—​a consortium of hardware, software, and telecommunication companies devoted to advancing open standards for mobile devices.[14] The first publicly available smartphone running Android, the HTC Dream, was released on October 22, 2008.[15] The user interface of Android is based on direct manipulation, using touch inputs that loosely correspond to real-world actions, like swiping, tapping, pinching, and reverse pinching to manipulate on-screen objects. Android World - anthropomorphic robots & animatronics. Projects for Android. Android Community - Tracking the Android Platform. Android Central | Android Forums, News, and Help. Developers. Android Developers Blog. Accueil - Android Market. Simple, minutieux et sûr, Clean Master est l'application la plus téléchargée dans le monde pour optimiser la vitesse, libérer de la mémoire et assurer la sécurité des appareils Android.Sans égal dans l'amélioration des performances de l'appareil, la suppression des fichiers indésirable et spam, la protection contre les programmes malveillants, cheval de Troie et virus.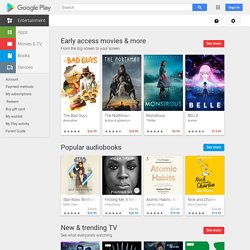 Joignez-vous aux plus de 100 000 000 personnes qui ont déjà installé ce gestionnaire complet d'optimisation, Clean Master! Nous sommes là pour résoudre tous vos problèmes d'appareils Android, que ceux-ci soient à la traîne, manquent d'espace, ou qu'ils soient infectés par des programmes malveillants. Android.com. Android Phone. LG Ally Forum - Home. Android Phones. Welcome to Android - PCWorld. By now, you've probably heard an earful about how great Android phones are, how they will take over the mobile world, and how they do everything the Apple iPhone can't.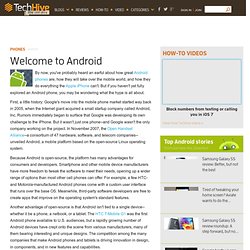 But if you haven't yet fully explored an Android phone, you may be wondering what the hype is all about. First, a little history: Google's move into the mobile phone market started way back in 2005, when the Internet giant acquired a small startup company called Android, Inc. Rumors immediately began to surface that Google was developing its own challenge to the iPhone. But it wasn't just one phone--and Google wasn't the only company working on the project. In November 2007, the Open Handset Alliance--a consortium of 47 hardware, software, and telecom companies--unveiled Android, a mobile platform based on the open-source Linux operating system. Android Apps | Appolicious ? App Directory. WordPress for Android. eBooks: For Android. You can choose from millions of titles on Google Play to read with the Google Play Books app and pick up where you left off on your phone, tablet, or computer.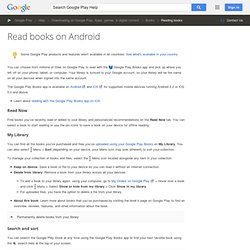 Your library is synced to your Google account, so your library will be the same on all your devices when signed into the same account. The Google Play Books app is available on Android and iOS for supported mobile devices running Android 2.2 or iOS 5.0 and above. Learn about reading with the Google Play Books app on iOS Read Now. Message. Android Forums. Forum. Android Tapp. Android App Reviews, Android Apps, News, Ratings, Interviews and Showcase. Google.
---