Android Websites in English
Android (operating system)
Android is a Linux -based operating system designed primarily for touchscreen mobile devices such as smartphones and tablet computers . Initially developed by Android, Inc., which Google backed financially and later bought in 2005, [ 8 ] Android was unveiled in 2007 along with the founding of the Open Handset Alliance : a consortium of hardware , software , and telecommunication companies devoted to advancing open standards for mobile devices. [ 9 ] The first Android-powered phone was sold in October 2008. [ 10 ] Android is open source and Google releases the code under the Apache License . [ 11 ] This open source code and permissive licensing allows the software to be freely modified and distributed by device manufacturers, wireless carriers and enthusiast developers.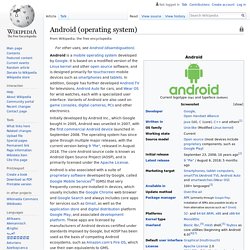 Android World - anthropomorphic robots & animatronics
Projects for Android
Android Community - Tracking the Android Platform
Android Central | Android Forums, News, and Help
Developers
Android Developers Blog
Accueil - Android Market
Android.com
Android Phone
LG Ally Forum - Home
Android Phones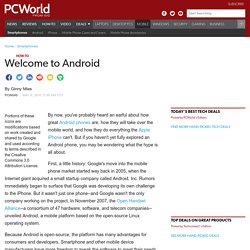 By now, you've probably heard an earful about how great Android phones are, how they will take over the mobile world, and how they do everything the Apple iPhone can't. But if you haven't yet fully explored an Android phone, you may be wondering what the hype is all about. First, a little history: Google's move into the mobile phone market started way back in 2005, when the Internet giant acquired a small startup company called Android, Inc. Rumors immediately began to surface that Google was developing its own challenge to the iPhone.
Welcome to Android - PCWorld
Android Apps | Appolicious ? App Directory
WordPress for Android
eBooks: For Android
To change the way your books are displayed, select the menu button in the top-right corner when reading. Then tap the "Display options" menu item. There, you can change the font size, typeface, line height, and text alignment.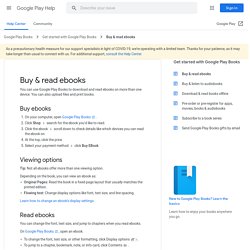 Message
Android Forums
Forum
Android Tapp. Android App Reviews, Android Apps, News, Ratings, Interviews and Showcase