Ressources
X-Icon Editor. Lorempixum - placeholder images for every case. 50 Free PSD UI Kits and Templates for Web Designers. For every web designer, having a selection of pre-designed and editable web UI elements is key to organizing and optimizing work-flow.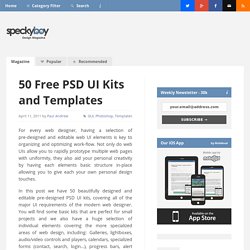 Not only do web UIs allow you to rapidly prototype multiple web pages with uniformity, they also aid your personal creativity by having each elements basic structure in-place allowing you to give each your own personal design touches. In this post we have 50 beautifully designed and editable pre-designed PSD UI kits, covering all of the major UI requirements of the modern web designer. You will find some basic kits that are perfect for small projects and we also have a huge selection of individual elements covering the more specialized areas of web design, including: Galleries, lightboxes, audio/video controls and players, calendars, specialized forms (contact, search, login…), progress bars, alert boxes… and much, much more.
Drawter.com - DrawAble Markup Language. 40 Useful Free Folder Icon Sets. Our computer is considered to be our personal library where our important documents are saved and organized.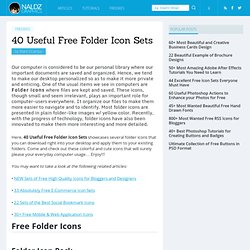 Hence, we tend to make our desktop personalized so as to make it more private and enticing. One of the usual items we see in computers are Folder icons where files are kept and saved. These icons, though small and seem irrelevant, plays an important role for computer-users everywhere. CSS Code Formatter and Optimizer. CSS Analyser. Contents Translations Spanish Version About this Service.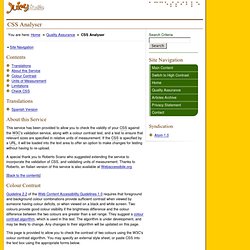 CSS Compressor. Online CSS Optimiser / Optimizer. CSS SuperScrub. Code Beautifier:CSS Formatteur et Optimiseur basé sur CSSTidy. CSS Compressor - Online code compressor for Cascading Style Sheets. Clean CSS - A Resource for Web Designers - Optmize and Format your CSS. Language: English Deutsch French Chinese Important Note: Your code should be well-formed.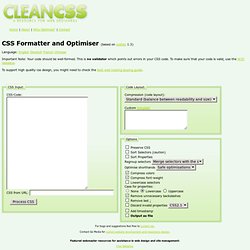 This is no validator which points out errors in your CSS code. To make sure that your code is valid, use the W3C Validator. To support high quality css design, you might need to check the best web hosting buying guide. CSS Organizer. Ultimate CSS Gradient Generator - ColorZilla.com. Background: #1e5799; /* Old browsers */ background: -moz-linear-gradient(top, #1e5799 0%, #2989d8 50%, #207cca 51%, #7db9e8 100%); /* FF3.6+ */ background: -webkit-gradient(linear, left top, left bottom, color-stop(0%,#1e5799), color-stop(50%,#2989d8), color-stop(51%,#207cca), color-stop(100%,#7db9e8)); /* Chrome,Safari4+ */ background: -webkit-linear-gradient(top, #1e5799 0%,#2989d8 50%,#207cca 51%,#7db9e8 100%); /* Chrome10+,Safari5.1+ */ background: -o-linear-gradient(top, #1e5799 0%,#2989d8 50%,#207cca 51%,#7db9e8 100%); /* Opera 11.10+ */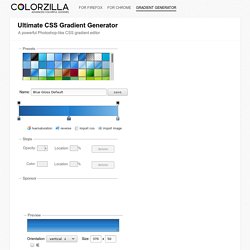 CSS3 Generator. Kuler. DooWikis » Wikis for You or Your Website. PrefixMyCSS - Prefix your CSS3 code. Instantly! Générateur de Sprites CSS | Project Fondue. CSS3 Generator - By Eric Hoffman & Peter Funk. Webdev.stephband.info. Download git clone github.com/stephband/jparallax Instantiation.
A Hand-Coded Designer CSS UI Kit. Web UI sets have been around for ages, but this takes things a step further.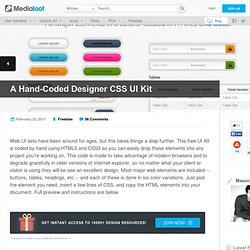 This free UI Kit is coded by hand using HTML5 and CSS3 so you can easily drop these elements into any project you're working on. This code is made to take advantage of modern browsers and to degrade gracefully in older versions of internet explorer, so no matter what your client or visitor is using they will be see an excellent design. Most major web elements are included -- buttons, tables, headings, etc -- and each of these is done in six color variations. Just pick the element you need, insert a few lines of CSS, and copy the HTML elements into your document. 6 Free Sites for Creating Your Own Animations.
The long and illustrious history of moving pictures all started with the zoetrope.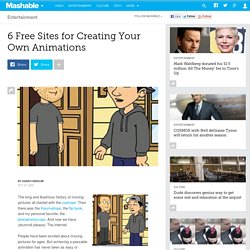 Then there was the thaumatrope, the flip book, and my personal favorite, the phenakistoscope. And now we have (drumroll please): The Internet. 4 More Free Web Design Tools and Resources. This post is a roundup of latest free web design resources released during the month of March.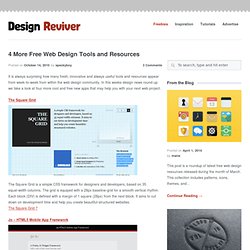 This collection includes patterns, icons, themes, and… Continue Reading → This post is a roundup of latest free web design resources released during the month of February. This collection includes ui kits, insignias, backgrounds,… Continue Reading → Artisteer - web design software and joomla template generator.
---