Cookies/brownies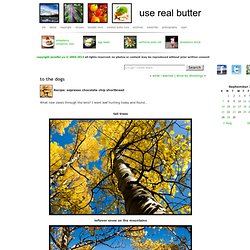 Recipe: espresso chocolate chip shortbread What new views through the lens? I went leaf hunting today and found…
Layers or All Mixed Up In some recipes, the ingredients are all layered in a clear glass jar so that each layer is distinct, giving it the look of "sand art." If you're going for this layered look, the ingredients need to have different colors and textures. A sugar cookie mix made with white sugar and white flour is not going to show up well as layers! Packing 'em In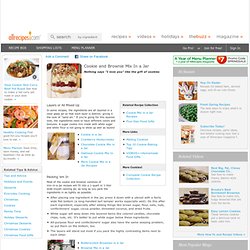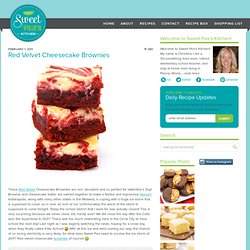 Red Velvet Cheesecake Brownies These Red Velvet Cheesecake Brownies are rich, decadent and so perfect for Valentine's Day! Brownie and cheesecake batter are swirled together to make a festive and impressive dessert. Indianapolis, along with many other states in the Midwest, is coping with a huge ice storm that is supposed to cover us in over an inch of ice.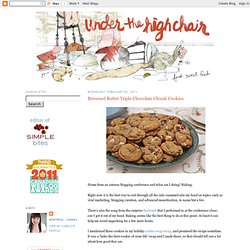 Home from an intense blogging conference and what am I doing? Baking. Right now it is the best way to sort through all the info crammed into my head on topics such as viral marketing, blogging curation, and advanced monetization, to name but a few.
Now, I have a chocolate chip cookie recipe that I swear by. I love it, I think it is incredible, and I haven't changed my mind about that. However, as much as it pains me to say it, these chocolate chip cookies by Jacques Torres are absolutely, without a doubt, the best chocolate chip cookies that I have ever made or tasted in my entire life.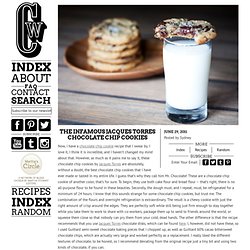 Peanut Butter Truffle Brownies Peanut Butter Truffle Brownies with three layers of rich and decadent goodness! A rich, fudgy, deep dark chocolate brownie with a delicious peanut butter filling that is topped off with a decadent chocolate ganache. Oh yes, the classic peanut butter and chocolate combination!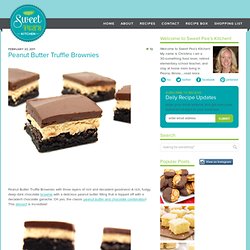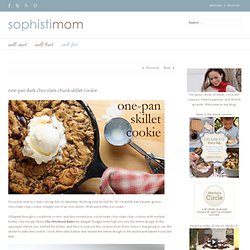 For some reason, I was craving this on Saturday. Nothing else would do. All I wanted was a warm, gooey, chocolate chip cookie, straight out of an iron skillet. With just a little ice cream. I flipped through a cookbook or two, and discovered you could make chocolate chip cookies with melted butter. One recipe (from The Weekend Baker
Guest post and photos by Marcia in Rhode Island Shiny chartreuse spheres, dropping in our woods, send the squirrels scrambling. Bucket in hand, I've joined the melee.
Maple shagbark hickory nut cookies