Home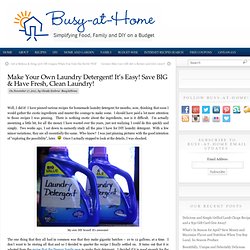 Make Your Own Laundry Detergent! It's Easy! Save BIG & Have Fresh, Clean Laundry! |
Well, I did it! I have pinned various recipes for homemade laundry detergent for months, now, thinking that soon I would gather the exotic ingredients and muster the courage to make some. I should have paid a lot more attention to those recipes I was pinning. There is nothing exotic about the ingredients, nor is it difficult. I'm actually mourning a little bit, for all the money I have wasted over the years, just not realizing I could do this quickly and simply. Two weeks ago, I sat down to earnestly study all the pins I have for DIY laundry detergent.
8 smart organizing tips for the kitchen
Hula Hoop Rug | Easy Crafts for Kids -- Quick Arts and Craft Ideas -- Kids' Crafts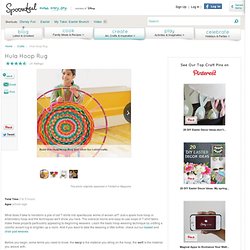 This photo originally appeared in FamilyFun Magazine Total Time 2 to 3 hours Ages school-age What does it take to transform a pile of old T-shirts into spectacular works of woven art?
Fabric Coasters
Attention Scrap Collectors: Another scrappy project. Yup, just cleaning out that scrap bin today. Want to join me? You'll Need: 2 pieces of cotton fabric, 4.5 x 4.5 inches1 piece of fleece, 4 x 4 inches1 piece of double sided fusible web, 4 x 4 inchesSewing machine, thread, scissors, etc.
Okay, the fabric storage box tutorial is here. (Sorry for the little tease last friday and no actual tutorial. We were trying to get on the road for our trip to ID…..so things got crazy last week. But we're here. And safe. And enjoying Idaho.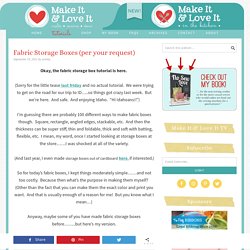 Fabric Storage Boxes (per your request)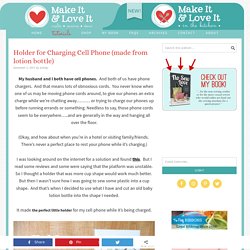 My husband and I both have cell phones. And both of us have phone chargers. And that means lots of obnoxious cords. You never know when one of us may be moving phone cords around, to give our phones an extra charge while we're chatting away……… or trying to charge our phones up before running errands or something. Needless to say, those phone cords seem to be everywhere…..and are generally in the way and hanging all over the floor.
Holder for Charging Cell Phone (made from lotion bottle)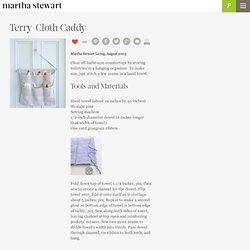 Clear off bathroom countertops by storing toiletries in a hanging organizer. To make one, just stitch a few seams in a hand towel. Tools and MaterialsHand towel (about 19 inches by 40 inches)Straight pinsSewing machine1/2-inch-diameter dowel (2 inches longer than width of towel)One yard grosgrain ribbon Fold down top of towel 1 1/2 inches; pin, then sew to create a channel for the dowel.
Terry-Cloth Caddy - Martha Stewart Home & Garden
Handkerchief Nursery Pillow - Martha Stewart Crafts
Steven and Chris | Bachelor Pad Furniture
Steven and Chris | DIY Upholstered Ottoman
With new crib regulations, the resale of cribs is going to be pretty non-existent for a while. But don't you worry!! You don't have to use that crib for summer campfires! We've scoured the web for some cool tutorials and ideas for reusing old or recalled cribs! These repurposed crib projects are an awesome way to prevent your crib from going into a landfill, getting reused "inappropriately" or simply sitting in your basement collecting dust.
30 Fabulous Reuses & Repurposes for Old or Recalled Cribs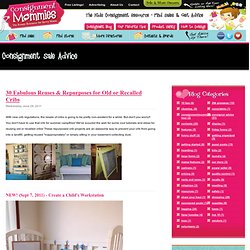 DIY Junk Mail Wall Art |
I found this really fun and easy way to make wall art with old magazines, newspapers, junk mail etc, etc. Tutorial and more images after the jump! Source Source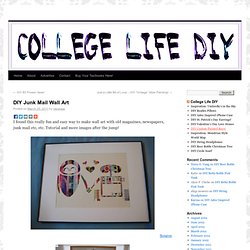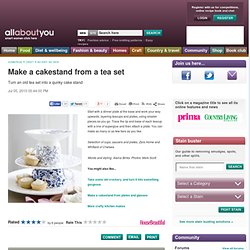 Start with a dinner plate at the base and work your way upwards, layering teacups and plates, using smaller pieces as you go. Trace the lip and base of each teacup with a line of superglue and then attach a plate. You can make as many or as few tiers as you like. Selection of cups, saucers and plates, Zara Home and Whittard of Chelsea. Words and styling: Alaina Binks. Photos: Mark Scott
Make a cakestand from a tea set
How to make a cheap, awesome, professional Curtain Rod
First off, thank you so much for being so kind about my new curtains in the dining room! I am taken aback daily by how many genuinely nice people there are in this blogging community. Thank you for loving the curtains along with me, and also thank you for just being plain ol' nice. Now, shall we get down to bid-ness?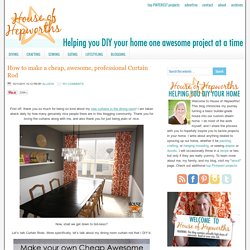 Simple Ideas That Are Borderline Crafty! (20 Pics)
Getting started This shelf unit may look lightweight and easy to topple. But don't be fooled. It's a real workhorse. The 33-1/2 in. x 82-3/4 in. tower features five unique, tray-like shelves of different depths to hold a wide variety of items up to 13-1/4 in. tall.
Leaning Tower of Shelves
Recycle Sweaters: Make a Throw or Pillow
Pillows are a pretty easy and inexpensive way to change the decor in your home. Most of the time when I make a pillow, I sew the cover together leaving a small opening. I stuff a pillow form inside then hand sew the opening shut. This technique has served me well, but it's not suitable for changing covers on your pillow forms. If you 're one for swapping out the covers with the seasons, for example, you're better off with a pillow cover that either zips on and off or has an envelope back.
Easy Repurposed Pillows
Sewing for the Home ~ Hanging Bed Organizer
I love my bed. It's soft, it's cozy, but all too often it's cluttered with the book I've been reading, my eyeglasses, my notepad and pen… With no bedside table I was without good place to manage these necessities (save the floor which is, in fact, not a good place to store your glasses) until the birth of the Hanging Bed Organizer. Process: Cut a 20″ wide by 48″ long strip of of your fabric. » Sewing Tutorials + Patterns » Sewing for the Home ~ Hanging... Home
Denyse Schmidt Mix-It-Up Cocktail Coasters Project
Mix-It-Up Cocktail Coasters Makes six coasters. Finished size: 4 inches by 4 inches.
Top 5 Friday: Wine Cork Crafts -- The More You Drink, The More You Craft! - Style Sheet
HGTV.ca has sustained another Craft Day. Every once in a while, we try to stuff our eyeballs back into our skulls, put our computer monitors to sleep, pack up our various mugs, tumblers, personal humidifiers, and god knows what else, and we leave the office to make crafts. Mia, site manager, crafting.
Restoring the storage cube tutorial