Dessin de presse [Coup de crayon]
Dessins de presse
Search
Dessinateur de presse
M a r c o C a l c i n a r o C a r i c a t u r e s
Dessinateur de presse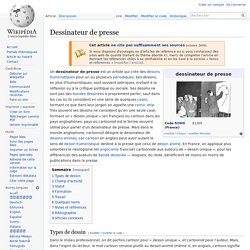 Un article de Wikipédia, l'encyclopédie libre. Le dessinateur de presse est un artiste qui crée des dessins humoristiques pour un ou plusieurs périodiques. Ses dessins, en plus d'humoristiques, sont souvent satiriques, invitant à la réflexion ou à la critique politique ou sociale.
Africartoons.com | Cartoons for Africa!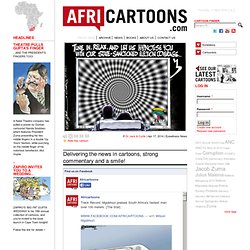 Zapiro Invites You to a Wedding... ZAPIRO'S 'BIG FAT GUPTA WEDDING' is his 18th annual collection of cartoons, and you're invited to the book launch in Cape Town tonight! Follow this link for details:> It was with great sadness that the South African cartooning community learned of the passing of fellow cartoonist Myke Ashley-Cooper on Tuesday. Myke filled a niche with what he called his 'lewd cartoons', but will be most remembered for bringing South African cartoonists across every genre together for the first time in a digital space, with his website http://www.cartoonist.co.za/. The site, and Myke's encouragement provided inspiration for the establishment of africartoons.com (which focuses on editorial cartoons).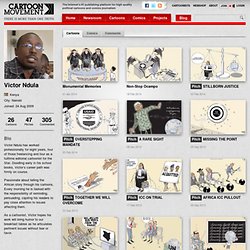 Victor Ndula has worked professionally for eight years, four of those freelancing and four as a fulltime editorial cartoonist for the Star. Doodling early in his school books, Victor's career path was firmly on course. Passionate about telling the African story through his cartoons, Every morning he is tasked with the responsibility of reminding, persuading, cajoling his readers to pay close attention to issues affecting them. As a cartoonist, Victor hopes his work will bring humor to our breakfast tables as he articulates pertinent issues without fear or favor.
Victor Ndula
CartoonArts International maintains one of the world's most extensive cartoon archives, with more than 550 artists from over 75 countries. Pulitzer Prize-winning illustrators like Joel Pett join other award-winning artists in providing thought-provoking commentary on the biggest news stories and personalities. Readers enjoy witty interpretations of current events from the world's most creative minds.
New York Times Cartoons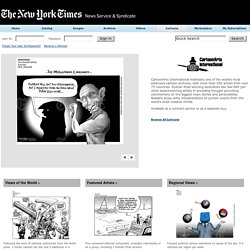 world Ink
Current Political Cartoons - Editorial Cartoons and Comics
This cartoon is part of our project The Hague Trials Kenya. Background: The Kenyan delegation at last month's Assembly of States Parties (ASP) celebrated what they saw as key amendments to the rules of procedure and evidence in the ICC cases against President Uhuru Kenyatta and Deputy William Ruto. One major win: modifying Rule 134, which might permit the Kenyan sitting heads of state to be tried in absentia. But prior to that, on 15 November, some Kenyan delegates were less pleased. The UN Security Council rejected the African Union's bid for Kenyatta's and Ruto's trials to be altogether postponed for one year.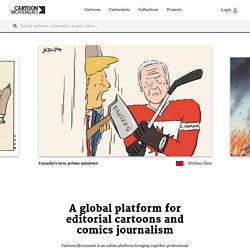 La faim en Afrique
La pauvreté
Global Political Cartoons
Dessinateurs francophones
A 29 ans, Francesca Tosarelli est partie seule à la rencontre des femmes engagées dans les groupes rebelles qui parsèment les hautes montagnes du Nord-Kivu. Son projet est devenu une obsession depuis le jour où elle a rencontré, au Liban, un bataillon de femmes qui partaient se battre à Homs, dans l'enfer syrien. Ne pouvant se rendre en Syrie, la photographe a lu. Elle s'est documentée et passionnée pour ces femmes soldats "qui transgressent les codes sociaux du genre". Elle cite volontiers Chris Coulter, anthropologue qui a longuement travaillé sur le sujet : "En temps de guerre, le code moral considère les femmes comme pacifiques et les hommes comme agressifs. Les femmes sont supposées être passives et donner la vie pendant que les hommes sont actifs et prennent la vie."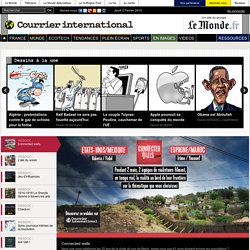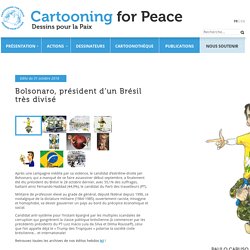 à la Maison des Métallos (94, rue Jean-Pierre Timbaud – Paris 75011)! Nous vous proposons une conférence-débat animée par Marc Saikali, directeur de rédaction à France 24, sur le thème de la Méditerranée en présence des dessinateurs Aurel (France), Dilem (Algérie), Elchicotriste (Espagne), Kichka (Israël), Plantu (France) et des tunisiens Mykaïa, Willis From Tunis et Z qui réagiront en dessins et en direct aux échanges. La réalisatrice Vanessa Rousselot présentera sa série de courts films documentaires sur les dessinateurs du Monde arabe et Souad Belhaddad, comédienne et journaliste à France Inter, jouera des extraits de son spectacle Fatchima. Elchicotriste et Willis From Tunis réaliseront une fresque graphique en direct dans le Hall de la Maison.
Journée internationale de la démocratie : exposition
Quand le Printemps arabe fait oeuvre d'art
Couverture de l'album DEGAGE ! de Plantu et du collectif Cartooning for Peace. Dès ses débuts, le Printemps arabe s'est accompagné d'une importante production artistique.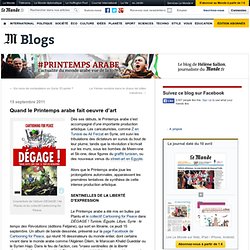 Pismestrovic.com
Riber