Machine
découpe cnc, fil chaud,MM2001,fraisage, fraiseuse, moteur pas à pas
Bonjour à toutes et tous, Coup de projecteur sur le travail coopératif de bomberguck et françois44 en concordance parfaite avec l'esprit du forumMoteur le Nantais un sujet de conception, fonderie, usinages.... Moteur le Nantais.jpg (154.1 Kio) Vu 1731 fois bomberguck a écrit:je cherchais à développer un monocylindre (ou plus si affinité) avec un look à la man diesel 1900 - 1910 pour mon plaisir et celui des modélistes désirant usiner du old school. Si en plus cela peut être fait à plusieurs alors c'est bien mieux. Merci pour ce passionnant partage !
Usinages :: page principale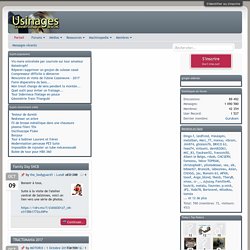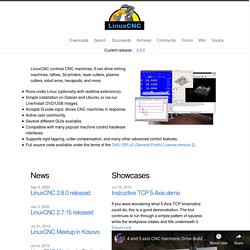 Welcome to the home of the LinuxCNC Here you'll find information about the software, how to get it, how to configure it, how to run it, and especially where to ask for help. Community maintained wiki with lots of information and examples about configuration and using LinuxCNC. LinuxCNC is a software system for computer control of machines such as milling machines, lathes, plasma cutters, cutting machines, robots, hexapods, etc.
Hi Guys, Again, thank you very much for the interest in the project and all support. We have been working hard to bring this high resolution 3D Printer to all of you. Before our FAQ, I would like to share a really nice thing with you. I printed some amazing bracelets (link) that I found through Google and posted here in our blog, however I didn't know who created it. I got the comment from him (Jesse Louis-Rosenberg) this week and I am very impressed with their work… check this out… http://n-e-r-v-o-u-s.com/blog/ I hope we can print some more of their work…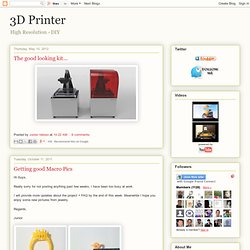 C'est décidé j'en commence un. Il s'appellera "Rupek's 3D builder" ... rien que ça ! Je reprend l'idée de l'ami "Junior": - utilisation d'un DPL du commerce (on trouve des vieux modèles bradés avec une lampe neuve) - transformation de la lampe en UV avec les problèmes que ça pose de concilier compacité et puissance, mais chez Phillips il y a encore quelques "flood" 300W UV ! - Axe Z issu d'un scanner de recup - design et mise en boite :"on verra bien quand on y sera"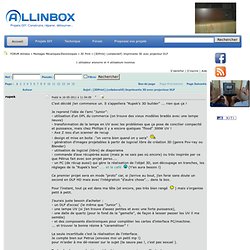 Imprimante 3D avec projecteur DLP [Projet collaboratif] - DIY: Autres projets / Electronique / Divers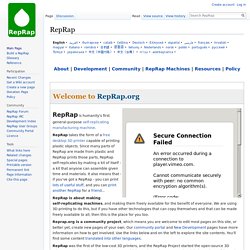 edit is restricted to the sysop group (set from the "protect" tab)move is restricted to the sysop group (set from the "protect" tab) RepRap is humanity's first general-purpose self-replicating manufacturing machine. RepRap takes the form of a free desktop 3D printer capable of printing plastic objects.