Meat
German Night. When I was in Boston 2 weeks ago, Kim hosted an Octoberfest dinner party at her house.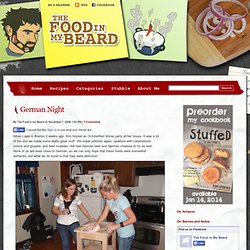 It was a lot of fun and we made some really great stuff. We made pretzels again, spaetzle with caramelized onions and gruyere, and beef roulades. We had German beer and German cheeses to try as well. None of us are even close to German, so we can only hope that these foods were somewhat authentic, but what we do know is that they were delicious! Chillin out, makin pretzels. Vodka Cream Pasta with Italian Sausage.
This is my version of Rachel Ray's, "You won't be single for long vodka cream pasta."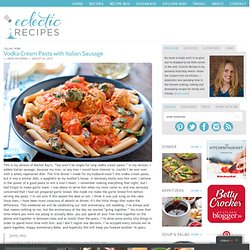 In my version, I added Italian sausage, because my man, or any man I would have interest in, couldn't be won over with a solely vegetarian dish. The first dinner I made for my husband wasn't this vodka cream pasta, but it was a similar dish, a spaghetti at my mother's house. It obviously easily won him over. Foodbuzz 24, 24, 24: Chinese Buffet at Home. It is no secret that I have an obsession with Chinese cuisine.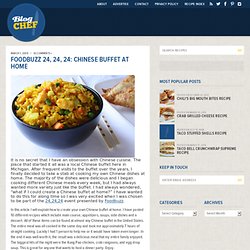 The place that started it all was a local Chinese buffet here in Michigan. After frequent visits to the buffet over the years, I finally decided to take a stab at cooking my own Chinese dishes at home. The majority of the dishes were delicious and I began cooking different Chinese meals every week, but I had always wanted more variety just like the buffet. General Tso's Chicken…possibly the best food ever.
A recipe!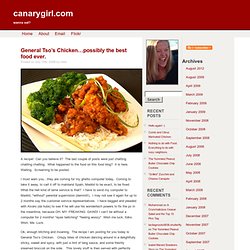 Can you believe it? The last couple of posts were just chatting chatting chatting. What happened to the food on this food blog? It is here. Waiting. Taco Stuffed Shells Recipe. Here something interesting for you taco lovers.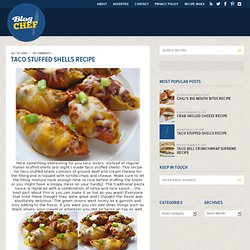 Instead of regular Italian stuffed shells last night I made Taco stuffed shells! This recipe for taco stuffed shells consists of ground beef and cream cheese for the filling and is topped with tortilla chips and cheese. Bacon and Cheddar Macaroni & Cheese. 1 Bring a medium (6- to 8-quart) pot of water to a boil.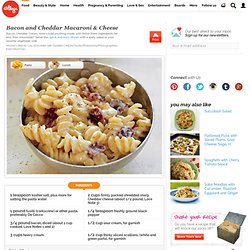 Salt it generously (it should taste like the sea). Stir in the pasta and cook according to the package directions. Drain (but don't rinse, or you'll rinse away starches that will help thicken the sauce) and return to the empty pot. 2 Meanwhile, place a large (12- to 14-inch) sauté pan over high heat for several minutes. Chicken Parmigiana. This is one of the go-to dishes I make for my family of six.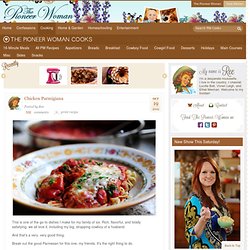 Rich, flavorful, and totally satisfying, we all love it, including my big, strapping cowboy of a husband. And that's a very, very good thing. Cheeseburger Macaroni. This delicious, incredibly cheesy dish is another one of our favorite weeknight dinners.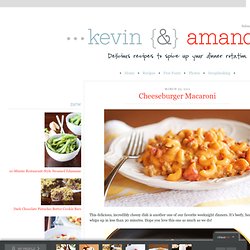 It's beefy, hearty and whips up in less than 20 minutes. Hope you love this one as much as we do! Start with one pound of lean hamburger meat, browned and drained. Add a package of taco seasoning. And one can of this. Lamb Meatballs in a Mint Tomato Sauce. Spring does seem to be the time for lamb and about the time that Easter rolls around is when I start thinking about it.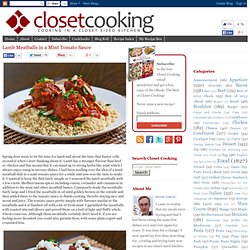 Lamb has a stronger flavour than beef or chicken and this means that it can stand up to strong herbs like mint which I always enjoy using in savoury dishes. I had been mulling over the idea of a lamb meatball dish in a mint tomato sauce for a while and now was the time to make it. I wanted to keep the dish fairly simple so I seasoned the lamb meatballs with a few exotic Mediterranean spices including cumin, coriander and cinnamon in addition to the mint and other meatball basics.
I purposely made the meatballs fairly large and I fried the meatballs in oil until golden brown on the outside and then added them to the tomato sauce to finish cooking, thereby staying nice and moist and juicy. The tomato sauce pretty simple with flavours similar to the meatballs and it is finished off with a hit of fresh mint. Grilled Chicken with Warm Goat Cheese and Lemon-Basil Sauce | Victory or Death in the Kitchen. April 21st, 2011 I am no fan of flavorless, boring boneless chicken breasts from the grocery, but this is a pretty amazing application.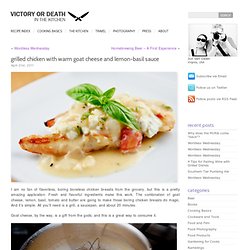 Fresh and flavorful ingredients make this work. The combination of goat cheese, lemon, basil, tomato and butter are going to make those boring chicken breasts do magic. And it's simple. Best Steak Marinade in Existence Recipe. Sticky Balsamic Ribs. OK, Folks. No joke, these are the best ribs ever!! I always look at reader reviews when I choose a recipe. They help me decide whether a recipe is worth it, or not. The Angry Chef's Garlicky Lemon-Pepper Chicken. A lot of folks have asked me for this recipe. It's one of The Angry Chef's signature dishes, and I was lucky to pry it away from him. This recipe is a dream come true for garlic lovers like me.
It's tart and garlick-y and oh-so-fragrant in all the right ways. Southwest Ground Beef Casserole. I'm always looking for great recipes using ground beef. We usually order a quarter or side of beef, so much of that is turned into ground meat. While we love hamburgers, tacos, and chili, there's only so many times you want to serve that each month, so new ground beef recipes are always welcome in my kitchen.
Lemon Chicken Gyros with Tzatziki and Feta. First it was falafel, then burgers, and now, chicken gyros. This place reeks of a street food fair. Someone get me a curbside cart. Tequila Lime Steak Fajitas — Our Life In The Kitchen. What to do with a London broil? I almost never buy a London broil because no matter how pretty they might look, especially when they're on sale, I just can't seem to get the hang of preparing it any way that isn't just too tough. This still wasn't exactly filet mignon, but the recipe, inspired by my son Chris, who is a Grill Man Extraordinaire, turned out to be quite tasty.
The assortment of fixings here is what we like. Add your own favorites because there's no right or wrong. Steak au Poivre - The Showstopper. Drunken Irish Stew. Bacon Explosion: The BBQ Sausage Recipe of all Recipes - BBQ Addicts - BBQ Blog. Cruft: How to make a gyro cooker. Mexi-Chicken Roll Ups.
---